Denise Hall: The Ultimate Mama Bear
Get to know Denise Hall, the ultimate Mama Bear capturing everyone's heart at World Bear Weekend.
Late this past September I attended World Bear in Orlando, Florida. And of course, it was wonderful to connect with my bear family, to watch the competition for the World Bear, Cub and Pet titles and to watch the legendary Miss Coco Peru perform; but there's one person I met that's remained on my mind since the festivities, and that's Mrs. Denise Hall.
I had never been to World Bear Weekend before so when I saw Denise for the first time and all the commotion that surrounded her, I was curious. At first glance she didn't seem to be a part of the leather or bear community and a bear run didn't seem to be a place where you'd find someone like her, but boy was I wrong.
Denise was on hand to present the "Spirit of the Bear" Award that is given in honor of her son, the late Jason William Hall. Jason, the winner of Mr. Philadelphia Leather 2015, served and continues to serve as a shining example of the best things a titleholder can be in any community, be it bear, leather, or, like Jason, a bit of both. Because of this, he was posthumously honored with the Susan Weinstein Community Service Award by the Atlantic States Leather group. He brought out the best in everyone he grew to know, and his passing in 2018 at the age of 43 from brain cancer still invokes a sense of loss in all who knew and loved him.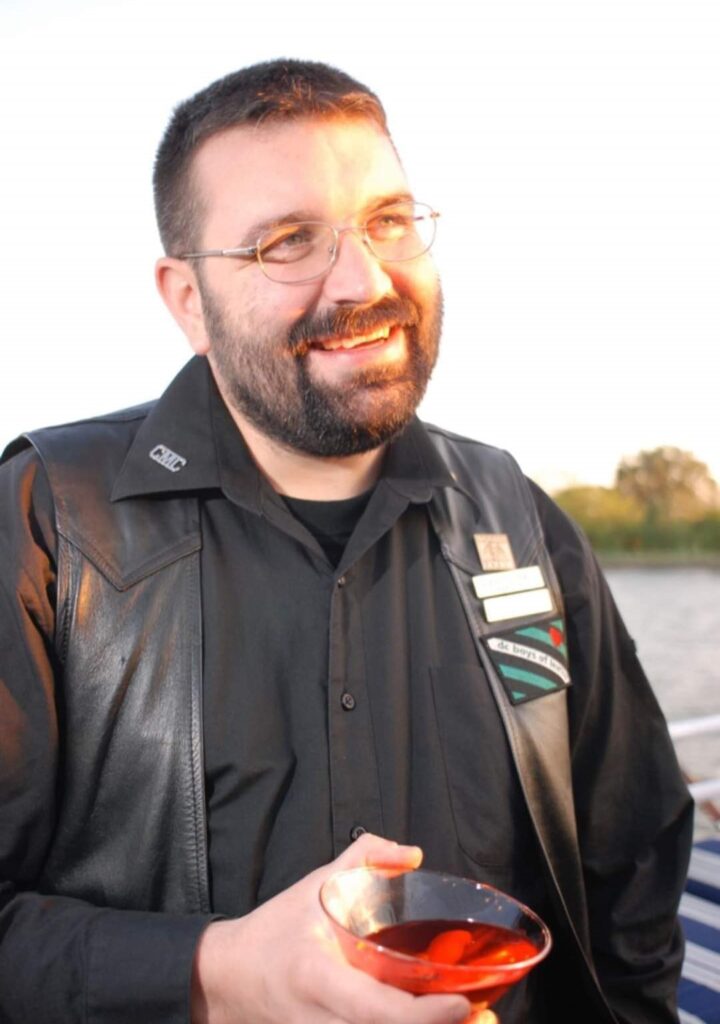 When Jason took the stage at IML in 2016, his amazing speech centered on living your life while respecting the lives of those around you. It was a speech that, according to Denise, ended up being somewhat improvised on account of the body shaming he was experiencing backstage during the competition. It was during this speech that he famously said:
"Body shaming is a shameful practice in our community. Now, you can have your preferences. You can express those preferences. Just don't be a fucking asshole about it!"
The statement brought the IML crowd to their feet with a thunderous round of applause and it has become Jason's calling card and legacy to the community he so loved as a member, mentor and titleholder. To honor Jason's memory and as a way to continue to promote his message, the World Bear Weekend team created the Jason William Hall "Spirit of the Bear" Award. This award is presented annually by Denise and voted on by the competitors of World Bear Weekend to the person in their "class" whom they feel best exemplifies Jason's message.
Prior honorees of the Spirit of the Bear Award have been Nikki Wireman, James Butterfield, Connor Michaelchuk and this year's recipient Michael Weeks.
After watching the competition and hearing Denise speak, I was inspired by her love and unwavering support for her son Jason. Her dedication to his memory and the outpouring of love she evoked from the people of the leather and bear community melted my heart. I knew I needed to introduce her to the Bear World audience.
It's my honor to present to you Denise Hall, the ultimate Mama Bear.
John Hernandez (JH): Hi Denise, thank you so much for speaking with me. It was wonderful meeting you at World Bear Weekend. Let's get things started by telling the readers about Jason. What did he do for work?
Denise Hall (DH): Thanks for having me. I appreciate it.
Jason was a military historian at Fort Jefferson, and he was the curator at the Battleship New Jersey for 11 years. He loved history. Every job that he had out of college was history related. He was a Civil War reenactor. He was a World War Two reenactor. In fact, I didn't know until after he passed away, that he actually got kicked out on the Civil War group because he was gay.
JH: That makes my blood boil. So ridiculous. But I know stuff like that never kept Jason down. What were some of his favorite causes?
DH: Jason grew up during the HIV epidemic so anything HIV/ AIDS related. The Rainbow Railroad, one of the beneficiaries of World Bear Weekend, where they take people out of other countries so they don't get killed for being gay. Suicide prevention. Homelessness. All these were important issues to Jason.
JH: All amazing causes to support for sure. How aware were you of Jason's involvement in bear and leather culture? When were you introduced to it?
DH: Jason didn't tell me a lot when it came to his community. I really didn't know much about it until he got sick. Jason held a lot of stuff inside him. I think it was because of him being so bullied about being gay when he was growing up. I always knew he was gay, but he didn't come out until after high school. And even with that, he didn't open up to everybody, not until he got older. Once he got older, he got to a point where I think he said "I don't care anymore, this is me, this is who I am."
I knew that he was going to events and everything, but he never told me what the event was or anything really until he got sick. Once he got sick, it was at that point he wanted to make me and my husband part of his community.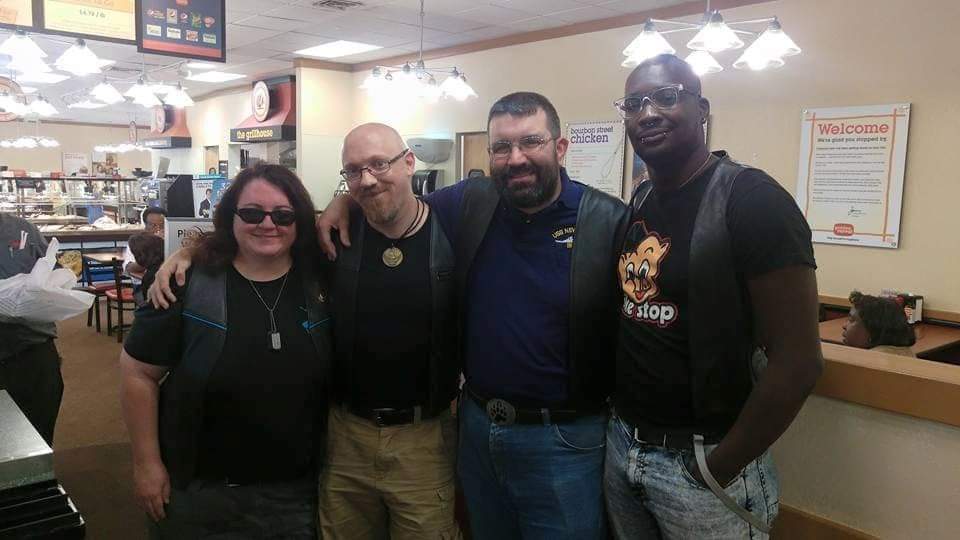 JH: And what has your experience been like with the community?
DH: Emotional and wonderful. They really rallied around us when Jason needed them most.
Mason and Todd from Wolfstryker Leather, they made T-shirts for us that said "I stand with Jason, Don't be an asshole". Before that they made pins. They were so kind and generous with us. They made and sold the pins and shirts and sent us all the money to help with Jason's medical bills. Even now that Jason's gone, Mason sends me Mother's Day flowers and on my 70th birthday he and Todd made me a beautiful leather coat. They've been so good to me; I love them so much.
In addition, the Centaur Motorcycle Club from Washington, DC sent a check to help to pay for his medical bills.
While he was still alive, his Philadelphian leather family, a couple of them from Rainbow Mountain Resort in East Stroudsburg took a bunch of Jason's T-shirts and made me a bedspread out of it. They also sold cookies and gave all the proceeds to Jason.
The Bike Stop in Philadelphia, where Jason went all the time, they sold jell-o shots and sent him all the proceeds too, to help.
His Philadelphia friends brought a huge cook out with all the fixings to our house to spend time with him while he was still alive. The outpouring of love was just amazing. I am so grateful for it.
And the support did not stop after he passed either. The year he died about 15 of his friends marched with me for the National Brain Tumor Society. We raised $6000 that year and wore shirts provided by Wolfstryker that read "I walk for Jason Hall." We marched with a leather flag.
There's just so many examples of the kindness and generosity we received from the leather and bear community. I hope I'm not forgetting anyone!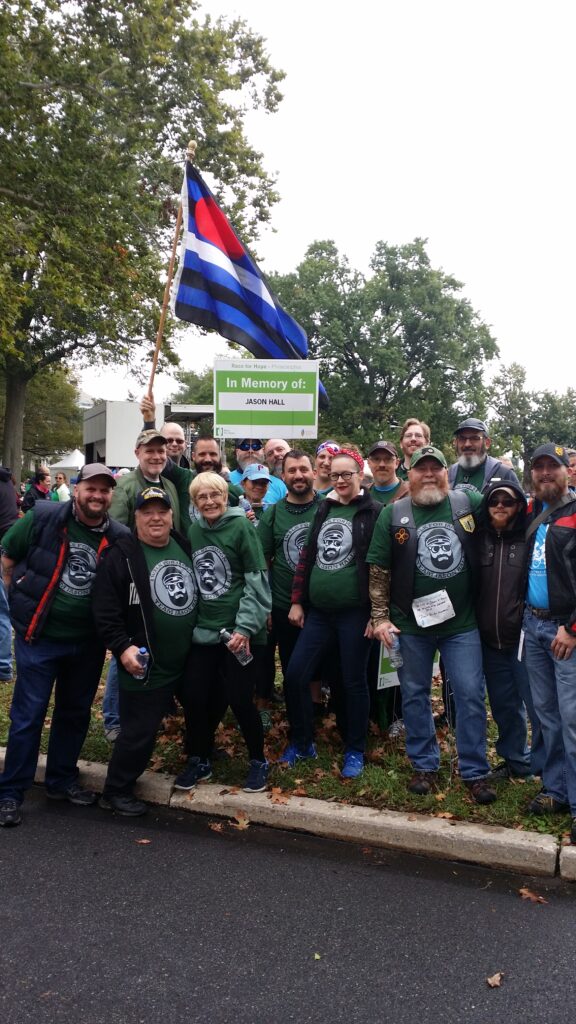 JH: That's beautiful. Tell us about his memorial.
DH: His memorial was on the Battleship New Jersey. There were about 200 people there, and about half of them were from his community. I never felt so much love in all my life. I had sat down with him before he passed and asked him what he wanted for his memorial, and at first, he said, "well, the memorial is for the living, it's not really for me". But he came around and ended up picking out the music, the food, even the bartender!
And for the final detail I had asked him, "do you want your community in their leather?" And he said "yes". All of his community was there in full leather garb. At the memorial, one of his friends had the fireboat come alongside the battleship and all the leather people who were standing next to it started running because they didn't want to get their leather wet by the fireboat. We all had a good laugh about that.
At the memorial, I can remember we all had chances to say something about Jason and I just thanked everybody for coming and I said, "well we may have lost our only child, but we've now gained 102 hundred more sons".
JH: Oh, there couldn't have been a dry eye in the house. And when did you start attending World Bear Weekend?
DH: Mason (Wolfstryker) contacted me as one of the producers of World Bear Weekend and he asked if I would be interested in presenting an award in Jason's name? I said yes, of course. So, my husband and I went for the first time in 2019 and he's invited us back again every year since. My husband came with me the first time. The second time my younger niece came with me. Then the third time my husband came with me again and this year my other niece came with me. I will continue to go as long as I'm able to travel and as long as I get invited because I don't want my son to be forgotten about and I don't want his message to be forgotten…. That you have the right to your opinion, but don't be an asshole about it!
JH: A message we can all stand behind. What are some misconceptions people have about the queer and kink communities?
DH: Most of the people that I've met through Jason's community are professional people, lawyers, professors, teachers. You're all people with feelings, with hearts, and some of the kindest people that I have ever met. I don't understand the fear around kink. Everyone has their things and I know so many straight people that use sex toys and everything themselves. It's like, what makes it different for the queer community? As long as no one is getting hurt, who cares?!
JH: Here here! HAHAHA I love that. And finally, is there anything you'd like to tell us that we haven't covered?
DH: Jason used to say to me, "who has the right to tell me who to love?" I would say to him, "you know what, you're right. Nobody has the right to tell you who you love".
It kills me when I hear of parents disowning their children because they're gay. I mean, that just does me in. I know Jason had only two partners. The first one, they kept their relationship undercover, more or less. The second one, his parents disowned him because of their religion and that just killed me. I don't know how a parent, especially a mother, could do that. Gay people aren't hurting anybody and what they do behind closed doors is their business.
When I go to World Bear Weekend, all I am shown is respect from everyone. I got a message last year from an attendee named Chris, thanking me for being there, and saying that so many other mothers would have just disowned their children on account of their being gay. It broke my heart. I didn't get to meet him, but it was so nice to get that feedback from him. By going each year, I feel like I am not only keeping my son's memory alive, but maybe I am also helping some other people know that even if their own mother disowned them, that I still love them.
JH: Oh Denise, that means so much to so many out there. You truly are the ultimate Mama Bear. Thank you for that and all that you do to spread love and positivity in the bear and leather communities.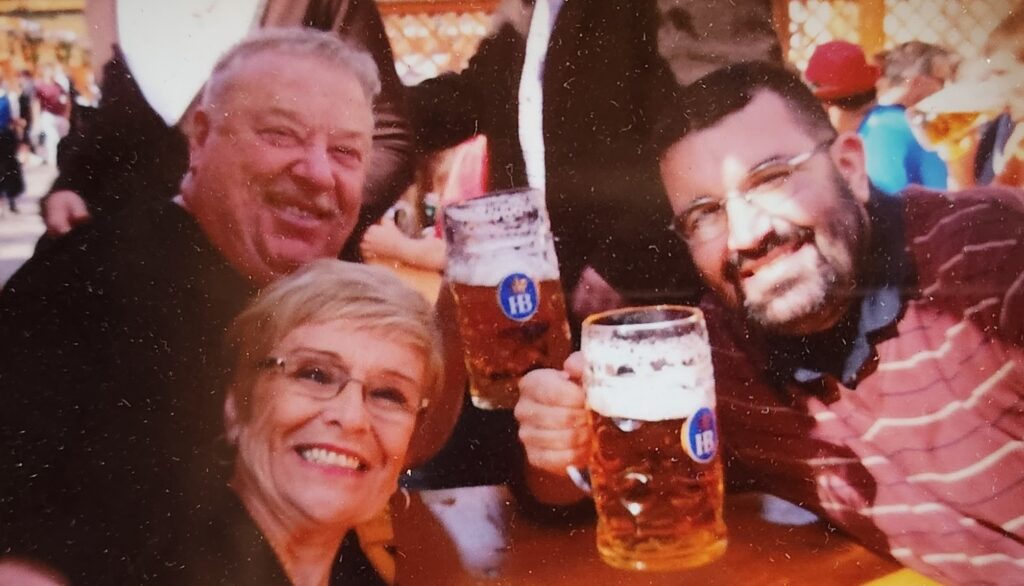 This article is written in loving memory of Jason W Hall October 16, 1975 – June 28, 2018