Danny DeVito wants to wrestle a bear in Jersey Mike's Big Game teaser ad
Jersey Mike's isn't just gearing up to serve subs to the Bears at Big Gay Key West — they also want their own Big Game ad one year, and Danny DeVito is here to help! As the Big Game approaches, Jersey Mike's Subs, known for its fresh sliced/fresh grilled subs, is releasing a teaser of what it has in store for the brand's debut on marketing's largest stage. 
The teaser features New Jersey native, Danny DeVito, brainstorming his vision for an epic Jersey Mike's Big Game ad. Only Jersey Mike's doesn't have a commercial in the Big Game this year. The teaser is a preview into what Danny is dreaming up for a hypothetical ad, someday. And Jersey Mike's is calling on the public to get in on the fun. One lucky winner will get free subs from Jersey Mike's until the brand actually does air a Big Game ad.
"Jersey Mike's has tremendous momentum and our goal is to have a Big Game ad— just not this year," said Rich Hope, chief marketing officer, Jersey Mike's Franchise Systems, Inc. "Danny has a great vision for what our ad could look like, and we can't wait to see the creativity from our fans as well. When it happens, this ad is going to be a real showstopper. But until that day comes, we will continue to dream and focus on what we do best – making fresh sliced and grilled subs with the highest-quality ingredients around."
Jersey Mike's was named fastest-growing fast-food chain in America by QSR magazine in 2022 and ranked #3 on Entrepreneur's 2023 Franchise 500.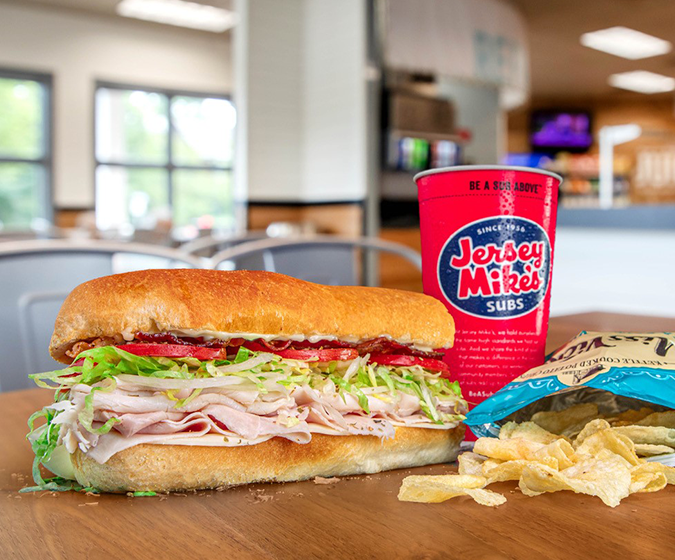 In the online spot created and produced by the independent Chicago-based agency, Highdive, Danny shares his thoughts for Jersey Mike's eventual Big Game ad to help inspire viewers. "Danny alludes to how he could wrestle a bear, he could be the voice of a talking sub, or even steal the crown jewels," said Mark Gross, co-founder and co-chief creative officer at Highdive. "He also teases that he could ride a rocket to save the world from an asteroid with the same bear he wrestles. But for now, all of these are just ideas brewing in Danny's head; a teaser of what could come to life, someday."
Fans inspired by Danny's vision were able to share their ideas about what they would do if they were the stars in Jersey Mike's Big Game ad on the brand's Instagram between Monday, February 6 and Wednesday, February 8. The top four finalists will receive Jersey Mike's gift cards and have their idea turned into a graphic, which fans will vote on during the weekend of the Big Game. The winning idea will get subs for a year, every year until the day Jersey Mike's runs its official Big Game commercial. Hopefully some of you big, hungry, sub-loving bears were able to enter!
See the commercial featuring Danny DeVito below!
To learn more about Jersey Mike's visit, www.jerseymikes.com.
About Jersey Mike's
Jersey Mike's Subs, with nearly 2,500 locations nationwide, serves authentic fresh sliced/fresh grilled subs on in-store freshly baked bread — the same recipe it started with in 1956. Passion for giving in Jersey Mike's local communities is reflected in its mission statement "Giving…making a difference in someone's life."
About Highdive Advertising
Founded in 2016, Highdive (highdiveus.com) is an independently owned, full-service creative agency headquartered in Chicago. Built for brands that want best-in-class creative but don't want the baggage that usually comes with it, the agency has a singular promise: to create the healthiest client and agency relationships in the world. Led by four seasoned advertising executives who set out to create an agency made up exclusively of top performers across every discipline, Highdive is breaking the traditional agency model to deliver work so powerful it can't be ignored for brands including Jeep, Ram Trucks, Lays, Beam Suntory, NHL, NIke, Boost Mobile, Airheads, Fruit-tella, and Rocket Mortgage. On a rapid growth trajectory, Highdive has been recognized as Advertising Age Small Agency of the Year, Midwest, three times and 2020 Advertising Age National Small Agency of the Year. Highdive also ranked number one on Adweek's 2020 Fastest Growing Agencies List.
SOURCE: Jersey Mike's