Dan Pelosi Releases Debut Cookbook "Let's Eat"
Lovable and larger than life bear personality Dan Pelosi has released his debut cookbook Let's Eat: 101 Recipes to Fill Your Heart & Home (available wherever books are sold). Sharing anecdotes and recipes relating to his boyfriend, his family and his friends, the book is a warm invitation into the life and kitchen of this talented, magnanimous (and handsome) cook.
As is the case with many Italian American families, the kitchen is the heart of the home. So, it makes perfect sense that while growing up, the kitchen was Dan "Grossy" Pelosi's happy place. He spent lots of the time there as a child watching his parents and grandparents cook, and apparently the lessons he learned stuck!
As he grew up, he began experimenting in the kitchen, so much so, that by the time he was studying abroad in Rome for college, he was accustomed to cooking family-style meals – all by himself! And by the time he was in his twenties and thirties, he had become accustomed to spending full weekends cooking for his friends, thus cementing his role in the group as 'Vacation House Mom' on trips, and as the planner of holiday events and parties; all of which enabled him to master the craft of creating a comfortable space where his chosen family could gather around the table.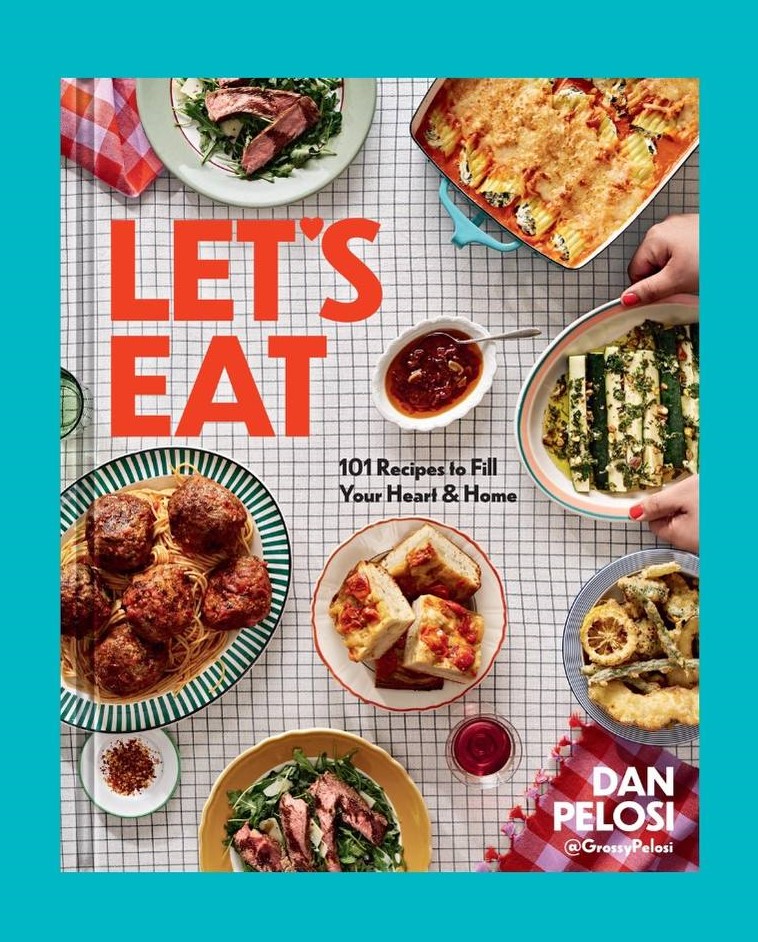 When New York City went into lockdown in March 2020, as COVID-19 swept across the world, Dan immediately turned to his well-stocked pantry and passed the time like he always had: in his kitchen, cooking. He used his Instagram account to share his day-to-day and meal-to-meal activities with his small community—it helped him cope and, as a bonus, provided comfort to others feeling anxious and unsure. As the weeks wore on and his audience began to grow, it became clear that he was uniquely positioned to help people get through a global pandemic which has ultimately led to the publication of his cookbook.
In Let's Eat: 101 Recipes to Fill Your Heart & Home from Union Square & Co. publishing, Dan offers up a warm hug of home cooking, sharing both comfort and connection with 101 of his nearest and dearest Italian American recipes. Some have been passed down through his family, and others have been cooked up from scratch–but all are made with love and accompanied by fun, meaningful stories to warm your heart while filling your belly.
Read how Bimpy (his 101-year-old-grandpa that the internet loves to love) smuggled homemade subs into Yankee Stadium, then craft your own BIG ITALIAN SANDWICH. Relive the memory of Dan learning how to make his friend's mom's stuffed chicken cutlets in their Jersey Shore house (and getting himself adopted into their family), then level up with PROSCIUTTO & MOZZARELLA STUFFED CHICKEN PARM. Learn how Dan's mom would spring him out of school before the final bell (just to preheat the oven), then make your own EARLY DISMISSAL POT ROAST. And rewind to the beginning of Dan's relationship with his boyfriend, Gus, and recreate the ZABAGLIONE (and the romantic Cheesecake Factory ambience) that inspired their first "I love you."
In addition to the staple chapters like Eggs, Appetizers, Pasta, Meat & Fish, and Sweets, you'll also find deep dives on Dough and Marinara, presented with hero recipes you can spin into all kinds of deliciousness. Also sprinkled throughout are 'Grossy's Guides' to cooking, cleaning, organizing, and everything you need to become intuitive in your kitchen.
Approachable and tasty, Dan's recipes are meant to be shared with the ones you love. Set the table, grab a chair, roll up your sleeves…now LET'S EAT!
Get your copy of Let's Eat: 101 Recipes to Fill Your Heart & Home HERE.