Daddy Cruise changes the way gay men sail
Daddy Cruise is revolutionizing the face of gay cruises, literally. Instead of catering to the 20-something washboard ab sector of the gay male population like most gay cruise companies, they are extending their services to include everyone. Their goal is to create a welcoming and inclusive environment, so all of their passengers feel welcome and comfortable.
LGBTQ+ owned and operated, Daddy Cruise is primarily a cruise planning service. They assemble groups ranging from 20 to 100 or more, of all ages, races, and body types, and book space aboard larger existing cruises. You avoid the premium pricing of an 'all gay' cruise while you get the bonus of meeting and mingling with a broader range of travelers. They also book cabins years in advance, so you are guaranteed the best prices. This includes single passengers as well who they try to match up using their 'roommate program' in order to avoid double occupancy fees that are standard on most cruise lines.
Every cruise booked through Daddy Cruise is personally hosted by their staff who will be there to look out for you and make sure you feel included. They will facilitate ice breakers – like 'getting to know you' activities for the group in addition to planning out and leading private excursions. Before you even set foot on the boat, they will have added you to a private Facebook group with your cruise mates and have hosted several virtual events to get you all acquainted.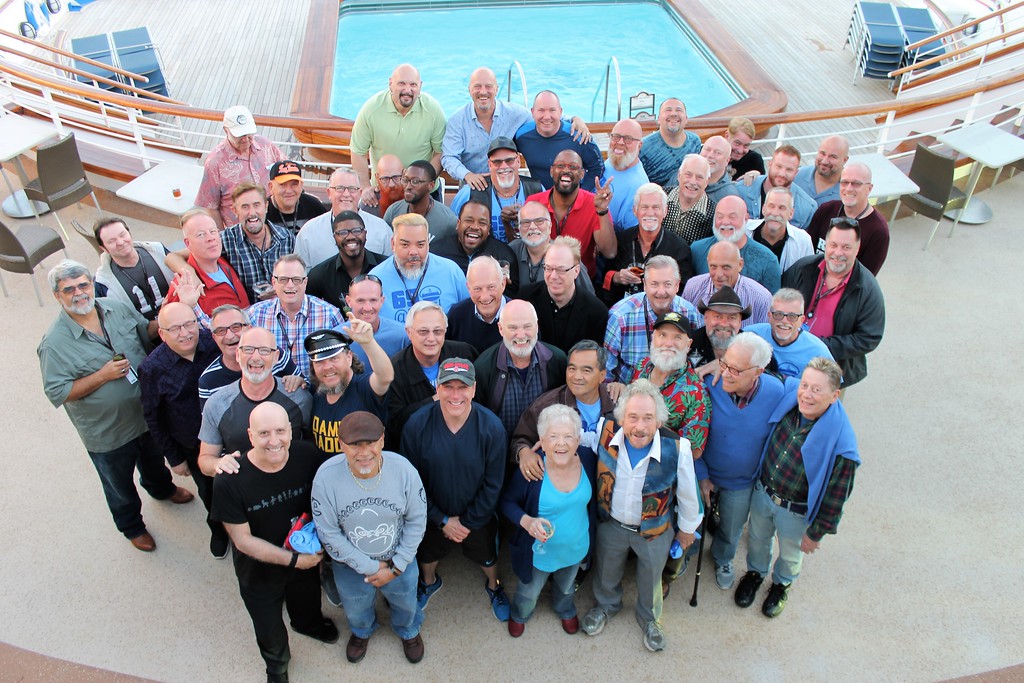 Another aspect of traveling with Daddy Cruise that makes the experience unique and special is that each cruise includes an optional day of service. Some prior activities have included delivering mattresses to hurricane survivors in Belize, an onboard quilt making session for homeless youth in Baltimore and assembling toiletry bags for impoverished members of the LGBTQ+ community in Long Beach.
The next Daddy Cruise this year is taking place in August in Hawaii, but it has already sold out! Your next opportunity to sail with them will be from October 9-16 when they are hosting a round-trip cruise from Athens to Turkey and the Greek Isles aboard the Norwegian Jade.
The night before setting sail from Athens the group will meet for a pre-cruise dinner so everyone can start bonding. The first stop is in the once Roman provincial capital of Ephesus in Turkey followed by the historical city of Istanbul. From there it's off to Volos in Greece, known for its archeological sites, museums, and shopping. The gay haven of Mykonos will be next followed by the historical and beautiful island of Rhodes. From there it's off to breathtaking and world-famous Santorini before returning to Athens where Daddy Cruise is offering an optional four-day extension to your trip.
The staff of Daddy Cruise will be on hand to host a variety of activities and parties throughout the duration of the cruise which is optional for you to take part in. In addition, they will host a welcome aboard cocktail hour with your group and have reserved tables in the dining area for dinner each night, so you never have to dine alone. They will also coordinate and lead excursions onto the islands and cities of each port you stop in.
Seasoned cruisers and newbies agree that the services Daddy Cruise provides are top-notch and especially love the diversity of their cruising groups:
"Brian (of Daddy Cruise) is an experienced leader who made all of us feel welcome and tended to. He organized daily get-togethers for us. We played creative games with humorous overtones. I felt comfortable with everyone right away. What a non-pretentious group! Some were together. Others were single. We were every age group and size. And we were all there to have a good time! This was the best of both worlds. I could join the group or be on my own. That's why I'm taking my second cruise with Brian …. If you're looking for fun, I'd sign up in a heartbeat!"
So whether you're in a couple, single, older or younger; if you're looking for an attitude-free and inclusive adventure on the high seas, Daddy Cruise might just be the place for you.
For more information and to book a trip with Daddy Cruise click here.
This article was originally published on our sister site, Vacationer Magazine.