Cool down and spice up your cookout with Jonathan Bardzik's Thai cucumber salad
What version of the cucumber salad did your Mom make? At summer cookouts was she serving up crisp, cool slices dressed in sour cream with dill and onion, or was her salad dressed with a light vinaigrette, sweetened with a pinch of salt? My Mom prepared both and either way I'm game (and totally fishing for an invite to your next family picnic!)
Why should you invite me? Well, I started giving weekly, live cooking demonstrations at DC-area farm markets eight years ago. One Saturday during that first summer I noticed a woman walking about 30 feet away from me. She drew my attention because in mid stride her nose hit the air and she began sniffing around. Her nose led her over to the table where I was doing some prep on my next dish.
"What smells so good?" she asked.
"I'm not sure," I replied. I had nothing on the stove, no garlic and onions sautéing in olive oil, no vegetable stock simmering away for a quick, fresh soup, or fresh herbs releasing fragrant oils as they were finely chopped. In fact, the only thing on my cutting board were some freshly-peeled cucumbers that I had seeded and was thinly slicing.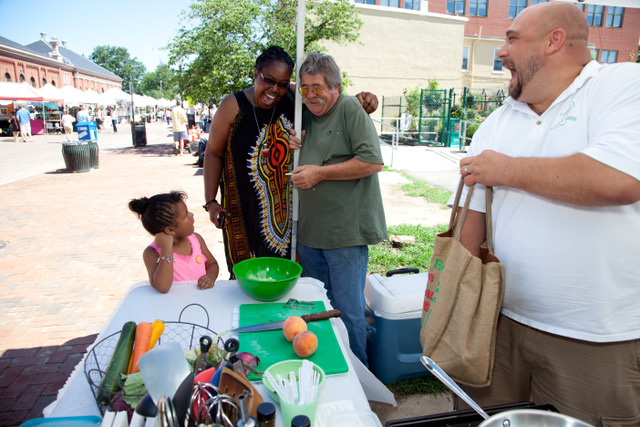 "It must be another stand," I suggested.
"Nope," she said. "It's definitely right here."
At that moment we both leaned down to the cutting board. There it was. Those cucumbers were releasing an intoxicating scent, crisp, floral and sweet.
"Well how about that?" I said. "I thought cucumbers were just a crisp, watery carrier for dressings. Who knew?"
Cucumbers, especially those fresh from the garden or summer market pack lots of flavor and those cool, floral notes pair beautifully with flavors ranging from our mom's creamy dressings and light vinaigrettes to bold pairings with goat cheese and green peppers or this recipe, where the floral flavors elevate the briny, funky taste of fish sauce accented by nutty sesame seeds and the heat of Thai Bird chiles.
So however you serve them this summer, whether inspired by Mom or something brand new and adventurous, don't forget flavorful, crisp, farm and garden-fresh cucumbers. And don't forget my invite. Thanks!
---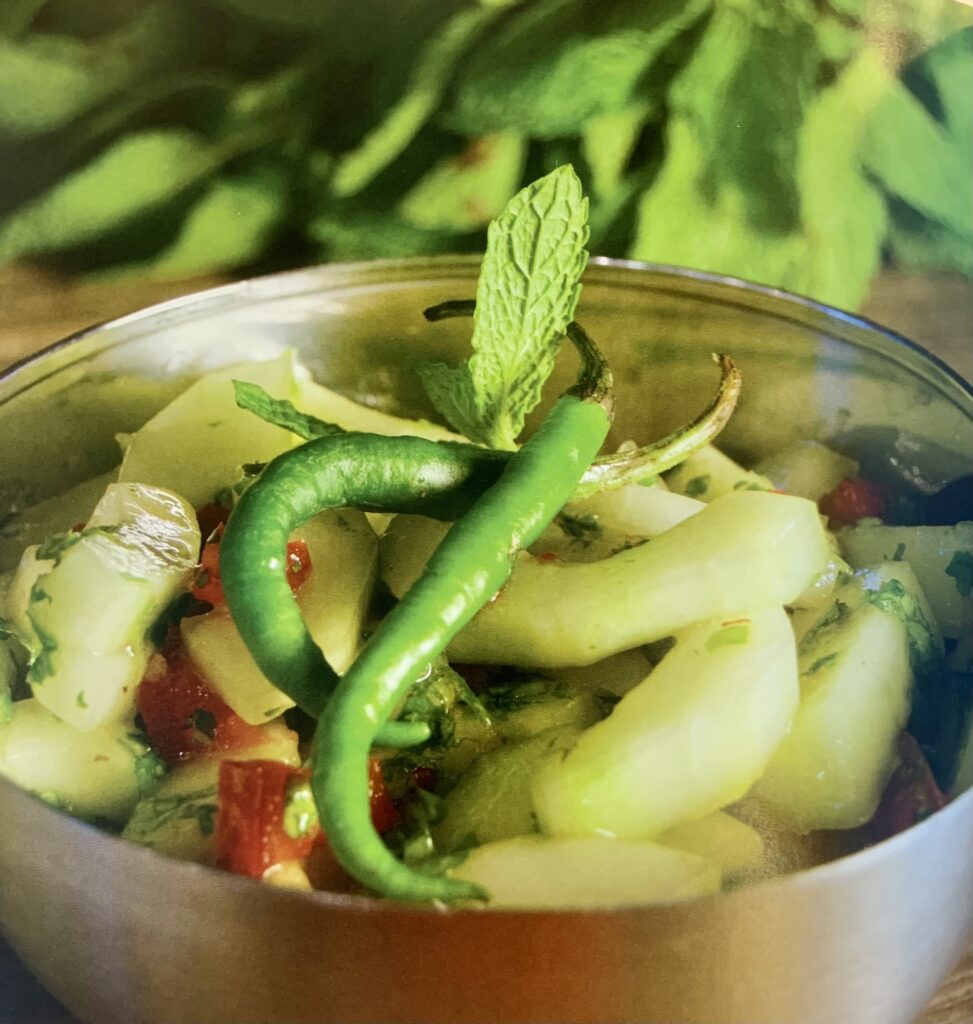 Thai Cucumber Salad
From Jonathan Bardzik's Seasons to Taste
Serves 4-6
With the five Thai flavors of sweet palm sugar, spicy Bird chiles, salty fish sauce, sour lime juice and bitter fresh herbs, this is a wonderfully complex take on the classic cucumber salad that as simple to make as it is to eat.
Ingredients:
2 medium cucumbers, peeled and seeded
1 medium tomato, seeded and diced
1 clove garlic, minced
1/4 cup rice wine vinegar
2 tbs fish sauce
1-2 tbs palm or brown sugar
2-3 tbs vegetable oil
1-2 Thai bird's eye chiles, minced
1 tbs chopped mint
1/4 cup chopped cilantro
Method:
Slice cucumbers in 1/4" half rounds and toss with tomato in a medium bowl.
Sprinkle minced garlic with coarse salt and mash into a paste on your cutting board using a fork or the flat side of your knife. Place in a separate bowl.
Whisk rice wine vinegar, fish sauce and sugar together with garlic paste.
Drizzle oil into vinegar, while whisking, to form a thin emulsion.
Whisk chiles and herbs into dressing. Season with salt and pepper. Taste with a piece of cucumber and season to taste with additional vinegar, fish sauce or oil as needed.
Toss cucumbers and tomatoes with dressing and let sit 20 minutes for flavors to develop. Check seasoning and serve.
Tip: To seed cucumbers, slice them in half lengthwise and scoop the seeds out of the center with a teaspoon.
---
Jonathan's cookbooks offer simple recipes prepared with farm and garden-fresh ingredients to share with the people – friends, family and farmers – who make our lives matter. Bring one home today or share one with someone special, click here.
Jonathan's Kitchen is now streaming on demand at Revry.tv. The show is produced by Parrlime Productions & Tarnów Entertainment and directed by Jonathan Bardzik.