Colton Ford Returns to Music with Sexy New Music Video
Woofishly handsome and talented muscle daddy Colton Ford makes a return to the music scene with a new album and racy new video that embraces his past as a porn megastar. Details on how you can see it below!
Colton Ford's new album, Permission, covers a wide spectrum of narratives, from lustful encounters to falling in love, love lost and dealing with infidelity. The compilation of contemporary R&B and Pop songs also carry messages on aging and coming out of the closet. "The album's title track, Permission, is about being who we are born to be and living authentic lives that do not require anyone's permission but our own," Ford explains. Some of the stories – like "Won't Look Back," a song about a difficult relationship Ford experienced years ago – come directly from Ford's own diary. Others are simply observational. Then there are sexy little romps like "Handle It," the album's first single release, songs that are fun, provocative, and romantic.
"'Handle It' is the kind of ooey gooey R&B song that I love," Ford gushes. Producer Spin Sista created the track, hook and first verse. Ford wrote the second verse and bridge, then organized the song and arranged all of his vocals. From there, Spin Sista recreated a whole new track and added additional background vocals.
The song's playfulness is echoed in its video. Filmed at The Barracks and Snap Studios in Palm Springs, the "Handle It" video features the artist with his real-life porn star friends Drew Sebastian, Mack Austin and Macho Dog. The men take on the roles of go-go boys at a gay underground nightclub who can't keep their hands out of each other's jocks. "There was intense chemistry between the four of us, and you see it, especially in the explicit version of the video," Ford laughs.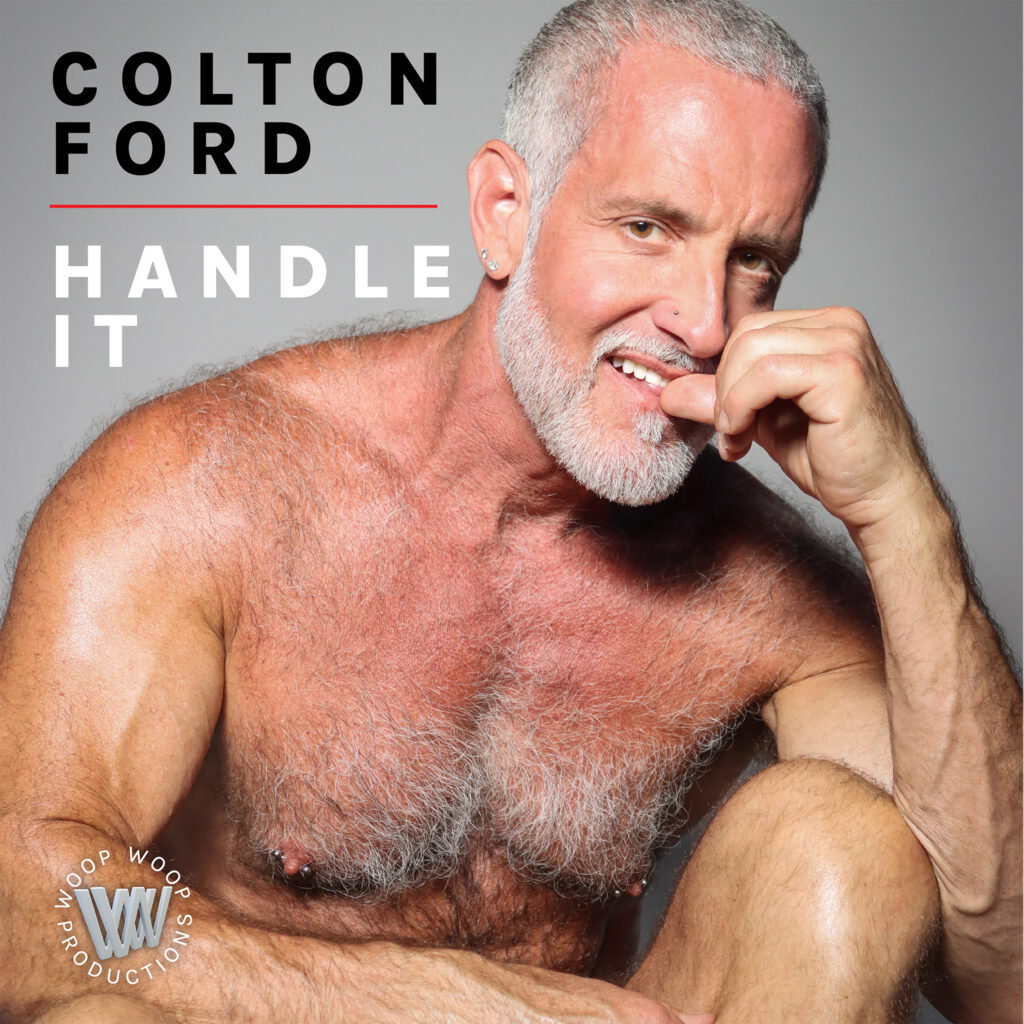 Ford contends that the highly sexualized scenes in the video affirm the trend of cross generational sexuality. Two of the men, including Ford, are 60, one man is in his forties and the other is in his thirties. "I think it's wonderful that men in different stages of their lives are finding common ground on the dancefloor and in bedrooms," Colton Ford says. "Giving ourselves permission to explore ourselves and our lives, including the wonderful experiences we share with others as we move through it, is liberating!
Permission begins with "Don't Stop," a song about a hot and cold, push-then-pull relationship where one person refuses to commit wholeheartedly to their lover. The second song, "No Time To Waste," is about being in a same-sex relationship with someone who is struggling to come out. "You (Don't Wanna Wait)" reflects on someone who is eager to take things to the next level and "You Told Me So" is about aging and no longer having the stamina to party all night long. "Handle It" is about sex and hooking up and "Triflin'" is a call-out to dirty players who cheat.
The seventh track on the album, "That Don't Make It Right," also ruminates on infidelity, while "Won't Look Back" compels listeners to walk away from dysfunctional relationships. It leads to the title track and then "In The Morning," and "Amazing," two love songs, and the final track, "Destiny", about pursuing life's dreams and not giving up until you achieve them.
Colton's Ford's "Permission" is available now on all major digital platforms.
The SFW version of the "Handle It" music video is on YouTube, but you can see the explicit version on The Sword.