Check Out Our Recap of Tidal Wave 15: Ohana
BWM had the pleasure of attending this year's Tidal Wave Party, which took place from June 1st through 5th at Tuscany Suites & Casinos in Las Vegas! We present our experience along with official photography from the event below.
The theme for this year's Tidal Wave was Ohana, which is the Hawaiian word for family or a familial bond, and indeed that was the vibe of the entire event. With its focus on gatherings in and around the hotel pool, people were actually engaging with each other as opposed to being on their phones or heading off to the local bars. It was something that really struck me as unique to this event, especially in this day and age. I actually made new friends at Tidal Wave, a trio of bears I now fondly call my 'sisters' since we had such a raucous good time at the party. Don't get me wrong, I meet a lot of wonderful people at all the bear events I attend but the four of us clicked on a somewhat deeper level and we still actively keep in touch, with promises to get away on another vacation together somewhere down the line. It's been a long time since that's happened for me, and I believe those bonds were forged thanks to the structure of Tidal Wave itself which enabled us to spend a lot of time together.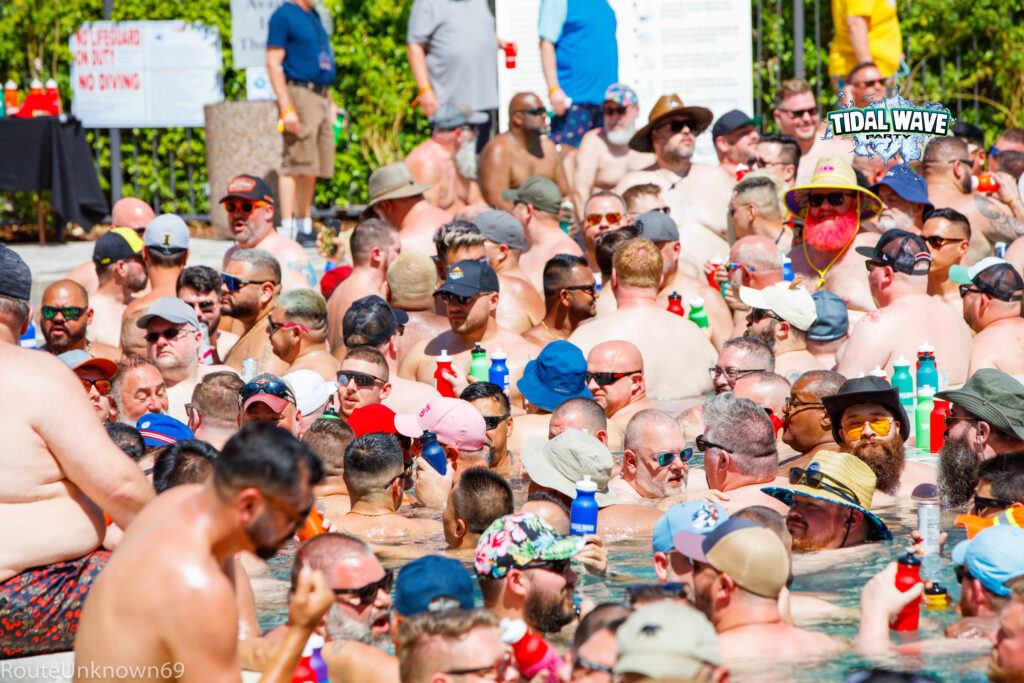 Of course, Tidal Wave featured all the fun and flirting that comes in tandem with any bear gathering, though this event surely had a large chub/chaser contingent in attendance which was delightful in general, and for me personally as a chubby bear. The 'bear soup' was on full boil with the pool being filled all day and all night up until its 2 AM closing time each evening. The DJ's kept the attendees entertained and moving with dancy bops pumping at all times. Ginger Minj was there to entertain the crowd along with Gidget Galore in her own cabaret show and at the pool party on Sunday. Authentic Hula dancers were brought in for the opening ceremony who kept the audience rapt with attention as both the male and female dancers gyrated their hips in hypnotizing fashion. Naughty bingo and trivia was hosted by the fabulous Derek Combs and we all got down in our fetish gear during the Saturday night dance party in the ballroom.
The event also featured an evening outing to the Cowabunga Canyon water park where most of us chose to float on the lazy river and grab some chicken fingers while others chose to hang back at the Tidal Wave hospitality suite were organizers kept silver and gold ticket holders in drink throughout the entire event (not just that evening) during specified hours. Some adventurous souls went to the famous Vegas strip for food and entertainment, myself included, but only after Tidal Wave was over. I mean I was surrounded by wet bears in a sexually charged environment, I had all the entertainment I needed!
It should be pointed out that this was the first Tidal Wave Party to take place outside of Florida where it has been held for the past 14 iterations of the event. The host hotel was completely sold out too. Considering the entire event was moved across the country to a new venue, in a relatively short period of time, I'd say it went incredibly smooth; and kudos to event organizers Danny Gallegos, David Walters and their team for a job well done.
From what I understand plans are being finalized for Tidal Wave Party 16, with news of the new location and dates to be reveled shortly. We will of course update you as details are revealed.
To keep up on the latest developments be sure to visit Tidal Wave's official site and follow them on Facebook and Instagram.