Catching up with out actor Parvesh Cheena
Merryn Johns, editor of our sister magazine Queer Forty recently had a chat with out actor Parvesh Cheena, star of in NBC's pandemic comedy Connecting, and Family Style, on how to survive the pandemic as an actor and stay sane.
Parvesh Cheena stars in NBC's comedy series Connecting, which follows a group of friends trying to stay close (and sane) through video chats as they share the highs and lows of these extraordinary times. Parvesh has also joined the cast of Family Style Season 2 which debuted September 8th on Stage13.com, YouTube and Facebook. He will next be seen in music produced by Sia, opposite Kate Hudson and Maddie Ziegler. Parvesh is best known for his roles as Gupta on the series Outsourced and as Sunil on Crazy Ex-Girlfriend. He has also voiced many characters on animated shows like Disney Junior's T.O.T.S, Disney's The Owl House, and Transformers: Rescue Bots.
Merryn Johns: How did you land the gig on Connecting? 
Parvesh Cheena: Just like how I get most of my work, I auditioned via self-tape for Connecting. Ha. I had gotten the audition from my agent on a Thursday morning in late July of 2020. It was a Zoom phone call for a Zoom hangout and a lot of scripts. I'm old and lazy so I put it on a teleprompter app on my phone and filmed it on my iPhone camera facing myself. My partner Eric played the other parts and opened the door to our bedroom closet to play with the kids as well. Ha. He did help me get the role. After that initial self-tape, I had a zoom audition with Martin Gero and Brendan Gall. Our wonderful showrunner, director, producers, and just wonderful supportive allies to the LGBTQIA community.
MJ: Does it feel strange to be in a show that addresses the pandemic or do you think this will be the new norm?
PC: It was strange, it is strange, and it's also expected to be a part of a network sitcom that directly addressed the pandemic. There have been other shows and projects as well. It is and will be a product of our times and lives. It was strange to be working while so many friends are just waiting to see what will happen in 2021. Vaccines, social distancing. This is going to be a part of our lives for the next few years, in my view. 2020 will always be this year where so much of our lives, especially for the entertainment industry, will have changed. There will be more shows dealing with the pandemic. I wonder about the art that is being made in home offices and bedrooms and backyards right now with writers and producers just creating away.
The last four years of Trump and Trumpism vocalized hate, enacted and supported by the GOP, and was rough for so many of us. I have no clue what the new normal will be but it's been interesting being a part of the initial attempts of serialized television with the pandemic.
MJ: What has been your own experience during these trying times? Are you looked down with loved ones?
PC: I was doing the West Coast premiere of Found the Musical by Hunter Bell, Eli Bolin, and Lee Overtree over at my theatre company, IAMA Theatre when we got the plug pulled on us in March. My mom and brother were visiting from Chicago and just ended up staying until May. I am one of the hosts for Stage 13 Network's Family Style show for WB online and we even got put on hiatus. But I just was lucky to be able to continue with voiceover work in my closet. Yes, back in the closet. I'm 15 all over again. Ha ha. But a lot of us voiceover actors continued with our work and just had to sound dampen some areas of our homes. Most of us…our voiceover booths are now our closets. This was all before Connecting which for me was July until October for filming and October to the election in November was just trying to get Biden and down the ballot, progressive policies and Democratic candidates elected. I feel like I took the last few weeks of November off just for my mental health and to luckily have a break. My partner has been dealing with his work and is deciding on going back to school. I feel like it's a great time to study, educate, and take any classes you can. I'm going back to my acting studio in the new year as well. It's all online and it allows me some normalcy and schedule. I'm lucky. I'm a homebody now the older and more secure in my family life.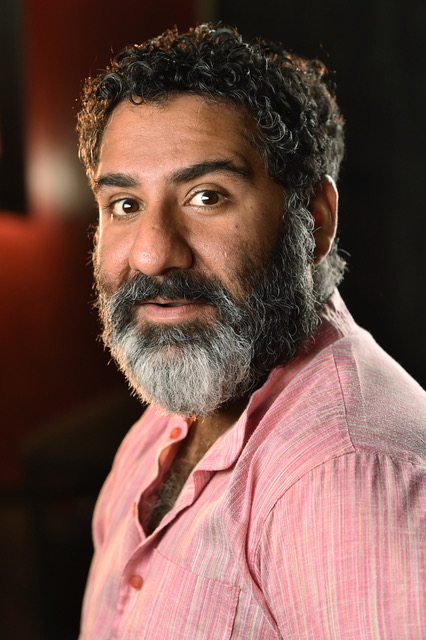 MJ: Mental health issues are coming to the fore. What unique pressures have you faced and how chosen family, comedy, and digital life help us?
PC: Mental health. I'm just grateful everyone is talking about it. We have a long way to go before we have true healthcare for everyone in our country but I do hope mental health is at the forefront in the hopeful return to normalcy under Biden and Harris. I have pressures like everyone but am grateful to my smaller circle of friends under the pandemic. But those social ties have gotten stronger, believe it or not. The friends I have, do not question science or their selfish need. I'm lucky. We all crave connections and social interactions in person but we can wait. I like a good FaceTime or Zoom with pals and our trick is to not have them go too long. Just enough. I also enjoy seeing comedy shows online. Truly. You don't have to drive, valet, two-drink minimums, fight with kids in their 20s…ha. I have been watching Tony Soto's Learn the Words Bitch lip sync contest and Jenny Yang's Animal Crossing set Zoom comedy show, Comedy Crossing from the comfort of our sofa.
MJ: Can you tell us a little bit about Family Style?
PC: Family Style is a great show. It's all about food. Asian American experiences and cuisines. I was a guest on their first season. I know a bunch of the people in front of and behind the scenes and was asked to be one of the Foodie Fam, as they call us hosts. We interview fellow actors but other cultural icons in entertainment and the culinary world. We were doing in-person filming when the pandemic hit but we did a lovely at-home episode where my best Chicago South Asian American pals Janina Gavankar, Sonal Shah, and Danny Pudi and I ordered from our favorite Indian cuisine restaurants and did a Safe at Home episode. That was important to also support the restaurant industry and their workers who are going through it this past year.
MJ: Please share some of your plans for the Holidays.
PC: We are just staying safe at home. We are lucky enough to be able to. He is going back to school full time and I am just spending time in the home that so many people have seen on their television sets or laptops or tablets or phones. We are cooking more and trying to remember to do our exercises at home. I feel like getting back into a great routine and schedule to prepare for a life post vaccine and under a presidential administration that is kinder to our community. I still make silly videos on social media and I don't mind a quieter time to mark the occasion of 2021. I'm grateful to have the time with my loved ones.