Brand-New 2023 Mazda CX-50: A Sporty, Rugged 'Otter' of an SUV
If you look at the all-new, hot-off-the presses Mazda CX-50 and think 'this is the same thing as the Mazda CX-5', you wouldn't be completely wrong.
The 2023 Mazda CX-50 is a sporty, peppier, butcher CX-5, if you will. It's got more off-road capability, a more rugged exterior, more towing capacity (yes, you can tow stuff with this car), more engine choices and more trim choices … and the model is meant to give consumers a bit more of a flair for those who lead an 'active lifestyle'.
(Hey, some Bears do lead an 'active lifestyle', to include driving instead of flying to at least three Bear gatherings a year.)
First off, this car is a 'compact' SUV, which, of course, means that if you have never-ever in your life been considered 'compact' (a compliment in our world, right, fellas?), you will want to get in the car first before you consider this as your primary ride.
Prices start at $27,550 US. I tested one of the higher-end trim levels with turbo and nice stuff and, yes, it was more expensive. To make your CX-50 all glitter and shine, you may want to look at one of the midrange trims. Mileage averages 25 mpg.
I found it great for getting around town, especially during the snow and slush of Colorado. And, according to U.S. News and World Report, it's also great at both the "campsite [and/or] trailhead." Standout features of the CX-50 include its road-handling – and it's interior.
Edmunds.com found that there was plenty of room inside for five passengers, so that tells you something about the Body Mass Index (BMI) of the guys they hire (all excellent research journalists). U.S News also found the interior to be "suave and finely trimmed" as well as "elegant yet restrained".
I think you can safely get four Bears inside for a short road trip, and assuming there is no emergency, like getting stuck at the Canadian border or inside the Chunnel, you should be okay. And, yes, I did like the interior. Diamonds may be a gay's best friend, but should you spill your Burrito Grande, it's hell to clean up – but not in the CX-50.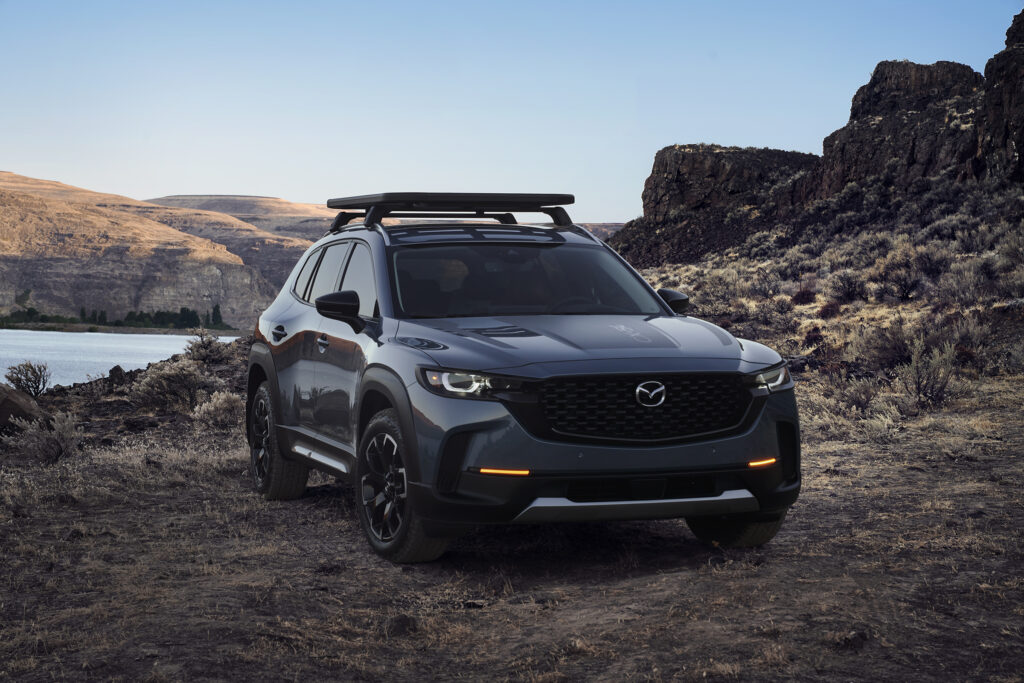 If you just need a get-about-town car, you may want to go with just the Mazda CX-5, which is actually a competitor, and it's cheaper. With the CX-50, Mazda is going after Subaru and its lineup or AWD fun vehicles that can handle just about anything.
The CX-50 just might do the trick.
2022 has been a rough year in so many ways. Here's hoping 2023 will be smoother. And tamer.
And less expensive. Happy New Year!