Bisexual Sex Columnist Zachary Zane Reveals All in new memoir, Boyslut
In Boyslut, ottery and handsome relationship/ sex columnist Zachary Zane reveals all. Described as part memoir, part manifesto—the book explores his coming-of-age and coming out as a bisexual man and his journey toward embracing and celebrating sex unencumbered by shame.
As a boy, Zane sensed that all was not right when images of his naked therapist popped into his head. Without an explanation as to why, a deep sense of shame pervaded these thoughts. Though his therapist assured him a little imagination was nothing to be ashamed of, over the years, society told him otherwise.
Boyslut is a series of personal and tantalizing essays that articulate how our society still shames people for the sex that they have and the sexualities that they inhabit. Through the lens of his bisexuality and much self-described sluttiness, Zane breaks down exactly how this sexual shame negatively impacts the sex and relationships in our lives and, through personal experience, shares how we can unlearn the harmful, entrenched messages that society imparts to us.
From stories of drug-fueled threesomes and risqué Grindr hookups to insights on dealing with rejection and living with his boyfriend and his boyfriend's wife, Boyslut is reassuring and often painfully funny—but most potently a testimony that we can all learn to live healthier lives unburdened by stigma.
Preliminary reviews are of Boyslut have been extremely promising:
"Zachary Zane is one of the best sex writers working today. He has a unique ability to balance humor with a deep appreciation for the vulnerability and humanity of his subjects. And reading about Zane's own sexual adventures is like getting invited to Sunday brunch by your wittiest, sluttiest, funniest friend and getting to listen to him recount his crazy weekend." —Dan Savage, sex columnist and New York Times bestselling author
"Zachary Zane is a FABULOUS queer writer and thinker who's doing the Lord's work by promoting bi-visibility, teaching the children about polyamory, and helping the LGBTQ+ community—and really, all people—learn how to become their best authentic selves." —Billy Porter, actor, singer, and author
"In a world where sexuality and masculinity are often misunderstood and conflated, Zachary Zane manages to use his own unique experiences to knock down stigmas and expand what it means to have a healthy relationship with sex. His honest approach is a welcome reprieve from the messages of our youth and his self-exploration not only encourages but enables us to do our own." —Allison Raskin, podcaster and New York Times bestselling author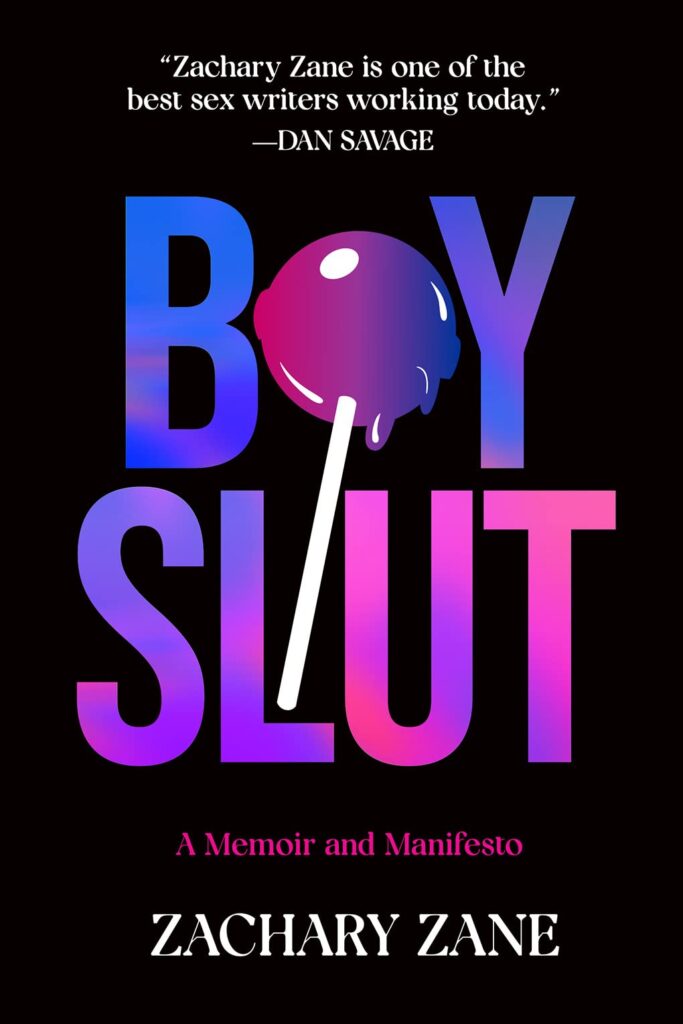 Zane currently serves as the sex and relationship columnist for Men's Health, where he writes "Sexplain It" and answers a diverse range of questions pertaining to masculinity, ethical non-monogamy, sexual insecurities, and the LGBTQ+ community. Before writing Boyslut he was the coauthor of Men's Health Best. Sex. Ever: 200 Franky, Funny, & Friendly Answers About Getting It On. He and his work have appeared in outlets such as the New York Times, Washington Post, Playboy, Vice, GQ, Rolling Stone, The Advocate, Tamron Hall, and Nightline. He currently holds partnerships with Lovehoney, Sniffies, and P.S. Condoms, and is currently in development on a TV show that explores sex across the United States.
Boyslut: A Memoir and Manifesto from Abrams Image Publishers will be released on May 9 and available wherever books are sold.
To preorder your copy, click here.
This article was originally published on our sister site Queer Forty.