Big Dipper releases creative new video for 'HAM AND CHEESE'
Queer internet rapper BIG DIPPER releases A 'Honey, I Shrunk the Kids' inspired music video for "HAM AND CHEESE," featuring TT The Artist, a 3D world of meats and cheeses, and a pole dancing cameo from Nicole Byer!
The music video for HAM AND CHEESE is a fantasy world where Big Dipper, TT The Artist, and their dancers, shrink to miniature proportions and get jiggy in a grocery bag, a baseball mitt, and on a picnic table in the park all surrounded by giant food items.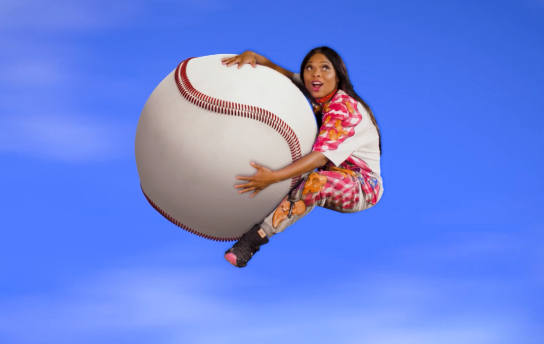 Featuring a bikini clad pole dancing cameo from everyone's favorite BBW queen Nicole Byer, the video for this high energy club track makes you want to shake your ass on a ham and cheese sandwich (apologies to the vegan contingency).
When asked about collaborating with TT The Artist, Dipper said "Working with TT was so great because she is such a good writer, sounds amazing on any track she works on, and she was so down to play around with this wacky idea we had for the video!"
This is the first of 3 music video releases slated for Big Dipper for summer 2022, following a brief hiatus after his video for "BACK UP OFF ME" came out in 2020.
The HAM AND CHEESE music video was created in collaboration with animator Michael Chadwick, editor Julian Lormant, choreographer Melissa Schade, and stylist Patrick Gainer with custom clothing pieces by airbrush artist Malcom Stuart.
"HAM AND CHEESE" was written by Big Dipper and TT The Artist, with music production by So Drove, who created all the music for Big Dipper's EP: THE HAM AND CHEESE EP (May 2020). Past collaborations between the two include Big Dipper's body positive viral anthem "LOOKIN."
Check out the video for "HAM AND CHEESE" below!
Stream "HAM AND CHEESE" now on iTunes, Spotify and all other streaming platforms!