Big Boys – The Coming-of-Age Film Bears Have Been Waiting For
Big Boys, written & directed by Corey Sherman and produced by Allison Tate, has been generating lots of buzz as it makes the rounds of the film festival circuit. Here we present our review in conjunction with excerpts from our conversation with Sherman. Please note this review does contain spoilers, but nothing that would ruin your enjoyment of the film, as its more of a character study and situationally driven piece. However, for those that prefer to know nothing of a plot when going into a movie, well then, this is your fair warning.
Big Boys is a coming-of-age story in which Jamie, a teenage boy, experiences a sexual awakening when he falls for his cousin's boyfriend on a family camping trip.
That is the synopsis of the film and while it basically tells you everything you need to know, it also doesn't even scratch the surface. The film is so wonderfully nuanced, realistic and relatable that I think we might have a new 'bear classic' on our hands. It is my genuine belief that this movie will find its way into the pantheon of the revered bear movies/ TV series of our time which include titles such as BearCity, Cachorro (Bear Cub) and Where the Bears Are (which, fun fact, Corey Sherman played a bit part in during season four).
The film stars teenage newcomer Isaac Krasner who gives a magnificently layered performance as Jamie, displaying a talent that is far beyond his years.
"We did a nationwide call and Isaac was the first tape that I watched," Sherman said when speaking about the young Krasner. "And I just remember having a feeling, pretty immediately, that he was just really, really special. I think he has such a mature approach to the role because he played it so earnestly. One of the things that I love in actors, and particularly think Isaac is amazing at, is that you can just read his thoughts. With most people, they're wearing somewhat of a mask, they're trying to hide what might really be their ulterior motive, but it's always very clear watching him, what's actually going on inside his head. But he also does such a beautiful job covering it up in a very realistic way, which was perfect for Jamie. He had such a deep understanding of the characters' nuances and the tone of the movie."
The character of Jamie is sure to resonate with many bears out there. I know he resonated with me, and reminded me of myself as a chubby, funny and awkward teenager. The character was beautifully written with amazing detail, down to him wearing t-shirts while swimming in the lake due to his shyness/embarrassment over his body, an issue that Sherman purposefully included in this film. Although subtle, for me a big part of the story arc is not only Jamie embracing his gay tendencies, but also accepting himself as a bigger bodied person.
Case in point: Dan. The object of Jamie's desire is Dan (David Johnson III), a strapping hunk of a bear, furry tummy and all who is on the camping trip with Jamie as a last-minute addition thanks to his cousin and best friend Allie (Dora Madison). Dan is Allie's boyfriend, much older than Jamie, and straight but physically, very much a bear. And through Jamie's crush on the bigger bodied Dan, he learns to appreciate his own size and stature, as evidenced by fantasies of his future self in which an older Jamie (played by Jack De Sanz) is still chubby, spending time with Dan in rustic surroundings, grilling steaks and being in love.
When I asked Sherman about that he said:
"There's just a feeling inherently of being uncomfortable in his body and being maybe a little ashamed of it. But then he sees someone like Dan who's so confident in his body and who wears his weight with a real swagger and total confidence and comfort, and I think that is really appealing to Jamie. And I like the idea of that just consciously or even subconsciously rubbing off on him so he could be like,' Oh yeah, I could see myself in that way too, I don't have to change anything about myself.' It's about a change in perspective and attitude towards what he already looks like and his fantasy version of himself being sort of a projection of that."
I personally appreciated the innocence of Jamie's fantasies. The film sidesteps any concerns about his age by casting an adult fantasy version of Jamie but yet still restrains itself in favor of presenting the actual fantasies of a 13- or 14-year-old which more revolve around 'happily ever after' than getting hot and heavy with your crush. It's a big part of why the film works, its realism.
Viewers will also likely develop their own crush on Dan. Johnson's portrayal of the big beefy teddy bear scores high points for its own relatability. Growing up, many of us had that one male role model that was kind to us where others made fun of us, who took us as we were instead of rejecting us for being too 'out there' or 'too awkward' and Johnson plays that perfectly. Dan is not put off by Jamie's eccentricities and in fact tries to help Jamie and nurture his interests, especially when put up against his brother Will (Taj Cross) who has a tendency to make fun of and bully him. Even after Jamie makes his feelings for Dan clear, he never dismisses or tries to hurt Jamie which may be the only facet of the film that could be debatable in terms of believability; but it's handled in such a masterful way that I personally never questioned the plausibility. There is nothing about it that rang false to me, which is another testament to the authenticity of Sherman's writing.
Said Sherman: "My whole life I've been close to straight men. I mean, I have an older brother. I'm really close to my dad. I've always had straight friends. And I just wanted to make something that felt like it showed that there was possibility for harmony and mutual respect. I didn't want to have this hierarchy thing or something that was super tense and full of suspicion, closetedness and anger; all these things that are of course real parts of the world, but I think just come from straight men's confusion around all of this stuff. I wanted to show that someone like Dan could have a really compassionate response and that Jamie could feel really respected by him, that there's this idea of, like, 'Sure, I might not be interested in you for a number of reasons, but I really respect what you've done here, and I see you as an equal'."
It's also worth pointing out that Sherman himself is a member of the bear community and has been aware of the culture since his own adolescence.
"When I first started to realize that I was gay, it was sort of through an understanding of what bears were. It was what I was immediately most attracted to. I remember in middle school googling what a bear was, reading about Ptown Bear Week and reading Andrew Sullivan's article in Salon about bear culture, and it really provided this North Star for me. It was very much a feeling of: 'One day I will get there, I have to wait because I'm 13 right now, but I'll get there.' It's such a full circle moment for me, releasing this film, because this was my gateway into being gay.
I remember when I moved to LA for college and I went out on a date with my first bear. He took me to a bar called the Faultline in LA, which isn't there anymore, but that was my first bear bar. I kissed him there. That was my first kiss with a guy. I so vividly remember the feeling of his beard when I was kissing him and being on cloud nine. It was just that feeling of like, 'Oh my God, I have been picturing this sensation for so long and now it's finally happening!.' And then the feeling of finally being able to rest my head on his belly, this feeling I'd been fantasizing about for such a long time that it was actually overwhelming. I think I kind of freaked him out by how overjoyed I was!"
It was at this moment during my conversation with Sherman that I knew he was the real deal, which is why I've included it here. This reminiscence showed me that this movie is made by a bear who loves bears, and our community. Big Boys shows this sentiment through and through from the very first frame. It should be required viewing for all people who identify as bears.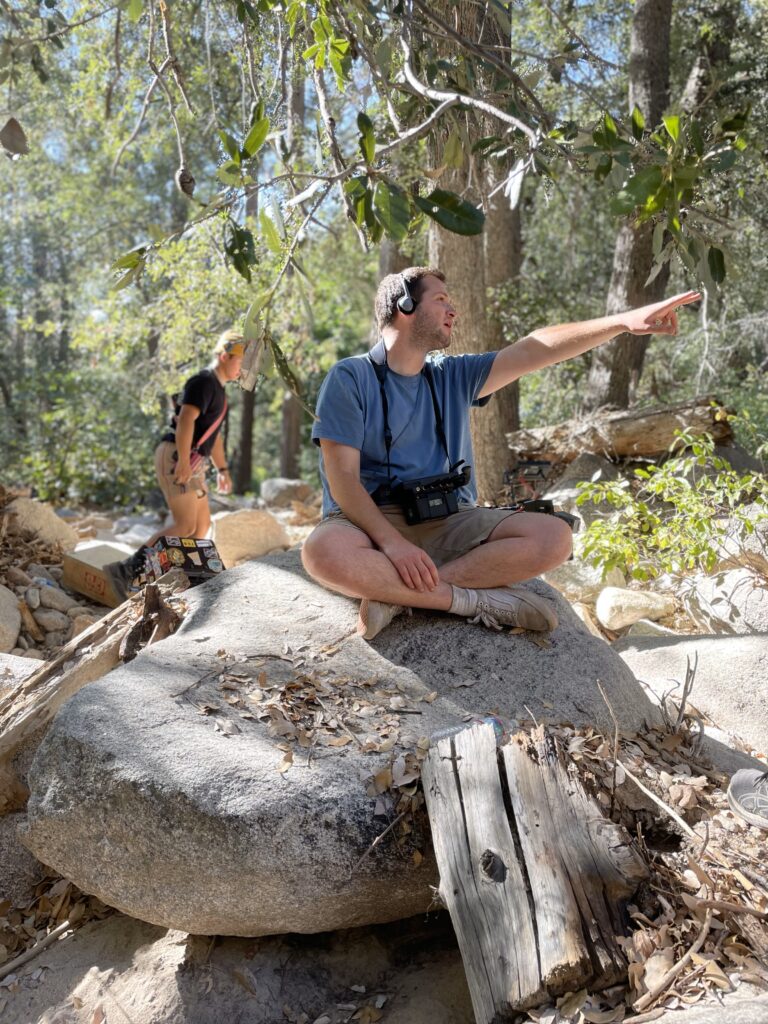 The movie had its world premiere at BFI Flare, London's LGBTQIA+ film festival, to a sold-out crowd and rave reviews. It made its US debut in Boston at the Wicked Queer LGBTQ+ Film Festival and will play later this month at Miami's Outshine LGBTQ+ Film Festival before moving on to other festivals around the country and hopefully to a wider release after that.
If you have the opportunity, go see Big Boys. You'll be happy you did.
To keep up with the latest news on Big Boys and screening opportunities check out their official website here and follow them on social media via Instagram and Twitter.