Beinvenidos to to the very first Beary Boricua in Puerto Rico!
BIENVENIDOS to the first annual Beary Boricua!
Beary Boricua, taking place from Thursday, October 13th to Monday, October 17th, 2022, is a weekend of tropical sun where the bears can put off hibernating just a bit longer. This will be a Bear Weekend like no other, with a Puerto Rican tropical flair. Join them for an amazing weekend of activities with select partners including The Bitch Bar, Coqui del Mar Guesthouse and Puerto Rico Gay Tours.
They'll be exploring the Porc Highway (infamous roadtrip featured on Anthony Bourdains' show), pool mixer, beach party and fun nights out. Reserve now, as there's limited space at the host hotels. You'll always remember the first event!
---
HOST HOTEL AND EVENTS
Included with your stay at the Beary Boriqua host hotel, Coqui Del Mar will be a VIP Welcome, priority reservations for the gay tour on Friday and 50% reduction on tour price. There will be a Barbecue Pool Mixer and a Gay Brunch on Sunday, with two drink tickets per event. There will also be VIP access to the Beary Boricua tent for the beach party.
NIGHTLY PRICING AT COQUI DEL MAR (does not include 9% tax)
TAINO: $180
BEAR ROOM: $210
PINK ROOM: $195
KING RAINBOW ROOM: $195
SHARED ROOM: BOTTOM TWIN BED (one person): $85
SHARD ROOM TOP TWIN BED (one person) $85
PLEASE NOTE: There is no special wristband price for Beary Boricua. All events are included in the Hotel Price as per the details.
For those not staying at the host hotel, sign-up and payment for the separate events is possible a la carte for some events (not bbq or brunch). Tickets for the Beach/Porc Highway tour are offered at $100 per person, including lunch, transportation and tour. (drinks not included).
The beach party on Sunday is public and open to all. Come enjoy a gay day at the beach with a Puerto Rican flair!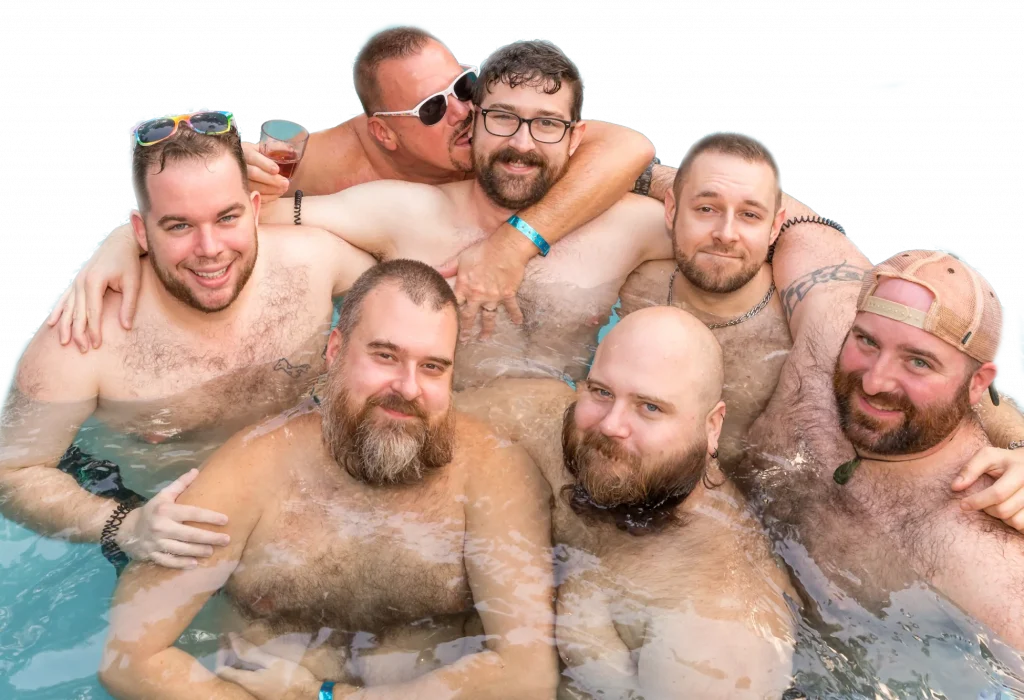 The Coqui Del Mar Guesthouse offers a pool and jacuzzi and the first floor is entirely clothing optional. Just one block from the beach, the rooms are different sizes from shared rooms to larger, king rooms. See more details at coquidelmar.com.
PLEASE NOTE: More hotels will be added, so please continue to check the website at bearyboricua.com for updates!
Beary Boricua is happening from Thursday, October 13th to Monday, October 17th, 2022, so book TODAY!
To book a room for Beary Boriqua weekend at the Coqui Del Mar, email info@coquidelmar.com.
---
To learn more about Beary Boricua, visit bearyboricua.com.