BeefDip 2023 is around the corner! Here are the details.
Hey, all you hot BeefDippers! This year's BeefDip in Puerto Vallarta will be getting started in the next few days, so if you're going make sure you have all your bears in a row and know everything you need to know!
Like last year, you will be able to pick up your tag at the BeefDip Welcome Center located in the lobby of our host hotel, Blue Chairs Resort.
The address is: Calle Malecon #4, Emiliano Zapata, PV
WELCOME CENTER SCHEDULE:
Saturday, Jan 28th 12 PM – 5 PM
Sunday, Jan 29th 12 PM – 9 PM
Monday, Jan 30th 12 PM – 5 PM
Tuesday, Jan 31st 12 PM – 5 PM
Wednesday, Feb 1st 12 PM – 5 PM
Thursday, Feb 2nd 12 PM – 5 PM
To pick up your tag, please bring your e-ticket pdf, printed or on your phone (we need to scan the QR code), and a photo ID (it must match the name on the e-ticket). Electronic tickets will be resent within a few days for those of you who missed the first email. Please be sure to check your spam or secondary email folders just in case.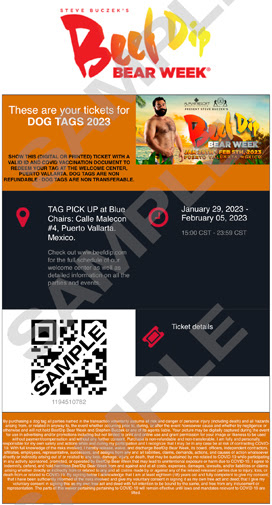 Now get ready because this year BeefDip has nearly 30 parties and events that are free to tag holders! That includes this year's White Party with Tracy Young and our Military Maneuvers with Chris Cox (from Thunderpuss) and the brand new Animal Haus party with Division 4.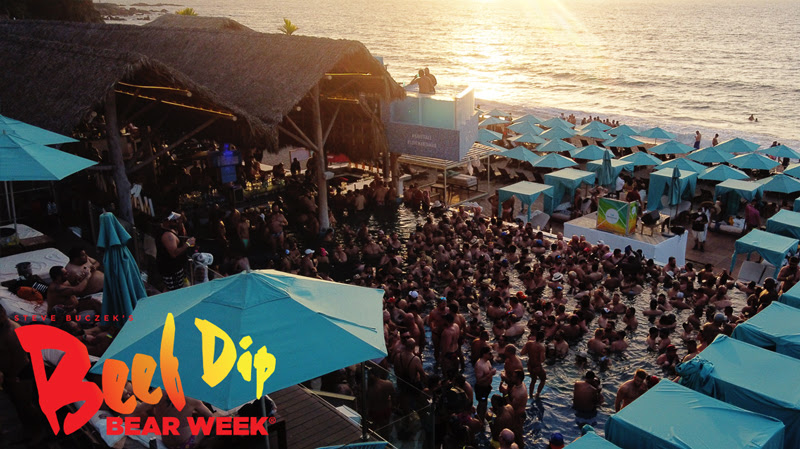 BeefDip will also be celebrating their Classic Disco Night on Monday with Dj Benjamin Koll, Bearaoke with Effie Pasero, Aquabear with Dj Hoolio Kmacho, Leather Black Ball with DJ Jose Spinnin Cortes on Saturday. And to end an unforgettable week, they will be throwing the biggest underwear party in Puerto Vallarta at CC Slaughters with DJ TK.
Also new this year, they will have 3 nights of BeefDip Takeover at the brand new Studs Bear Bar on Monday Jan 30th with DJ Ponni D'Seas, Tuesday Jan 31st with Division 4, and Wednesday Feb 1st with DJ Giaco.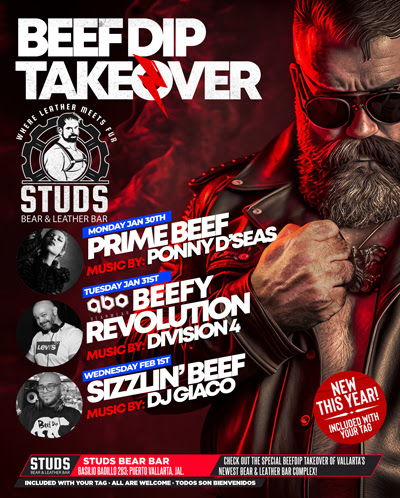 Thursday at 11AM is the annual fundraiser, and they are only asking for a $10 donation. You'll be helping their charities Vallarta Food Bank and SETAC with the proceeds from the door, as well as all proceeds from the silent auctions and swimsuit auction that will take place during the event, and a percentage of the bar kindly donated by Mantamar. Music will be in charge of DJ Giaco and DJ Jose Spinnin Cortes.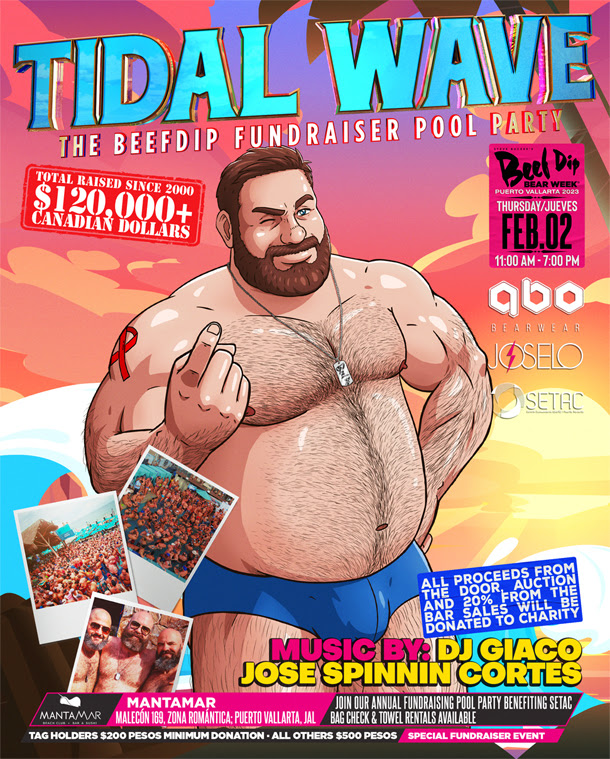 This year, all of BeefDip's club night parties will start at 9pm. The Mantamar Beach Club pool parties and their brand new MadBear Foam Party with DJ Benjamin Koll will start at 11am!
Remember that if you book your Wild Treks Adventures ZipLine and ATV Tours during the Splash Pool Party at Mantamar, you will receive a $40 USD discount off the original price, a deal that is only available to you as a Tag Holder!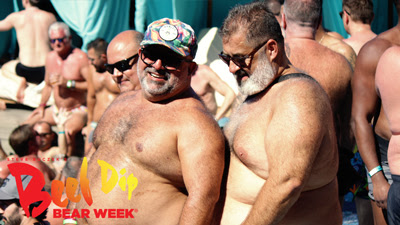 And last, but certainly not least, remember that if you are a tag holder BeefDip's legendary Booze Cruise is already included with your tag, and you don't need to register, get extra tickets or sign up for it. Just show up at the pier on Friday February 3rd, 9am SHARP with sunscreen and a towel and you're good to go!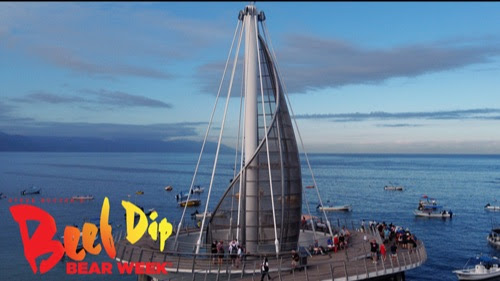 Note: Remember to bring cash for drinks on the beach, souvenirs and tips since they're not included. If you suffer from motion sickness be sure to grab some Dramamine or the motion sickness pill of your choosing.
BeefDip Bear Week 2023 is going to be the event of the year, and the BeefDip team will be expecting you with open arms and a big smile. Safe travels bears!
For more information about BeefDip, visit beefdip.com.