Beary Festive Holiday Playlist: Cynthia Lee Fontaine's 'Bring Me the Holidays'
RuPaul's Drag Race's "Miss Congeniality" winner Cynthia Lee Fontaine shines as a glorious Navidad queen in her festive song and music video!
Last Christmas, Cynthia Lee Fontaine released "Bring Me the Holidays," which was co-written by Armando Barrientos. It's a jazzy ballad with its pop influence ushers in the joyous spirit of the holiday season, whisking listeners on a magical journey through an enchanted Christmas forest. "Adoro la temporada Navideña," says Cynthia Lee Fontaine from her Austin home. "It's the time of year I reflect fondly on my childhood memories with my family in Puerto Rico. Amo a mi familia!"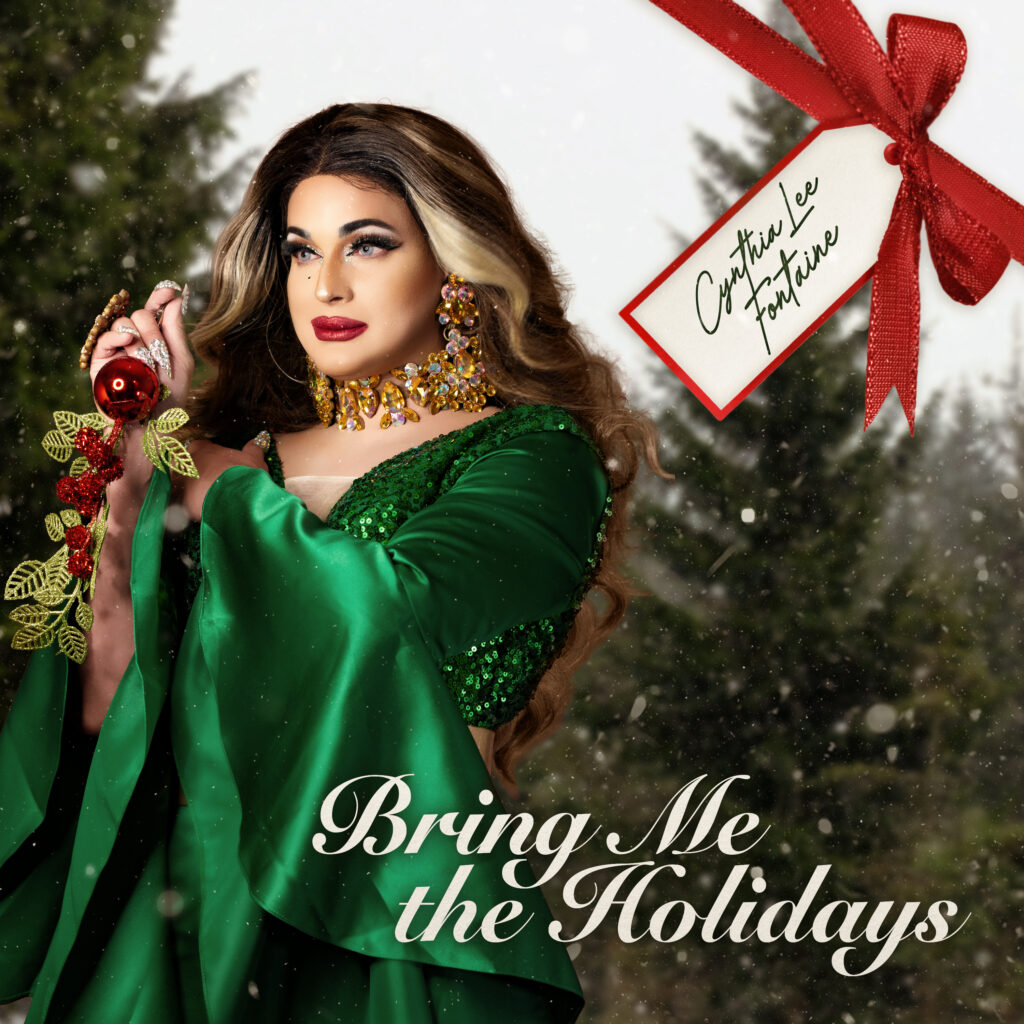 Fontaine also holds a deep love for the island of Puerto Rico. "What makes Christmas in Puerto Rico special is the music, the dancing and oh, the food," she continues. "On Christmas Eve, we would prepare a turkey and a 'lechon' (roast pig), a very traditional dish in Puerto Rico."
She continues: "Around midnight, the adults would celebrate with hugs and kisses and then check on the children to make sure we were sleeping because Papa Noel would be coming soon! Early Christmas morning, the children would wake to presents under the tree and after opening all the gifts, we would gather for our traditional breakfast with the leftovers from Christmas Eve dinner. It was always so much fun!"
Cynthia Lee Fontaine was born and raised in Puerto Rico. Her father had three children from his first marriage and two children with Cynthia's mother. Cynthia's parents divorced when she was young and her mother had another child (Cynthia's younger brother) with her second husband. Christmas was a time for all of the siblings to get together.
"My favorite Christmas was when I was 5 years old and my two big sisters and big brother, who we living in Orlando at the time, surprised us by coming to Puerto Rico on Christmas Eve. It remains, by far, one of my most cherished Christmas gifts ever."
Cynthia's boyfriend, Armando Barrientos, co-wrote and produced "Bring Me the Holidays" and directed and produced the music video. Cynthia added the Spanish lyrics in the song. "This is the very first song and music video that we worked on together in our almost three-year relationship," Cynthia says. "We have a shared passion for the holidays!"
The music video for "Bring Me the Holidays" was filmed at the Barton Creek Greenbelt in Austin, Texas. It's a gorgeous forest area that allowed Cynthia to appear as la reina de navidad in a fairy woodland. "What you can't see is that I'm wearing flip flops in the video," Cynthia laughs.
"I arrived to Greenbelt in high heels and an evening gown but the land is full of rocks and the shoot required that we go deep into the forest! I didn't bring sneakers so I had to make do with flip flops I had in my bag."
Cynthia Lee Fontaine is the stage name of drag performer, Carlos Díaz. Cynthia competed on the eighth and ninth seasons of RuPaul's Drag Race, winning the title of Miss Congeniality in season 8. Sadly, after filming, Cynthia was diagnosed with stage one liver cancer. Fortunately, by season 9, she was in remission and returned to the competition on the second episode as the "fourteenth queen" of the season.
"My Christmas wish for all my Cucu fans is that they have joy and happiness this Christmas season, and a prosperous and healthy and happy New Year. Feliz Navidad y Prospero año Nuevo 2022!"
Watch the video for "Bring Me the Holidays" below!
Cynthia Lee Fontaine's "Bring Me the Holidays" is available on all streaming platforms including Spotify and Apple Music.