For this week's BearWatch spotlight, we will be shining the light on the talented and versatile singer, songwriter, musician and visual artist, Cody Copeland.
A self-taught instrumentalist and trained jazz singer, Cody began playing music at a young age. While growing up in Florida, the first instrument he taught himself to play was the piano. "[The piano] was my favorite 'toy' in the house", says Cody. "I was also obsessed with the little keyboards with built in drum machines and the kooky sounds they could make."
It wasn't until high school when Cody decided to start playing guitar, after finding his dad's old acoustic guitar in storage. It was at this time that Cody started to develop his own style of playing guitar. Known for playing his guitar on his lap sideways, Cody also began to develop his own unique sound.
"The guitar had a really wide neck and I couldn't wrap my fingers around it", he says. "Also, I didn't know how to tune a guitar, and so I 'made up' what sounded good to me, which turns out is called 'open tuning'. This is the way slide guitarists tune their guitars."
Despite this undoubtedly unique technique, Cody attempted to teach himself how to play in the standard tuning. However, he had already developed his own style. "It just felt right to play guitar this way", he says.
"I did try to teach myself to play in standard tuning, but at that point I had already been writing songs on guitar 'my way', and I would just end up getting impatient to start writing again. So, I always went back to the way I liked to play, and I haven't looked back since."
It was then that Cody began writing lyrics and dabbling with synthesizers and drum machines, while self-producing at home. He began to perform live around age 17. "I was in love with The Postal Service at the time, and wanted to make music like theirs."
In his early 20s, Cody moved to Chicago, where he began to make a name for himself as a performer. Throughout the years, Cody has lived in numerous cities, including New Orleans, San Francisco, Berkley and Pensacola, FL, which he now calls home.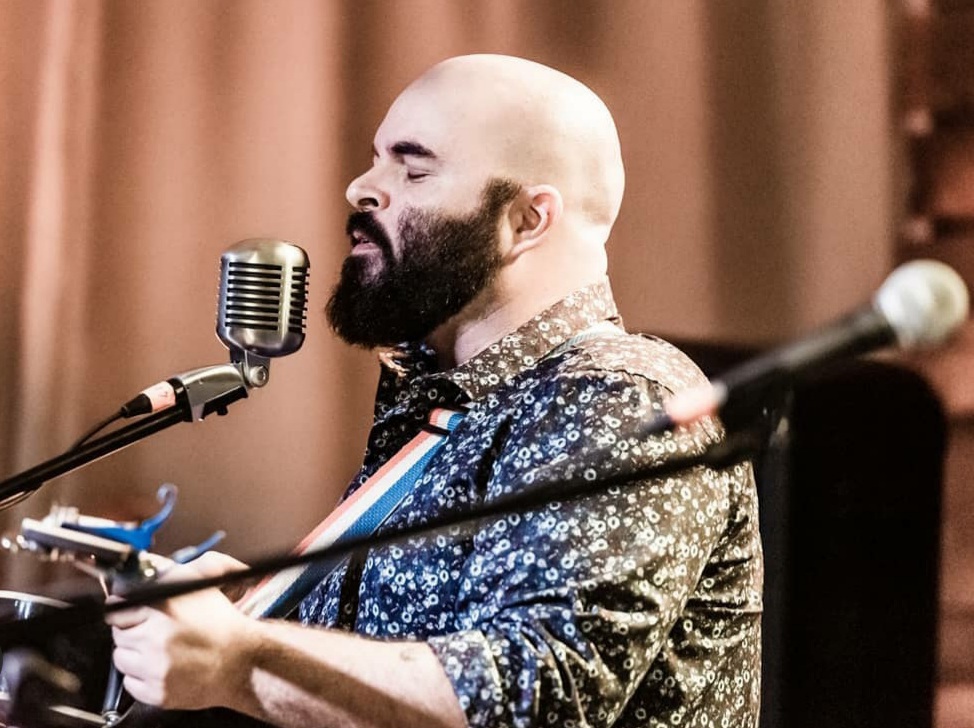 As a musician, Cody has become known for his soft but powerful vocals–he's a crooner with a soul that exudes a type of raw vulnerability that's unmatched and unexplored in most of today's music.
He has the ability to connect with his audiences on multiple levels– exploring both soft acoustic sounds and synth-based pop tracks, while also managing to resonate with every soul and heartbeat in the room.
It's important to play with nuance, whether it's in my art, my music, or my life. Those dynamics are what keep it interesting.

Cody Copeland
He has self-produced three albums– Luster (2009), Happenings (2011), and Two States (2013). The acoustic EP, The Laminar Sessions (2017) was recorded and produced at Studio Laminar in Berkeley, CA.
While continuing to pursue his music, Cody also continues to pursue his work as a visual artist. Last summer, Cody presented his second solo exhibition entitled "Empathy & Color" at Anne Hunter Galleries in Seaside, FL. After the exhibit was completed, Urban Objects in Downtown Pensacola, FL began carrying his works.
While there is no planned date for a fifth studio album, Cody has just finished a new single entitled "Poor Baby" — where his mellow, soulful vocals melt over the groovy synth-pop beats like butter.
"It's a song about isolation that I wrote when I was living in San Francisco that now feels very fitting", he says, in reference to the coronavirus lockdowns being experienced by everyone across the globe.
"I think it makes more sense these days to release singles instead of albums. because it's easier to get someone to listen to a song than an entire album."
Whether it's a new song or a new album, we are definitely looking forward to whatever else Cody Copeland has in store!
Follow Cody Copeland on Instagram, Facebook and Soundcloud. Also visit codycopeland.com for more info!
Check out Cody Copeland's "Poor Baby" on YouTube, soon to be released on major streaming platforms!