Bears' Night Out in Toronto: Chubs at the Tubs & St. Louis Bar & Grill!
Looking for a Bear's Night Out in Toronto? Well, look no further, because this April, you can visit Spa Excess in Toronto for Chubs in the Tubs, and follow it up by taking the boys out for some "Devishly Good", world famous chicken wings!
Chubs at the Tubs will happen on Sunday, April 30th, 2023 from 1 pm to 6 pm at Spa Excess, 105 Carlton St, Toronto, Ontario. The official start time is 1 pm, but if you plan to get a room, get there before 11:30 am (YES, THAT EARLY).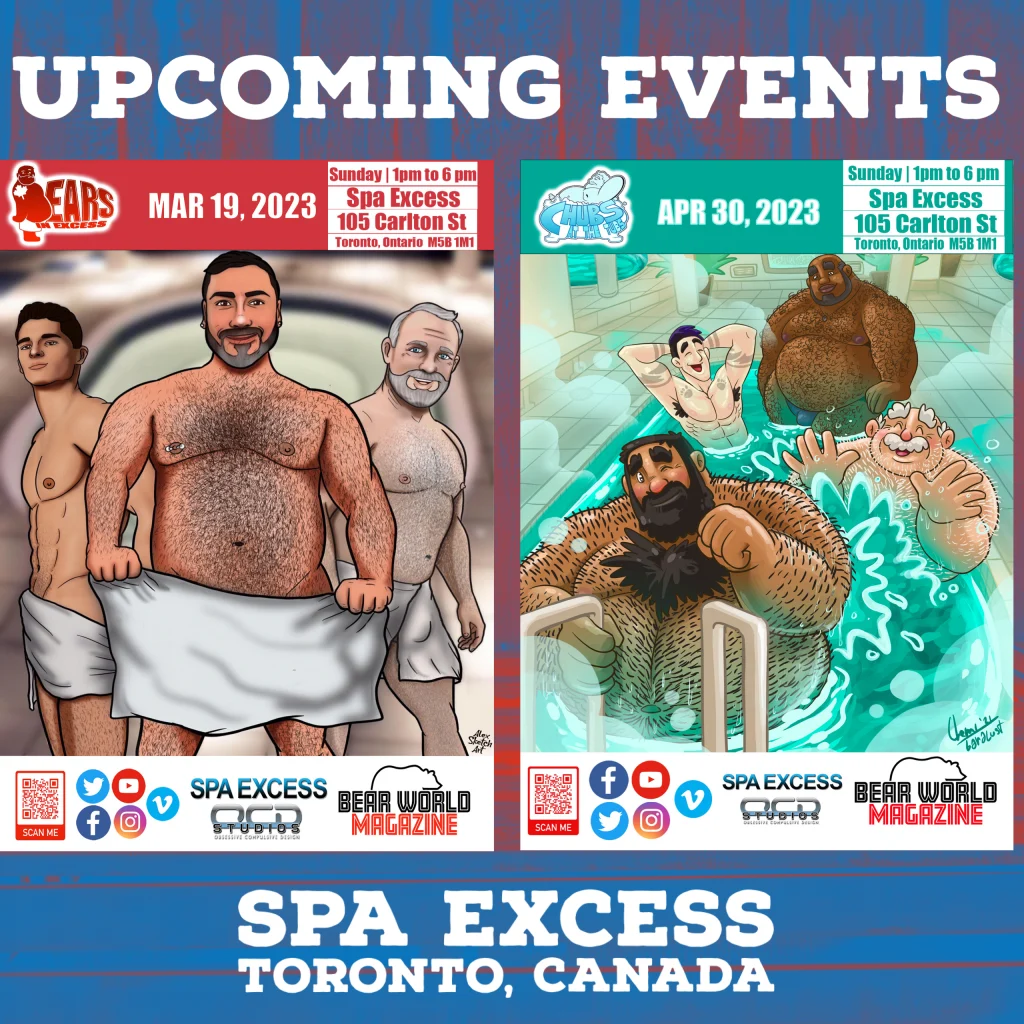 50% off locker coupons are available for Spa Excess. Download it here.
NOTE: If you want a 50% off coupon, please e-mail bearsinexcess@gmail.com and they will send it to you. Please send your request for a coupon by noon on the day of the event as they cannot guarantee that we can send it after that time.
And once you've worked up an appetite at Chubs at the Tubs, head over to St. Louis Bar & Grill, the proudly Canadian restaurant chain with a legendary reputation for creating 'Devilishly Good' experiences while serving up its world famous chicken wings.
This week, St. Louis Bar & Grill launched its curated TikTok channel through its partnership with Loop Media (NYSE: American LPTV). Beginning this week, it will be broadcast at its 75 locations across the country. That's amazing news, especially for the bears, who love a bit o Tik Tok!
"We're thrilled to be the first Canadian partner to integrate curated TikTok content through our partners at Loop Media into the unique experience we offer our guests across the country," said Royal Nasager, VP Marketing, St. Louis Bar & Grill. "Like us, TikTok has grown to become a source of joy for so many people of all ages. This partnership will further enrich the time our guests spend with us while adding another point of differentiation and competitive edge across the business."
Over the last 30 years, St. Louis has earned a reputation for its warm, friendly environment and craveable eats that include its famous wings, signature fries, tasty Garlic Dill Sauce, ribs and more.
Boys, wings and entertainment, what more could a bear ask for?!