Bears in the Alley goes Tropical in Fort Lauderdale!
Mark your calendars and spread the word – Bears in the Alley are going tropical!
The Urban Bear NYC and Eagle Wilton Manors present Bears in the Alley Tropical Weekend, a tropical street fair and dance party. The 2023 edition is set to be an even bigger celebration, held over four days and featuring multiple new events. Enjoy an unforgettable weekend of bears, music and tropical fun as the Urban Bears of New York and their friends from across the USA head south for some Winter Fun in Fort Lauderdale.
The Tropical Street Fair
The street fair will happen Saturday, March 11th, 2023. The Parking Lot of The Eagle will play host to a tropical village filled with a vendor market, DJs, music, boys and bears. 23rd Street will be closed to traffic, so expect a fun and busy atmosphere. The party will run from 1:00pm to 8:00 pm with music by guest DJs and continue later in the Eagle Bar.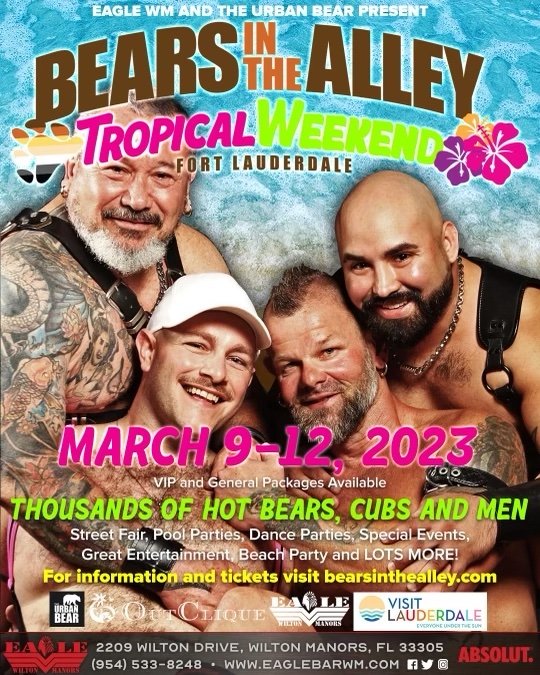 Back Alley at The Eagle
On Saturday, March 11th 2023, you will experience the sounds of internationally known DJ Danny Verde and DJ Alle Reich at Eagle Wilton Manors immediately following Bears in the Alley street fair. The Eagle will be completely transformed with eye popping art work into the BACK ALLEY, a party you won't forget and don't want to miss!
Other Events and Parties
VIP Welcome Pool Party with Limited Bar
Eagle Harness Night
Welcome Party Birch State Park & Beach Party with 3 hours open bar and buffet lunch
Ignite Dance Party
Closing Pool Party After Hours Play Party
See www.bearsinthealley.com/schedule for a full schedule of events!
The Eagle is a classic leather bar in Wilton Manors in an underground Berlin-inspired setting with Great Bartenders, excellent DJ's, and the sexiest parties all season long. The Urban Bears produce one of New York's biggest end of Season Bear Weekends.
For more information about Bears in the Alley Tropical Weekend, visit www.bearsinthealley.com.