Take a Trip to Paradise at Sardinia Bear Weekend
Do you like gorgeous men? Island life? Mediterranean cuisine? Then Sardinia Bear Weekend might be for you!
Sardinia, or in Italian 'Sardegna', is a beautiful island located in the Mediterranean Sea, west of mainland Italy and south of Corsica. Featuring over 1,100 miles of exquisite coastline, it is renowned for its breathtaking beaches, turquoise seascapes and fascinating rock formations. The cuisine offers a rich array of dishes heavily influenced by its surroundings which combine to create something uniquely Sardinian. All this AND bears?! Sign us up!
Taking place in the capital city of Cagliari from July 27th through 30th, Sardinia Bear Weekend combines hot guys with walking tours, drag shows, and (nude) beach parties to create a magical, relaxing and sexy experience. Check out their schedule of events below:
---
Schedule of Events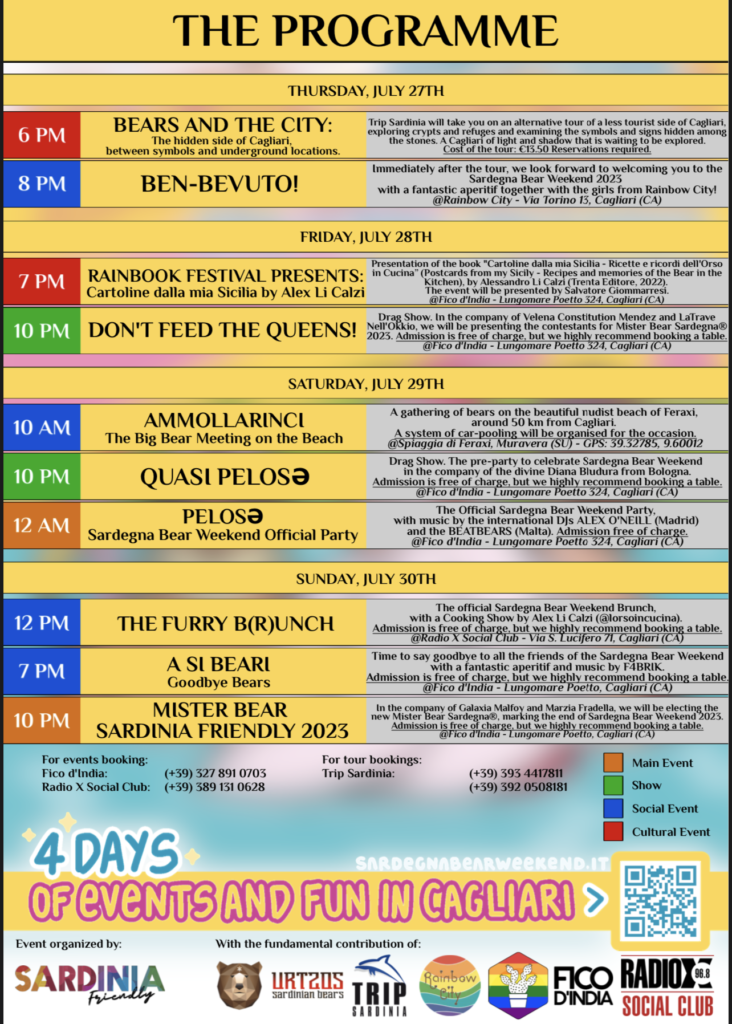 ---
---
Mister Bear Sardegna®
The last day of the event will see the election of the new Mister Bear Sardegna®, a title created in 2019 from an idea by Andrea Ledda of the Urtzos / Sardinian Bears.
The competition aims to celebrate "Unconventional Bearty" (Bear + Beauty), or bearish beauty. It is a celebration of body positivity, one of the founding ideals of the Sardinian Urtzos. Since 2022, the competition has been referred to as the Mister Bear Sardegna Friendly competition in order to promote the Sardinian tourism board's commitment to diversity and inclusivity.
If you are a Bear, Big Bear, Musclebear, Daddy, Otter, Cub, Fan or Chaser, have Sardinia in your heart and want to represent the Bear island community, you are encouraged to sign up for the competition. Click here for more details.
---
Host Hotel
The Best Western Hotel Italia (Via Panzini 67, Quartu Sant'Elena – CA) will be the official host hotel for the event offering the following special rates for attendees of Sardegna Bear Weekend:
– Single Room: 64€ per night ;
– Double room: 89€ per night ;
– Triple room: €119 per night ;
– Family room: €139 per night .
The cost includes the continental buffet breakfast service.
Payment will be made upon arrival, but a credit card is required as a guarantee for each reservation, on which the amount relating to the first night would be credited in case of late cancellation (after 4.00 pm the day before arrival) or no-show.

For more information head on over to Sardegna Bear Weekend's official website.
And be sure to follow the Sardinian Bears / Urtzos on Facebook and Instagram.