Bears in Business: Javier "Ziggy" Zaragoza, owner of My CHL by Ziggy
For this week's Bears in Business feature, we will be highlighting Javier "Ziggy" Zaragoza, creator and owner of My CHL by Ziggy.
My CHL by Ziggy is a new line of shirts inspired by the current sociopolitical climate. The shirts are meant to make a bold statement about the broader context of Pride: we are Americans, we honor our cultural differences, we live out loud – and for all of that we are proud! 
We had a chance to talk with Ziggy, the creator of My CHL, to discuss how it all got started, and what is in the future to the brand.
Kyle Jackson: Can you give us a bit about your background? 
Javier Zaragoza: I was born and raised in Boyle Heights, a neighborhood just east of downtown Los Angeles. I started my career in 1972 as an Office Trainee with the City of Los Angeles, and held other various roles for the next ten years before going to work for the Department of Water and Power in 1982. 
I retired as a LADWP plumber in 2009. Although I was closeted at work, I played for the Greater Los Angeles Softball Association — our local branch of the North American Gay Amateur Athletic Alliance (NAGAAA) — from 1984 through 2016. I was inducted into the GLASA Hall of Fame in 2006.
KJ: What inspired you to start My CHL by Ziggy?
JZ: I've always felt that PRIDE was about more than just sexuality. I'd had the idea for a line of shirts which explored the broader context of PRIDE for quite a while, and then the political climate began to change. The conversation about gays and trans personnel in the military began, and politicians made it sound like the LGBTQ community was less American than others. 
Then, the immigration conversation started, and I'm a firm believer that America was founded as a melting pot. Without the hard work and sacrifices of immigrants, America wouldn't be the First World power it is. Not one white person in America can claim their family heritage began here. As I've always said: If you aren't Native American, your history didn't start here.
That's really what inspired My CHL by Ziggy; our current political climate and a desire to see our community claim their place as proud Americans with varying cultural backgrounds, showing their PRIDE.
KJ: What does your business/brand do?
JZ: My CHL by Ziggy is a line of 100% cotton, "Made in the USA" t-shirts, printed in Los Angeles. Our business is currently online, sold via our website at www.mychlbyziggy.com. 
While we had hoped to have a great launch season at several PRIDE Festivals, our plans were thwarted by COVID-19. That's the great thing about PRIDE, though; it is not limited by a date and time. We can show our PRIDE whenever and wherever we please.
KJ: What do you see in the future for your business?
JZ: In the immediate future, we'd love to add more heritage flags to the line hopefully offering a flag for every nation around the globe. Then, based on our success, grow the line to include other products along with our t-shirts. 
Our greater goal for the future is to have My CHL by Ziggy help fund programs for LGBTQ youth. I had a difficult time growing up and coming to terms with my sexuality. I want to be able to give back and help other young people find their place in our community and have a sense of PRIDE.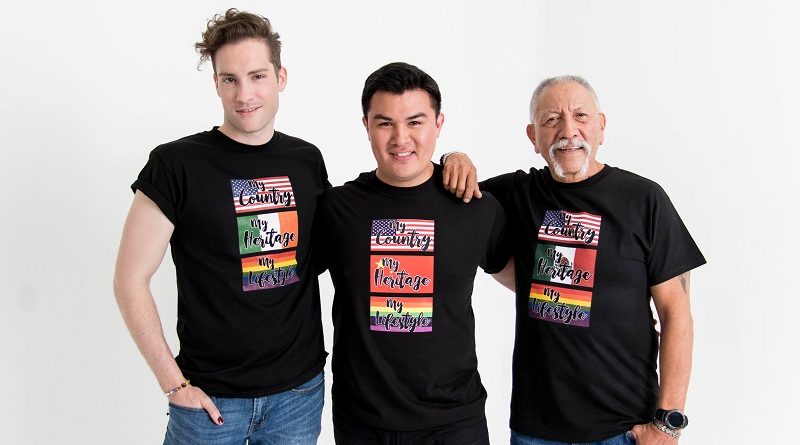 Visit mychlbyziggy.com to shop.
ALL photo's by C.A. Frances Photography
www.cafrancesphoto.com
IG: @cafrancesphoto
Check out the My CHL by Ziggy teaser below!