Bearrison Street Fair Returns to San Fran This Weekend!
The Sisters of Perpetual Indulgence, Inc.®️, (SPI) in collaboration with The Bears of San Francisco (BOSF), is excited to announce a wide range of entertainment options for Bearrison Street Fair 2023, taking place on October 14. With this year's "Under the Big Top" theme, there is more to see and experience than ever before! Wrestling and deadlifts return, with fantastic performers, distinctly "Bearrison" midway games, and unique contests showcase the diversity and fun of San Francisco's LGBT+ community.
Set in the Leather and LGBTQ Cultural District in SoMa, Bearrison Street Fair is "A Fair For Every Bear." SPI and BOSF's goal for Bearrison Street Fair is an inclusive event for adult members of the LGBTQ+ community by promoting body positivity and cultural diversity for all, fostering a supportive and welcoming bear scene.
The popular Barbells, Bears, and Butts Deadlift Competition returns after a huge success last year. This event celebrates strength prowess and encourages members of our community to realize their athletic potential. Hosted by MetalBob, space is limited so sign up today!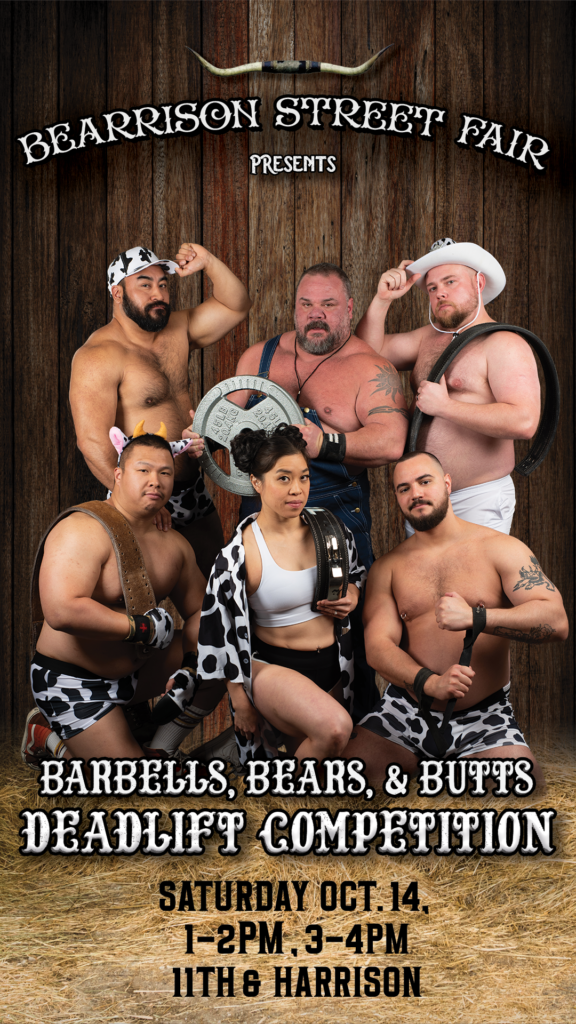 The Main Stage hosts a number of interactive contests for guests to compete in and enjoy:
Furrocious Majesty Drag Contest: Audience applause will determine who is the fiercest performer as they lip sync for their life.
Furry Face-Off: Beard, Mustache, and Whiskerina Contest: The community is invited to showcase their amazing facial fur or to get creative and build beards from unconventional materials. All genders are welcome to compete! https://www.bearrison.org/beard
Pup Contest: Bearrison Street Fair celebrates the pup community with a fun and playful contest. Pups will participate in several rounds of challenges, including best bark and puppy tricks. https://www.bearrison.org/pupcontest
Twerking Contest: Our popular twerking contest returns, where dancers will compete head-to-head. Can you prove you've got some wiggle in your jiggle? Show off the goods! All genders are welcome, and competitors can sign up at www.bearrison.org/twerk.
In addition to competitions, the Main Stage will also host performances unique to Bearrison Street Fair:
BALONEY, San Francisco's first and only gay all-male revue. Baloney brings fantasies to life on stage to entertain, explore sexuality, provoke discussion, and stimulate discovery.
Kippy Marks: A classically trained violinist whose shows are permeated with an infectious joy, Kippy Marks' distinctive sound arises from his heart, through his 1822 violin consort, Izabella. Kippy's rare talent, broad smile and radiant warmth will brighten any event to create lasting impact.
Muñecas: Bearrison Street Fair's headliner is Muñecas, comprised of three locas from San Francisco, Horchata LaShyGirl (drums, gritos), Tamale Ringwald (guitar, keys, vox), and Cholula Caliente (bass, vox). Together they form Muñecas, a QUEER LATINX PUNK band that is one part riotgrrrl, one part crispy dark wave, and two parts chingona-puta power anthems to make your primas say pow!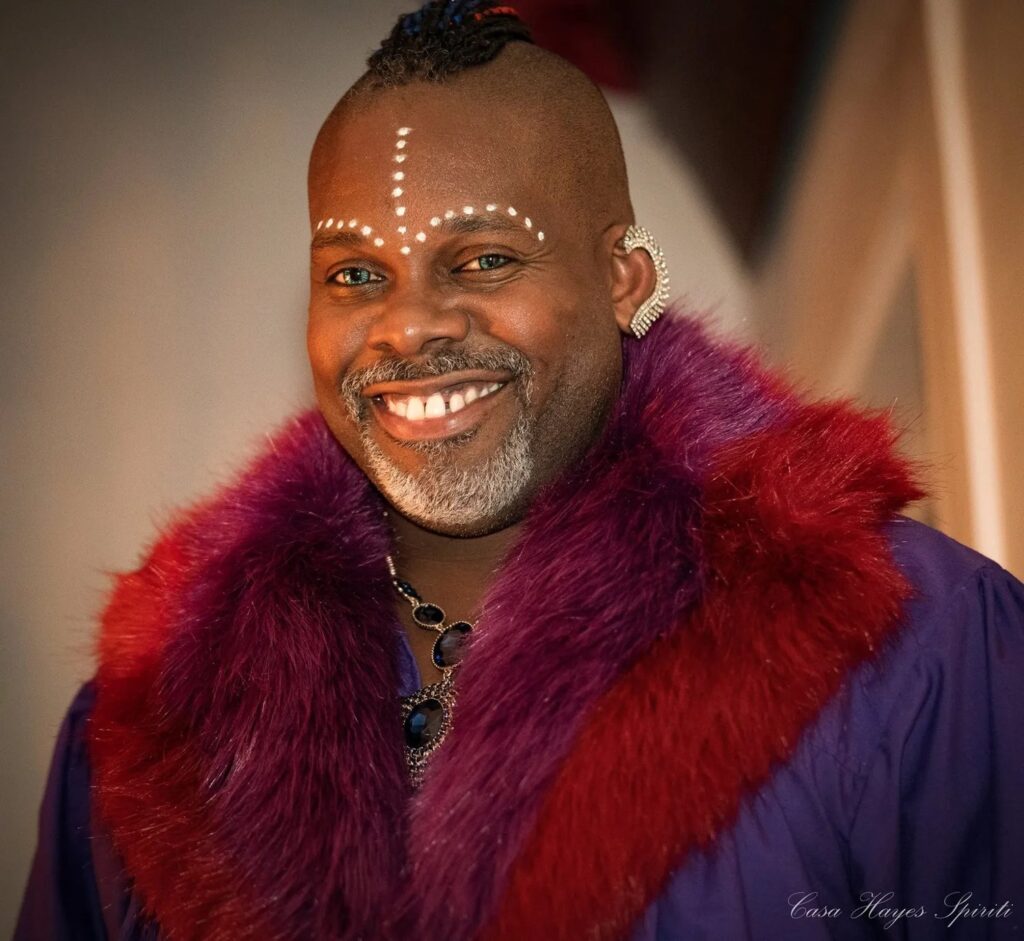 Full Queer wrestling returns to the Bearrison Street Fair, lead by fan-favorites "Broseph" Joe Brody (A.J. Kirsch) and Marco Mania (Marco Rodriguez)! Get ready to see over-the-top wrestling theatrics from across the gender spectrum, with some of the most exciting independent wrestling stars of the Bay Area!
New for Bearrison Street Fair is a Midway with three homegrown carnival games, including a custom-built high-striker, a ring toss game, and a dildo toss. Also new for 2023, guests can see the traveling Sideshow of burlesque performers, including stilt-walkers from Circus Center in San Francisco and Cenobite Joe & Rosa Robada.
"Live Art" will be another new addition to the fair. Organized by San Francisco-based street artist Jeremy Novy, Bearrison Street Fair is excited to be hosting live open air painting. Three queer street artists, David Puck (New York), Josh Katz (Oakland), and Eli Cather (San Francisco) will be live painting murals at Bearrison on large canvases. The pieces will be auctioned off at the fair via an online auction.
And finally, there is a whole lineup of stellar DJs at both the BAAAHS Sound Stage and the NEFT VIP Bear Garden, including Rotten Robby, Subeaux, Tiny Tim, Parks, Chromophore, DJ AA, Spillzone, and The Professor.
More information and opportunities to get involved will be announced soon at the Bearrison Street Fair website: www.bearrison.org. Attendees can also follow @BearrisonSF on Instagram and Twitter for updates.
About The Sisters of Perpetual Indulgence
The Sisters of Perpetual Indulgence, Inc., is a 21st century order of queer nuns. Since their first appearance in San Francisco on Easter Sunday in 1979, the Sisters have been accused of "ruining it for everyone" with their habitual injection of gaiety into serious affairs, involving ourselves in human rights, political activism, and religious intolerance. The Sisters consider it their mission to "ruin" all detrimental conditions including complacency, guilt, and the inability to laugh at one's self. Please continue to check our calendar on www.thesisters.org; we are always adding new material and events.
About the Bears of San Francisco
Formed in 1994, the Bears of San Francisco is an all-inclusive community-based association that benefits the greater Bay Area through fundraising, service, and socializing. More information can be found at www.bosf.org.