Bearly Legal is London's Newest Fetish Night for the Bears
Zodiac Bar in association with Tom Heslop will be launching London's newest and hottest fetish party – Bearly Legal on Saturday, September 2!
The monthly, male only, event will premiere with a leather party, so jocks, harnesses and leather gear is highly encouraged, but not required. The organizers will not enforce any strict dress code at any of their parties, so as to encourage newbies and those who don't own much gear to come and try things out. Future themes will include things like rubber, bondage and sport kits. WOOF!
Zodiac was very enthusiastic to host a bear themed night at their establishment and want the bears to know they are there with open arms for us. Not to mention that it's the perfect space for this type of event. For those who've yet to visit, Zodiac has two levels. The ground floor bar has a capacity for 150 patrons and the downstairs club, where Bearly Legal will be held, holds 130; though both floors are of course open to explore should you want.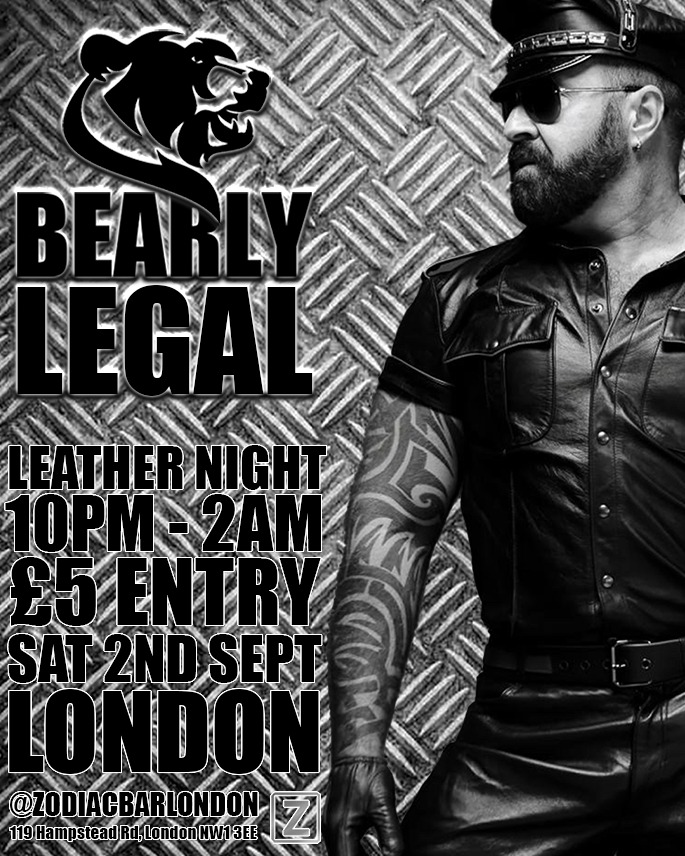 When asked why he felt it was important to create a bear-centric fetish space Tom Heslop said:
"I think for a lot of people, the fantasy of seeing a handsome, hunky bear in leather is a little lost on the scene, or there isn't enough of it, especially in London. At a lot of places hosting leather/fetish events, you tend to see everyone BUT bears these days. Sometimes guys can be very self-conscious of their size, and this stops them from wanting to be social in a public space, but we at Bearly Legal are celebrating the fact that bears are here, and we want to help encourage them and tell them that we're a safe space that doesn't discriminate."
The September 2 launch will feature Simon Williams, better known as @pawsome_daddy in the DJ booth and the super sexy gogo stylings of M4x the Tribrid (@maxthetribrid).
So, what are you waiting for?! Break out those harnesses and show the bears what you've got! We'll see you there!
Get your tickets HERE
---
And be sure to follow Bearly Legal on social media: Facebook I  Instagram  I  Twitter