Bearland will be Guadalajara's First Bear Weekend!
Get ready for Mexico's newest bear event, aptly titled Bearland!!
Bearland is the first official multi-day bear event in Guadalajara, Mexico, taking place this coming July 14 -16. It will be a weekend of events and activities held in an inclusive and friendly environment for bears, chubbies, daddies and their admirers. Trust and believe that event organizers are aiming to ensure an amazing experience for all attendees.
The team behind Bearland is very experienced and have thrown many parties throughout Guadalajara including the 90's Parties from QBO, the Superstar Bear Party, the UNDERBEAR Party, the UNITY Pride Festival, MYSTERIA Origins in Mexico City, and a drive-in dance event at the Mexico City Arena called ARENA CDMX, which was one of the few events approved by the Health Department after the first wave of COVID-19 in Mexico.
The following is the action packed schedule for Bearland Weekend:
Friday July 14
BACK TO THE PARTY
In collaboration with QBO Bear Wear, and sponsored by BeefDip Bear Week, BACK TO THE PARTY is the return of QBO's legendary retro night that had to be put on hold due to COVID -19. This year it's even bigger and better at a fantastic new club: Xico Antrx.
Xico Antrx is the perfect place to dance and enjoy the night with a huge sound system and dance floor. Get ready for a trip down memory lane with Jose Spinnin Cortes, one of the resident DJs, whose had an amazing career spanning three decades as a world-renowned DJ and dance music producer. He'll take you on a journey through the best hits of the 80's, 90's and 2000's in English and Spanish.
Saturday July 15 (Afternoon)
MAD.BEAR POOL PARTY
On Saturday, attendees are in for a special treat as Bearland collaborates with one of the biggest parties in Europe: MAD.BEAR !
Music will be provided by none other than bear superstar Benjamin Koll starting at noon, sharp. He will be playing a DJ set of disco, house, and classics, the perfect way to get the party started. After that, Jose Spinnin Cortes will take over with a special set featuring the latest in house and club house, as well as many of his own remixes and original productions.
Saturday July 15 (Evening)
BEARTOY UNDERWEAR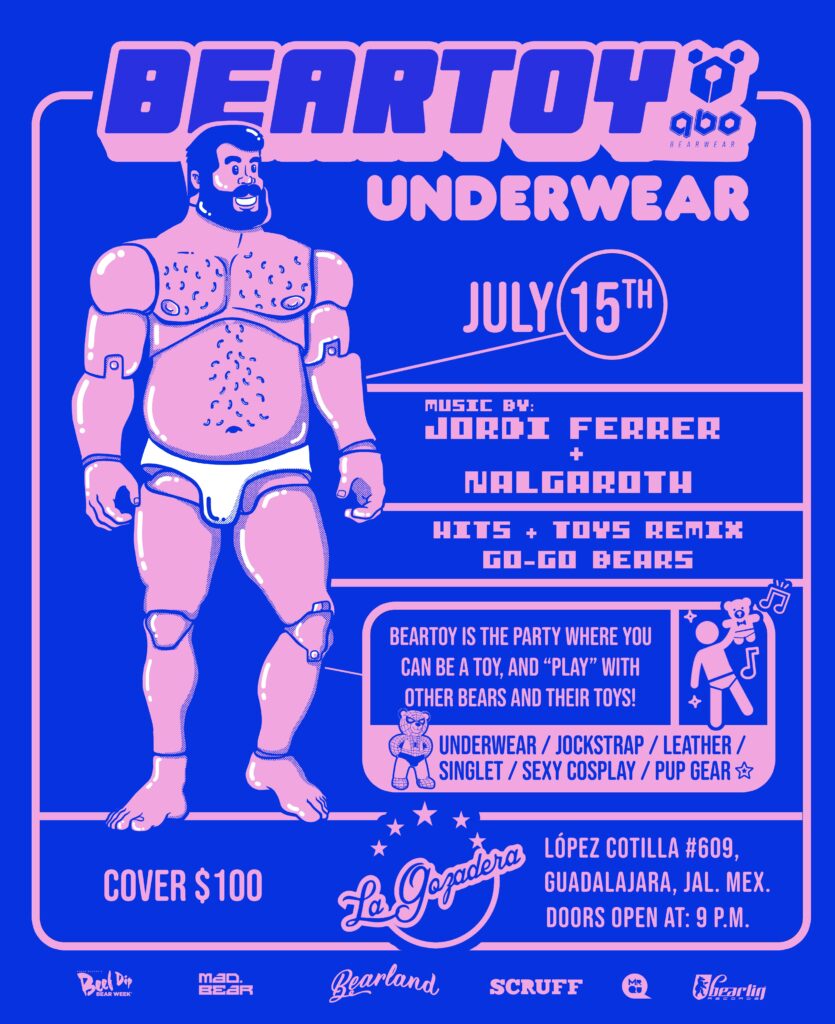 Saturday night will keep the sexy vibes going with BEARTOY, a brand-new underwear party at La Gozadera Bar, one of the most popular bars in town. There will be custom visuals, go-go bears and music from a new DJ talent in the bear scene, Nalgaroth, who spins the best of pop, top 40 and urban.
Sunday July 16
BEAR BRUNCH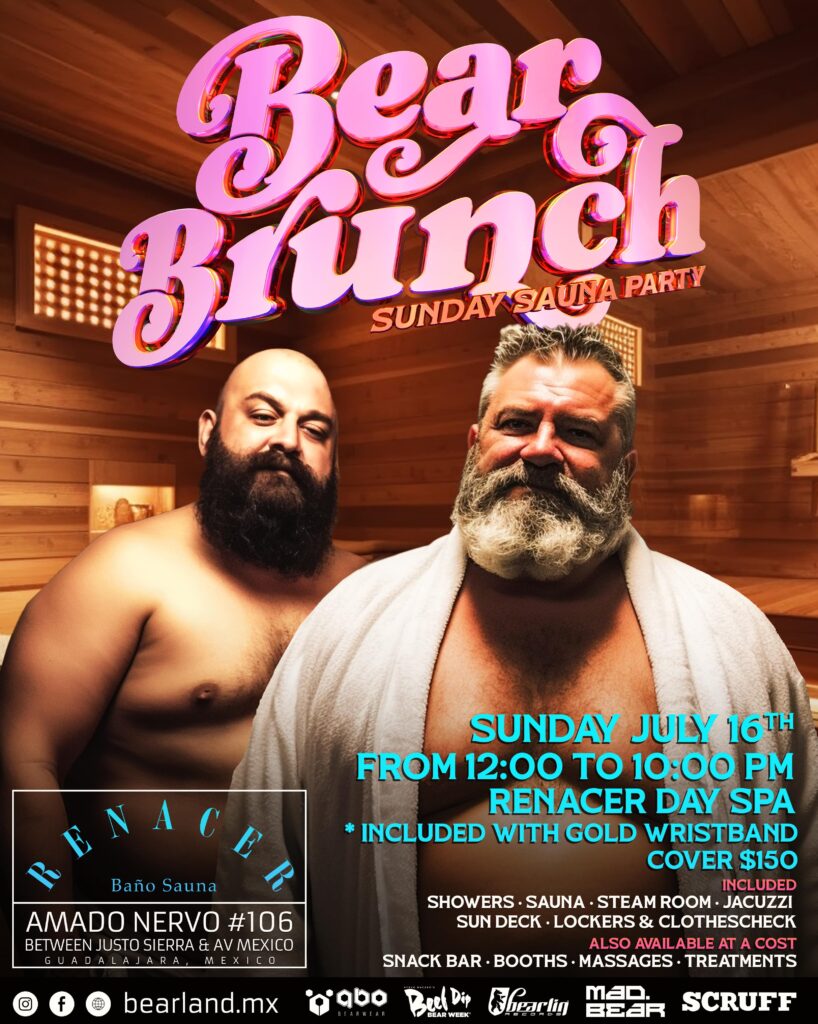 To end the weekend with a bang (literally), get ready to take over one of the best bathhouses in Guadalajara: Renacer Day Spa. Renacer is a full spa with showers, steam room, sauna, jacuzzi, sun deck and terrace with snack bar. The Sunday Bear Brunch is the perfect place to unwind and relax after such a fun and exciting weekend.
You will be treated gorgeous men and amazing surprises all weekend long! In addition to the amazing talent already mentioned, gogo powerhouse Jeremy Morse (jmobear) will be joining the Bearland dancers all the way from Phoenix, Arizona and drag queen extraordinaire Jeybra Queen will be on hand to entertain you.
This is a bear event you don't want to miss!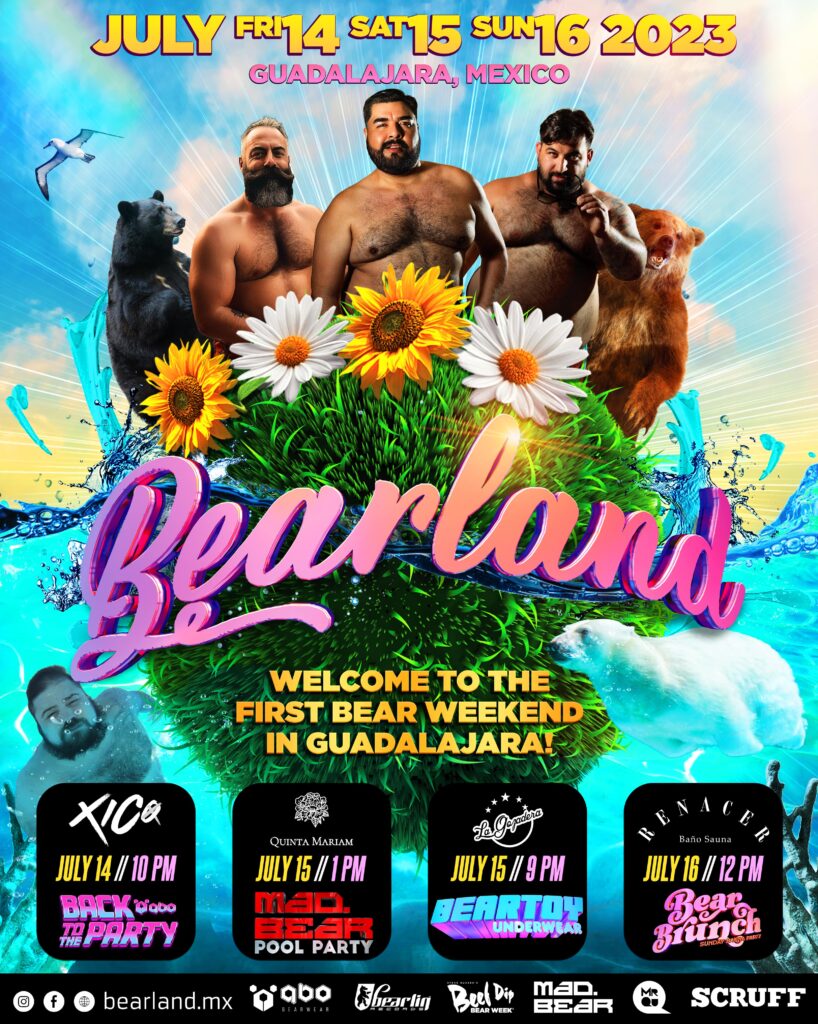 For more information and to book your tickets head on over the Bearland website
and be sure to follow them on Facebook and Instagram.