Bear World Playlist Featured Artist: Toño
This week's Bear World Playlist Featured Artist is Toño!
Toño's Song on the Bear World Playlist: "XXXL" and "Dog Whistle (Remix)" (with Estevan, The God and Hi Yello)
Current City: Portland, Oregon
Hometown: Portland, Oregon
---
Bear World Magazine: What can you tell us about the songs?
Toño: Honestly, these songs say more about me than I could ever say about them! If you want to get to know me and my kinks more just listen to the verses on the songs.
BWM: How did you hook up with Estevan, The God and Hi Yello?
T: I have my best friend and podcast cohost, Hunter, to thank for that! We run a music podcast and one of the new artists that they had found for us to showcase was Hi Yello. I loved everything about their aesthetic and music immediately! Once the original "Dog Whistle" dropped with Estevan, The God, I knew I had to be on it. I just DM'd Hi a hello and sent the verse. The rest is history!
BWM: What's your favorite place to mingle with bears?
T: Their bedrooms. But usually I find them hanging out at The Eagle in Portland. 
BWM: What's something you find drop-dead sexy in men?
T: The other day I got a text from a tall man with a big belly that said, "I was hanging art in my underwear yesterday listening to SOPHIE." I basically fell to the floor. So, all of that. 
BWM: How would you describe your sound overall?
T: As the kids would say, "It's giving pussy pop explosion gun sounds." Though usually I just say I'm a rapper who makes hyperpop! 
BWM: What other Bear World Playlist artists do you dig?
T: I love YawnyBlew, and I'm a Man On Man STAN. Their self-titled album was actually #6 on my top albums of 2021! There's also my music besties Roulettle Delgato and Bryce Quartz. Of course I can't forget Big Dipper. Dip, if you're reading this you should be on a remix of "XXXL" just saying.
BWM: Any live shows on your calendar? Upcoming releases?
T: Live shows have been really hard this year with Miss Coroviana and her variants. Fingers crossed that my next show, Off The Wall Ball at The Queens Head in Portland, happens in February and safely! As for upcoming releases I'm always slowly but surely working on my upcoming debut album. I'm working on a few songs right now and I think I just decided to actually make one of them a single! Let's say February as well so I have the pressure to get it done!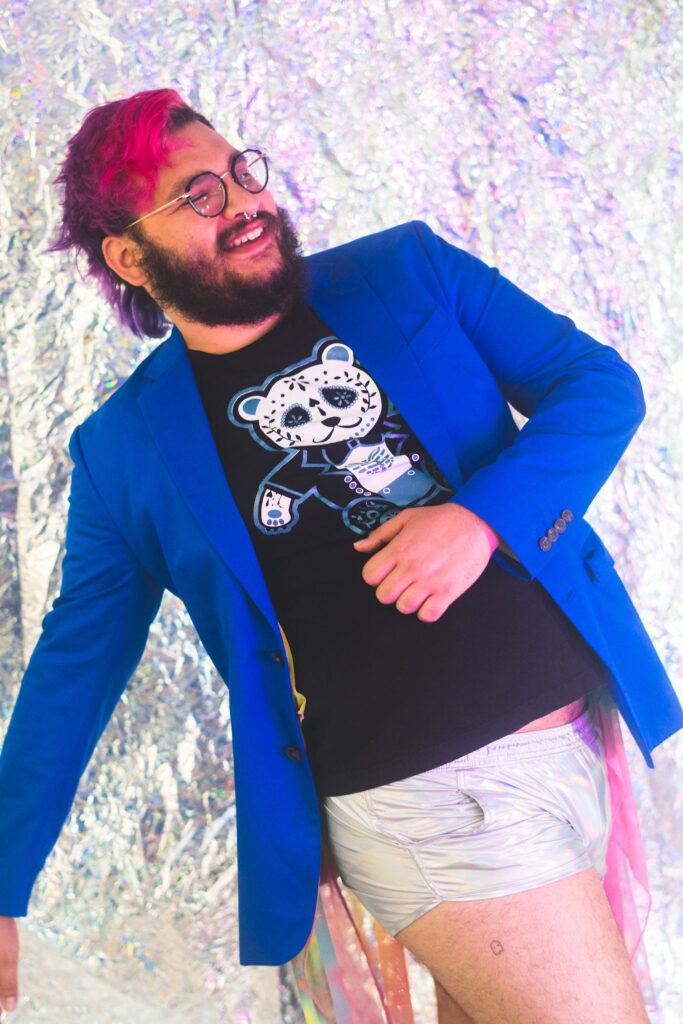 ---