Bear World Playlist Featured Artist: ShyBoy
This week's Bear World Playlist Featured Artist is ShyBoy!
Playlist Featured Artist: ShyBoy
Songs on Playlist: "Bad Thoughts" and "Jump Start"
Current City: Los Angeles, CA
Hometown: Ann Arbor, MI
---
Bear World Magazine: What can you tell us about the songs, "Bad Thoughts" and "Jump Start"?
ShyBoy: Both songs represent the stylistic edges of the new album. "Bad Thoughts" is a track with minimal lyrics that can bump in the main room of a nightclub or the backroom of a bear bar. "Jump Start" leans on glossier pop sensibilities and is more of a story song. That said, both tracks reflect the excitement and urgency of newfound attraction.
BWM: Would you describe your latest album, His Royal Shyness, as focusing on any themes in particular?
SB: Lyrically speaking, I'd say it's about sex, love, and relationships, specifically through the lens of the queer experience. Since it's not always easy to find ourselves in the mainstream conversation, I think it's really important to share honestly and create a space where we can identify with one another's stories. Musically speaking, I wanted to create a vibe that takes the listener on a journey from the dance floor to the bedroom and back again.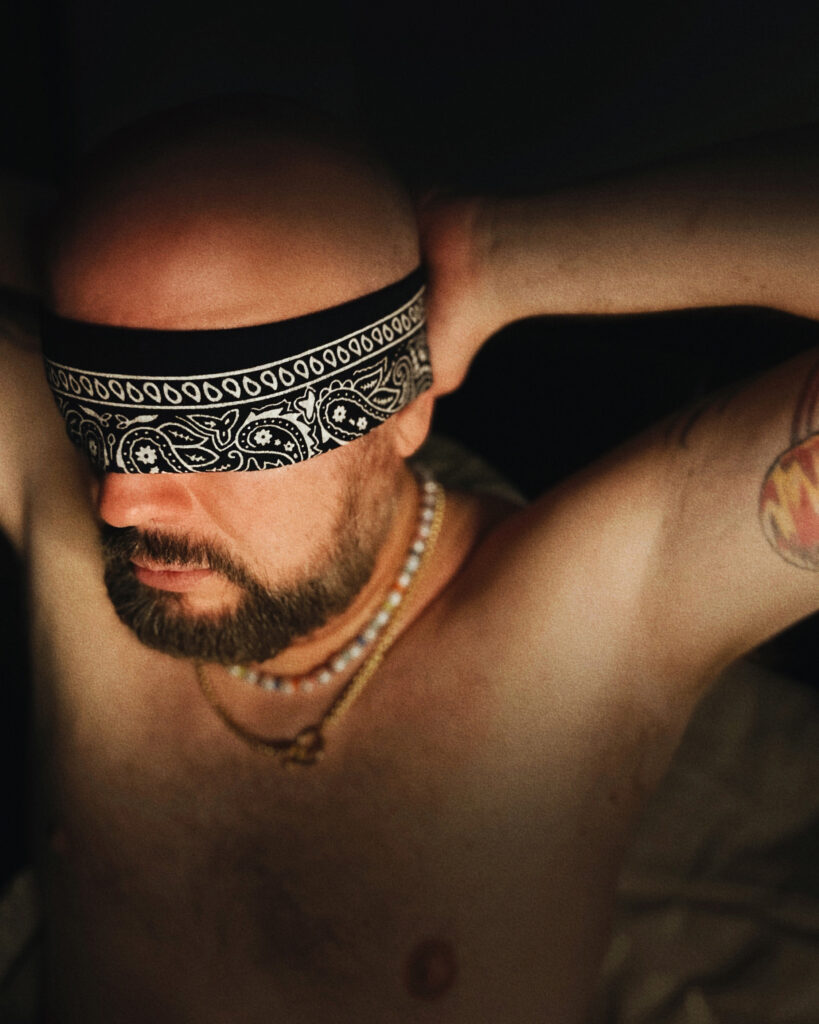 BWM: Whom would you say, if anyone, you wrote the album for?
SB: I really wanted to make something that connects with others in the queer community. I've spent a lot of time focusing on music that can swim in the mainstream. I'm happy that with this album, I've made something that reflects my queerness.
BWM: You recently scored the Shudder/AMC docu-series Queer for Fear: The History of Queer Horror. What challenges or pleasant surprises did you encounter along the way?
SB: It was an incredible experience to work on Queer for Fear. Through the process of making it, the music score developed as a character all its own. The mission was to support the style and period of each film being discussed. At first, it seemed like it might be challenging to bridge the various decades stylistically, but it all blended together surprisingly well. I'm really grateful that I received the opportunity to work on the project and that music from His Royal Shyness also got to be a part of it
BWM: Do you find your sexuality informs your songwriting at all?
SB: It definitely does. I think sexuality is so deeply rooted within our consciousness that it would be impossible to exclude it from the process of songwriting.
BWM: What is incredibly sexy to you in a guy?
SB: The way they carry themselves. Confidence is key. Knowing who you are matters. And nothing is sexier than someone who knows who they are and what they want.
BWM: Your DJ sets have a fun way of merging pop icons, like "Britney Houston" and "Kylie Cyrus." Would you claim those stars as big influences on you? Who else do you credit for inspiring your sonic style?
SB: I love celebrating the music of artists who've brought so much joy to the queer community through the years. It all started with my MaDonna Summer party and it's grown from there. I am definitely inspired by the talent of those icons. And the one artist that I am most inspired by artistically is Prince. Coming in December, I'm excited for the return of Princemas, a dance party I'm throwing in Los Angeles and San Francisco. All Prince everything.
BWM: Any live shows on the horizon? What can we expect from ShyBoy in 2023?
SB: I currently have a monthly DJ residency in Los Angeles at 10 DTLA (on the second Saturday of every month) and recurring DJ parties at Oasis in San Francisco. I'm planning to put together a live performance of the music from His Royal Shyness and I'm also back in the studio with my band Hypnogaja. We are recording a new album scheduled for release next year.
---