Bear rapper Big Dipper is live in NYC!
When we heard from Shane Tate that he was bringing Big Dipper to Rockbar on Feb 15, we knew we had to speak to Big Dipper about his first full live performance on the east coast for over 3 years, and that's just what we did!
Richard Jones: Hey Big Dipper, its great to hear that you are coming back to NYC, its been a while since you have performed here right?
Big Dipper: Yes! I'm so excited to be coming back, tho I'm not thrilled it will be in the dead of winter. I was in NYC for a night or two this past summer and did a pop up at a daytime rooftop party, but I haven't performed a full concert in New York in maybe 3 or more years .
RJ: What made you come back?
BD: Well, I have a new EP coming out this Spring called THE HAM N CHEESE EP and I wanted to start performing my new music. Plus, I had an amazing time with Shane Tate who is a co-organizer for Key West Bear Weekend, and he wanted to bring me out to New York to do a concert, so it all kind of lined up. And I love the idea of doing a show the day after Valentine's Day. Most years I'm no one's Valentine…so I figure on Saturday the 15th I can be everyone's Valentine!
RJ: What's in store for us at Rockbar on Feb 15th?
BD: We are going to put on a full concert. I will have back up dancers and visuals and even a special guest or two on stage with me that night. It's not just a pop up club performance, but like a whole show. I'm going to debut a bunch of music from my new music project, THE HAM N CHEESE EP as well as perform some old favorites as well.
I just look forward to feeding off the energy of the crowd and really having a good time. I love performing, so I love any opportunity to be on stage.
RJ: Do you have a busy year ahead?
BD: YES! Super busy. I'm currently working out my summer pride touring schedule, and putting a bunch of shows. Also, I'm in pre-production for a whole bunch of music videos that will all be coming out this spring and summer in support of my new EP. Plus, I continue to put out weekly episodes of my podcast: SLOPPY SECONDS with Big Dipper and Meatball, every Friday on the Forever Dog network.
RJ: What are your hopes and goals for 2020?
BD: I'm just excited to release new videos in 2020. As an independent artist I am the executive producer of everything I do, so that means the buck stops with me….literally!
Even tho I released my album LATE BLOOMER in the Summer 2018 and a few music video since then…I feel like I've been holding onto music and video ideas for a long time. Media consumption happens so fast that I get antsy when I haven't put anything out for awhile.
2020 is going to be about a lot more Dipper on your little phone screens and in your ear pods or whatever. I also want to learn how to meditate and power lift. Oh and maybe some new merch and LA THICCNESS gear… who knows!
RJ: Where can we keep up to date with all that you are doing?
BD: My instagram and twitter are my main promotional machines. I think I had a website once…but someone ghosted me on the design…so it's just sitting there :/
Follow me at @bigdipperjelly on everything!
---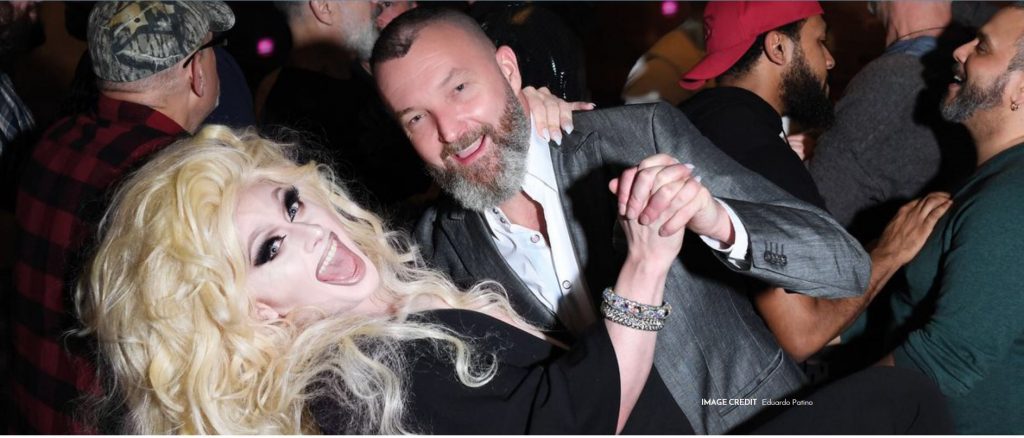 I also chatted with Shane Tate, who explained why he started his new XXX bear party…
ST: The original Beers and Bears was always more of a happy hour party and wanted to try a new, late night Saturday party with a sexier feel. Hot dancers, dark corners and the ability to check your clothes and wear gear. We even have a XXX booth! Bears XXX is every third Saturday of the month starting at 9pm with a $5 cover.
ST: Rockbar has become 'bear central' and a home for our community. It just made sense.
RJ: What made you bring Dipper to Rockbar?
ST: Big Dipper performed at Key West Bear Weekend last year and I was blown away by his performance. This high energy performer is no studio singer, he sounds even better live and the show he delivers with his back up dancers does not disappoint!
Big Dipper started here in NYC and developed a fan base performing with gay vocal artists like Cazwell. He moved to LA and his career really took off. I thought bringing Big Dipper back to NYC to reconnect to his roots and NYC fan base was a no brainer.
---
Get your tickets to see the amazing Big Dipper Live In Concert on Feb 15th at Rockbar. Your ticket includes free entry to the Bears XXX party immediately afterwards.