Barbells, Bears & Butts: Bearrison Street Fair Deadlift Competition
Barbells, Bears, & Butts for your viewing pleasure at the Bearrison Street Fair this year!
The 2nd annual Bearrison Street Fair, hosted by The Sisters of Perpetual Indulgence and The Bears of San Francisco, will be held Saturday, Oct. 15th at Harrison & 11th Streets in San Francisco, outside Eagle SF Plaza. Set to occur in the Leather and LGBTQ Cultural District in SoMa, the event is "A Fair For Every Bear." SPI and BOSF seek to provide an inclusive event for adult members of the LGBTQ+ community by promoting body positivity and cultural diversity for all, fostering a supportive and welcoming bear scene. Returning in 2022 will be local and national DJs and performing artists, local vendors, VIP goods and services, and the fan favorite live wrestling stage.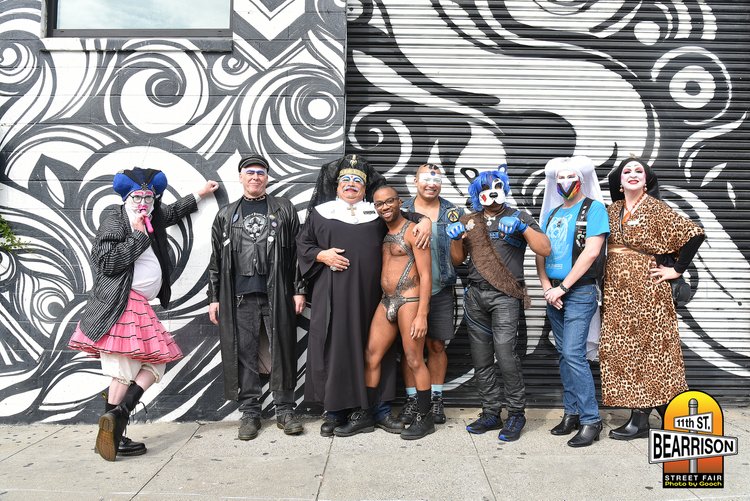 "We are beyond thrilled to be coming back for a second annual fair," says Bearrison Co-Chair and BOSF Chair Erik Greenfrost. "It was always our goal for this to become something the community could look forward to every year, and returning for 2022 aligns with that."
One of the events set to occur during the festival is the Barbells, Bears & Butts Deadlift Competition, hosted by MetalBob (MetalBob_Training) and Fitness SF.  The competition will be held at the Bearrison Street Fair, Saturday Oct. 15th, from 1:00 PM to 2:00 PM and 3:00 PM to 4:00 PM. The street fair runs from 12:00 PM to 6:00 PM.
If you would like to sign up for the competition, go here.
Participation instructions and information are as follows:
You can sign up for one of two options: ~225 bar weight and ~315 bar weight. For each round, most reps wins. $100 prize for each round.
Select the bar weight in which you will compete when signing up. Participants can compete in EITHER the 225 lbs bar weight OR 315 lbs bar weight.
Safety is a top priority. The event will abide by safety standards of powerlifting competitions. We will provide warm-up exercise equipment, water, sunscreen, first aid supplies, and a lifting platform for the competition. In addition, the fair will have medical staff on site.
Equipment provided by Fitness SF. Head judge: MetalBob.
Bearrison Street Fair wants to create a sexy fun event, so for attire: jock straps or singlets + gay flare welcome. Belts and lifting socks also welcome.
Optional participation in bare butt contest with prizes.
All participants will receive a free ticket to the Big Muscle Bear Party, held at DNA Lounge 3-9PM the day of Bearrison.
Space for the contest is limited, so if you wanna show off your power bear energy, sign up today! Visit the Barbells, Butts & Deadlift Competition Facebook Page.
For more information about MetalBob Training, follow on Instagram: @metalbob_training, Facebook: Metalbob Training and Twitter: @MetalBob70. 
For more information about Fitness SF, visit www.fitnesssf.com.
For more details and opportunities to get involved with the Bearrison Street Fair, visit the website: www.bearrison.org. 
About The Sisters of Perpetual Indulgence
The Sisters of Perpetual Indulgence, Inc., is a 21st century order of queer nuns. Since their first appearance in San Francisco on Easter Sunday in 1979, the Sisters were accused of "ruining it for everyone" with their habitual injection of gaiety into serious affairs, involving themselves in human rights, political activism, and religious intolerance. The Sisters consider it their mission to "ruin" all detrimental conditions including complacency, guilt, and the inability to laugh at one's self. Please continue to check our calendar on www.thesisters.org; we are always adding new material and events.
About the Bears of San Francisco
Formed in 1994, the Bears of San Francisco is an all-inclusive community-based association benefitting the greater Bay Area through fundraising, service, and socializing. More information about the Bears of San Francisco at www.bosf.org.