BAIT at The Deep End in NYC returns!
This weekend is exciting if you're in the NYC area, because BAIT is BACK at The Deep End on Saturday (October 15th)!
The bear-centric music showcase that started back in March of this year has moved over to Ridgewood, Queens, and this time, it's an all night Saturday event full of fun from 10PM-4AM with a cover fee of only $5!
This month, our very own Bryce Quartz will be hosting and performing his original music, along with beary beautiful rapper Chris Conde, the puptastic Cory The Cloud, and the sexy Robbie Rockington. You'll also see gogo bear Mel The Sumo and sexy cubby Gogo Ner dancing the night away with tunes from DJ Soljoz.
After the show, the party will switch to a steamy and sexy underwear party for all, with beer and shot specials all night long.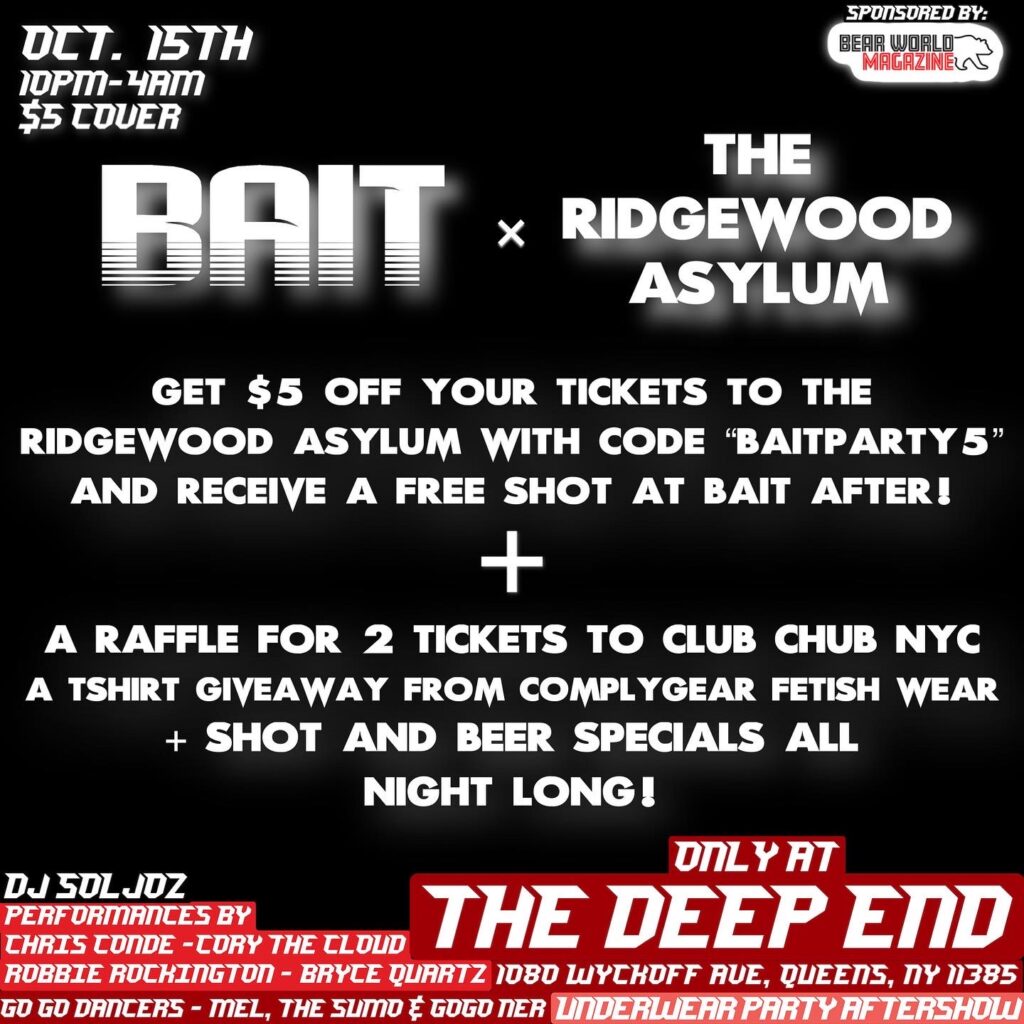 As part of this extra special launch at The Deep End, everyone planning to attend BAIT has been offered an exclusive discount code for The Ridgewood Asylum, a haunted house walk through located at the venue. Using code "baitparty5" everyone attending BAIT can get $5 off their ticket price for the spooky attraction, as well as a free shot at BAIT after you're done walking through! 
There will also be a raffle for 2 tickets to Club Chub NYC on November 13th, as well as a t-shirt giveaway from Comply Gear Fetish Wear. It's a special night full of fun, dedicated to the pups, cubs, bears, daddies, gays, girls, and theys, and we hope to see you there!
For more information on BAIT:
Facebook Event: https://m.facebook.com/events/400386422292050
Instagram: @bait_party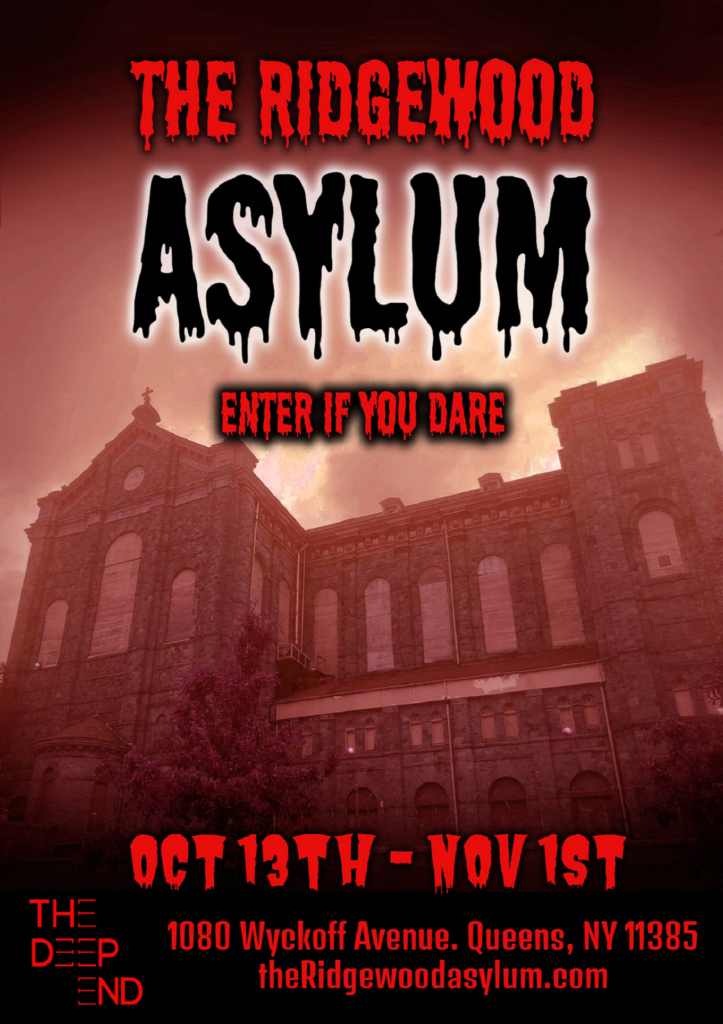 The Ridgewood Asylum interactive haunted house & escape room is back in action this year! After 3 wildly successful years, they are coming back bigger and scarier this year!
The Ridgewood Asylum, one of NYC's most terrifying interactive Haunted Houses and Escape Room, is opening Thursday October 13th through November 1st. Produced by The Deep End bar, restaurant & event space, the experience will end in the bar for a complete Halloween experience with a full food and drink menu.
Experience true horror as you try to escape this fun, interactive haunted attraction with your friends and family!
Location: The Deep End, 1080 Wyckoff Avenue, Ridgewood, NY 11385 – 2 Blocks from the Halsey L train
Hours of Operation: Thursdays-Saturday 8PM-1AM, Sundays 6PM-11PM
Price: $20 general admission, $30 VIP (skip the line + free drink)
Website & tickets: www.theridgewoodasylum.com
Instagram: @deependnyc