Austin Kink Weekend is the biggest little leather weekend in Texas!
The summer isn't quite here yet, but things are gonna get very HOT in Austin for Austin Kink Weekend!
Austin Kink Weekend is the biggest kink event in Texas, taking place from April 20th – 23rd, 2023! It's a chance to experience a weekend of kinky fun with fellow kinksters, and features competitions, workshops, classes and a vendor market. The event is a collaboration with local leather and fetish groups and LGBTQ businesses in Austin.
The Parties
Austin Kink Weekend brings together some of the biggest parties, DJs and performers from across the kink spectrum in the USA. Here's what to expect:
Friday, April 21st
Meet & Greet Party
Let's get social! Come and meet the contest judges, contestants and new friends. Dj Khalu will be spinning the hottest tunes, and Dancers Tony Barx and Jack Hoff will be dancing the night away.
Location: Sir Rat Leather
Time: 7:30pm – 9:30pm
---
Opening Party & Dog Tag Uniform
We are excited to announce our first DJ for Austin Kink Weekend. DJ Rue-D will be bringing the heat all the way from San Antonio, TX. Come enjoy his best mixes 'till 2AM. You won't want to miss out on this one of a kind opening party, it will be a night to remember.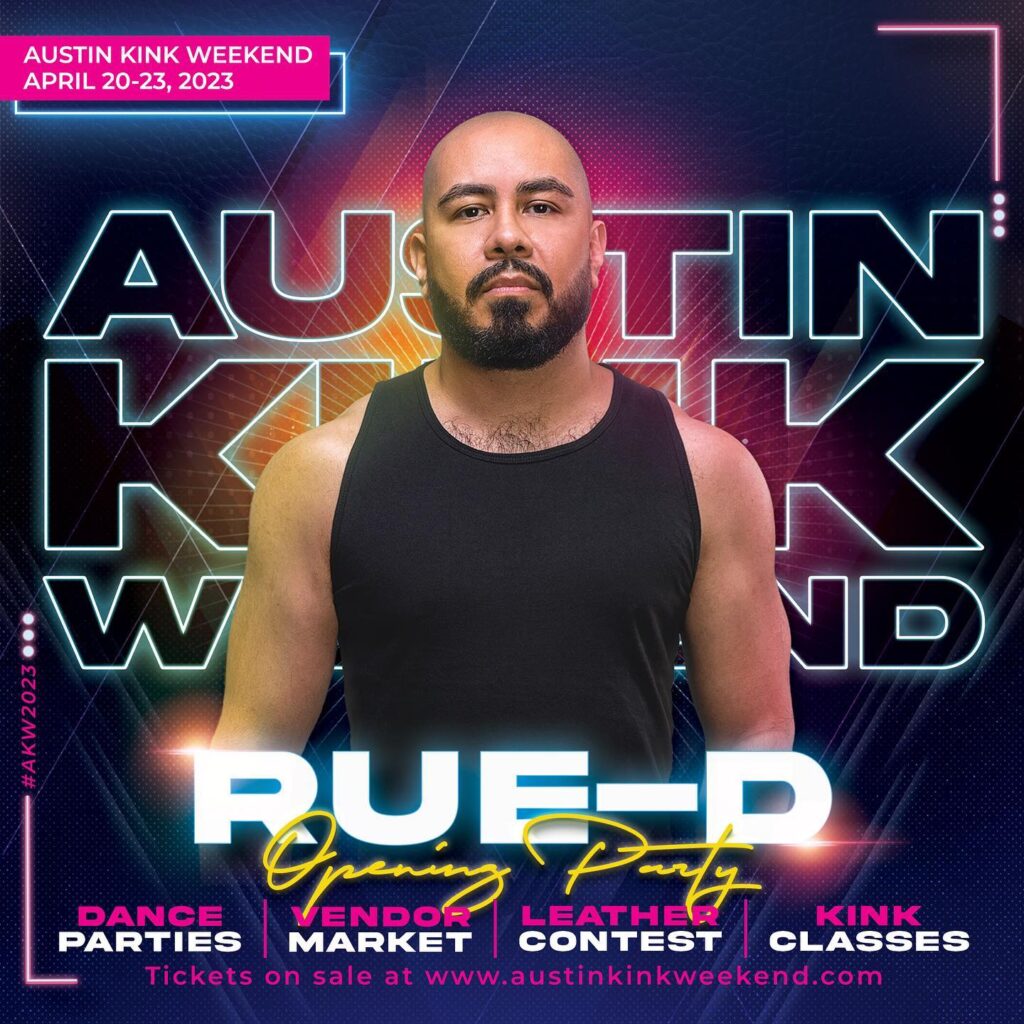 Location: The Austin Eagle
Time: 10:30pm – 2:00am
---
Saturday, April 22nd
Main Event
International headliner DJ Wayne G (London) will be bringing you the beats at the Main Event Party on Saturday night. Things are sure to get hot with a non-stop party, hot dancers, and mixer opportunities.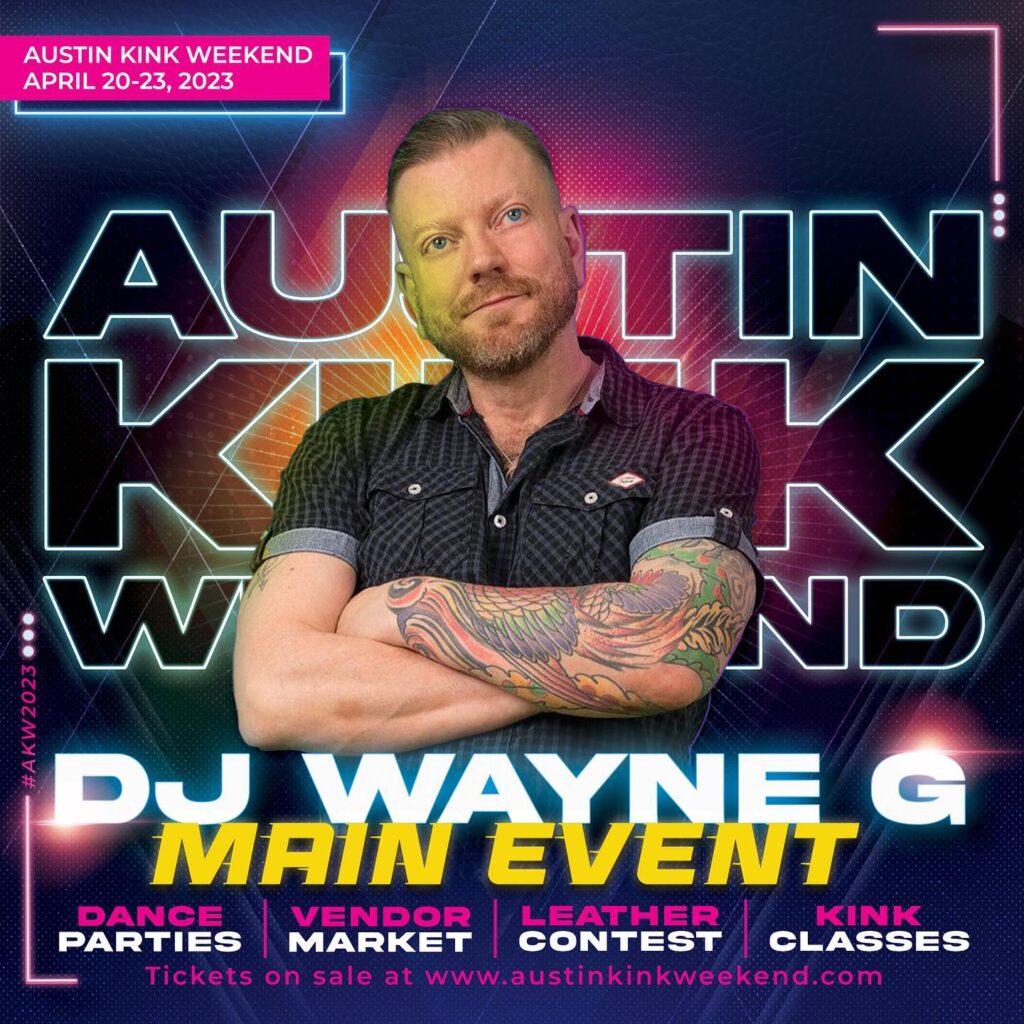 Location: Distribution Hall
Time: 10:00pm – 2:00am
---
Sunday, April 23rd
Crisco Disco
Let's "HUSTLE" all the way to the dancefloor with beatmaster and disco daddies, DJ Tony Castro from Austin and Steven Cunningham from New York City.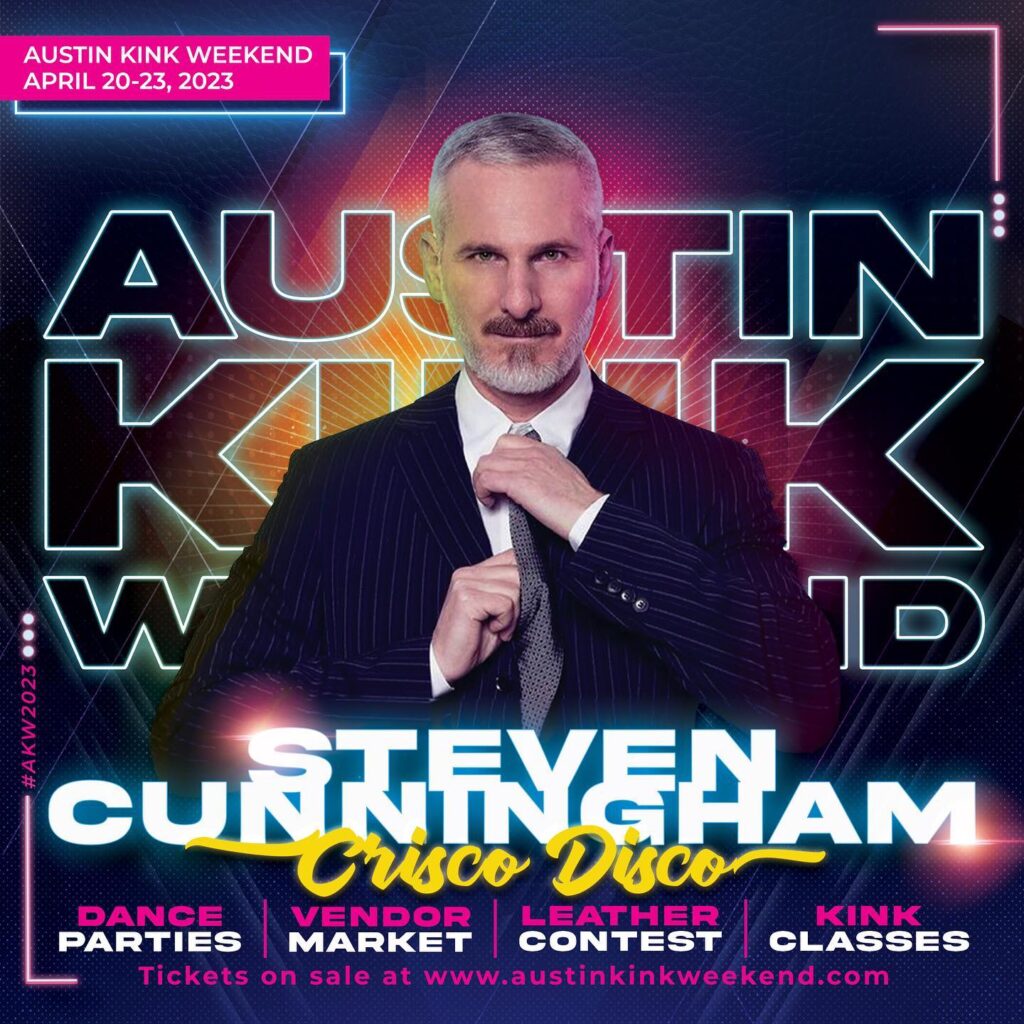 Location: Distribution Hall
Time: 2:00pm – 6:00pm
---
The Classes
Austin Kink Weekend isn't just about partying, but also aims to educate others about kink. Most classes are held on Saturday, April 22nd, with the exception one one class to be held on Sunday, April 23rd. Here's what to expect:
Saturday, April 22nd
Pup Play
Lets talk about pup play, how to get into the head space, and how pups are evolving.
Location: Holiday Inn – Austin Midtown
Time: 9:30am – 10:30am
---
Kink & The Law
This presentation will briefly review the history of our fight for LGBT legal rights – then focus on current laws that potentially impact your kink play. We will also discuss pending legislation that our community should know about. Our fight for legal equality is far from over.
Location: Holiday Inn – Austin Midtown
Time: 10:30am – 11:30am
---
Let's Take a Crack at it
A 101 and 102 class on whips. Starting with a discussion on whip safety, the class will cover the different types of whips, some of the different types of cracks, and answer any types of questions that the class might have. There will be a live demonstration and practice for anyone wanting to learn the techniques after the lesson.
Location: Distribution Hall
Time: 1:00pm – 1:45pm
---
Pornstar Secrets: How To Be A Better Bottom Or Top
If ya don't talk about it how are you expected to know?! Come watch, listen and ask questions as Ray Dalton and his performer(s) demonstrate authentic sexual interactions.
Location: Distribution Hall/Hangar
Time:1:00pm – 1:45pm
---
BDSM: Buddies Doing Social Media
While social media is crucial for promoting, organizing and socializing about events and connecting with others, it can be challenging given the ever changing rules and sex negativity on most public platforms. This class will tackle the do's and don'ts for setting up and using social media with the sex positive in mind.
Location: Distribution Hall/Main Stage
Time: 2:00pm – 2:45pm
---
History Of Bootblacking & Leather Care
Meet our amazing bootblacks for an entertaining hour of bootblack history and how to care for your leather.
Location: Distribution Hall/Courtyard
Time: 2:00pm – 2:45pm
---
Buttstuff
Douching, diet, PrEP, PEP, DoxyPEP, anatomy and techniques for butt play from anal sex to FF…Who better to learn Butt Stuff from than a gay medical expert that knows his way around a butt from professional and personal experience?! Doctor Carlton is a Mayo Clinic trained gastroenterologist from San Diego, California. He connects on a level as "one of us" to give us information needed to have better sex and take better care of our health.
Location: Distribution Hall/Hangar
Time: 3:00pm – 3:45pm
---
The Title Panel
For all those wanting to run for an international title, here is your chance to ask all the questions you always wanted to ask.
Location: Distribution Hall/Min Stage
Time: 4:00pm – 4:45pm
---
KEYNOTE: IML, Eagle, And The Pursuit Of Happiness
Jeffrey Payne is a graduate of Texas A&M University, and owns Victory Court Reporting, a court-reporting firm, and the former owner of the Dallas Eagle and the Eagle OutPost. He works diligently as co-founder and Board Member of the Sharon St. Cyr Fund, Inc. (SSC Fund), a 501(c)3 organization, which raises money for individuals within our community to assist them with the purchase of hearing aids and to provide grants to organizations for Sign Language Interpreters. In 2012, he took over International LeatherSIR, Leatherboy and International Community Bootblack as CEO and President.
Location: Distribution Hall/Main Stage
Time: 5:00pm – 6:00pm
---
Sunday, April 23rd
POLYAMOROUS AND KINK
Caress Fitch is a proud Black, Queer, Disabled, Non-Monogamous Leathergirl, who believes everyone is entitled to wellness without socially-constructed barriers and expectations. In her day job, Caress works at the intersection of chronic conditions and BDSM, helping neurodiverse, disabled and queer people achieve their highest visions for their health, wellness, and pleasure.
Location: Distribution Hall/Main Stage
Time: 11:00am – 12:00pm
---
The Contest
Austin Kink Weekend will also host the title contest over the weekend for the following Leather Titles:
Mr. Texas Leather
Ms. Texas Leather
Lonestar Pup
Lonestar Handler
Check the contest event page for more information, including entry requirements.
---
Host Hotel Information
PLEASE NOTE: The host hotel for Austin Kink Weekend is Holiday Inn – Austin Midtown, but is currently SOLD OUT. No overflow hotel has been indicated.
If making plans, check for other hotels in the area nearby.
For more information about Austin Kink Weekend, visit austinkinkweekend.com.
Follow Austin Kink Weekend on Facebook and Instagram.