Are you ready to 'Bear It All' at The Dunes? Here are the details!
Ready to 'Bear It All' at the Dunes? Whether you're rocking the furry chest or just looking for a big bear to hibernate with, this weekend is for you.
Bear It All will happen from June 9th – 11th, 2023 at the popular LGBTQ Dunes Resort, located between Saugatuck and Douglas, Michigan. Many of the details are still being ironed out, but take a look at what they have planned so far!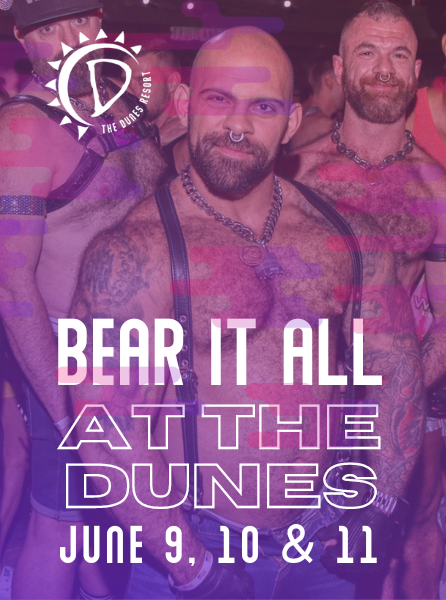 Friday, June 9th
Meet and Greet with snacks – 4:00-7:00pm
Perfect 10 Men Strippers with DJ Keller Shaw – 11:00pm
Saturday, June 10th
Pool Party with DJ Club Kid – 12:00pm
DJ DigiMark – 9:00pm
Cabaret: The Dirty Show with Ben Zook – 10:00pm
Sunday, June 11th
Pool Party with DJ Keller Shaw – 12:00pm
Let's Get Furry Tea Dance with DJ Club Kid – 4:00pm
DJ – TBA
---
About the Dunes
Since purchasing the Dunes in 1999, Danny, Greg, and Mike have all worked hard to turn it into the largest LGBTQIA+ resort in the Midwest and one of the largest in the country. Here, you'll find an inviting environment for all, where we encourage you to be yourself. The Dunes attracts top talent from across the country, and their events, venues, and rooms are all designed for you to make amazing memories.
Indoor venues at The Dunes includes a Dance Club, the Main Bar, The Show Bar and the Vinyl Lounge. Outdoor venues include The Deck, the Splash Pool Bar, and the outside section of the Vinyl Lounge. Stop by and see old friends or branch out to meet a few new ones. Whatever you're looking for, you can find it at the Dunes!
---
Rooms
There's still plenty of rooms, but they're going fast! So, book today! The Group Code to book your room is: b261598.
An awesome vacation starts with the perfect room! We know you're going there to have fun, relax, and maybe play around a little. Luckily, The Dunes has plenty of room options for everyone 21 and older, whether you're single, here with friends, or on a romantic getaway.
Room types include:
The Standard Motel Rooms
The One Bedroom Cottages and Suites
The Two Bedroom Cottages
Duplex Cottages
Wiley House Suites
Dunes Rooms
Book your stay today and enjoy Bear It All Weekend at The Dunes!
For more information about The Dunes, visit dunesresort.com.