Anthony meets Ross Tilley of Hits Radio Pride
Ross Tilley was a driving force behind setting up the only commercial Pride radio station nationally in the UK.
Instantly on meeting Ross, I knew I was in the company of a great leader. Ross epitomizes all of the qualities of a great role model, he is deeply passionate about what he does, he exudes knowledge and wisdom, and like many geniuses he is completely unaware of his own talents and achievements.
I was so excited to get the opportunity to speak with Ross. I had done all of my research, creeped his social media, read up on the station 'stats', and watched some of his previous interviews. His schedule unforgiving, we carved out a hot moment and with all my usual gusto and eagerness I launched into the interview, firing my questions at him. Then, to my total AGHAST! I realized I had not pressed record.
Everything we had discussed thus far, was gone!! Now, please feel my pain! Here I am, having grabbed the time out of his tight schedule, in front of the guy who is responsible for the creation of a radio station, having to admit to not having press record!! My face every bit as red as the little red light that should have been in the corner of my screen. MORTIFIED! But, as you will see from our chat, he [Ross] is a gorgeously generous soul and he happily humored me as we went all the way back to the start!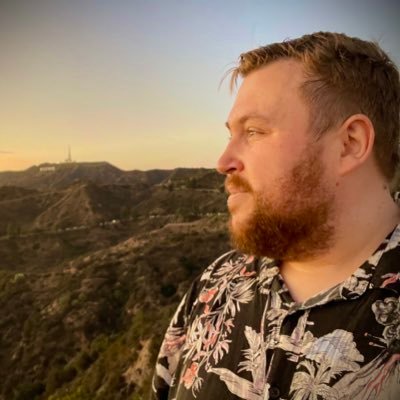 This in addition to the dodgy internet connection – this chap really is VERY understanding!
Chatting to Ross, I couldn't help but feel that fire in my belly. The one I first experienced when first trotting out to my very first pride more years ago than I care to confirm. It is easy to see why he is most definitely the right man for the job he does, much as he may never believe that himself.
Launched by Olly Alexander the star of It's a sin, and lead singer of Years & Years. The station is an all-year-round station. Ross is particularly proud that his employers Bauer Media made the decision from the offset that if they were going to launch this station, then they were committing appropriately – and all the way in.
Hits Radio Pride, in addition to the fabulous music, Tackles the uncomfortable side to the journey of becoming who he we are supposed to be. It is not afraid to address the elephant in the room, it encourages its team of presenters which boasts the talents of, Ben Johns, James Barr, Stephanie Hirst, and the much-loved Fleur East, to share their realities rather than hide them as historically so many of are used to having to do.
I hope you enjoy watching our chat as much as I enjoyed recording it (even if it did take two attempts).
You can Listen to Hits Radio Pride on DAB around the UK, through the Hits Radio App, or your smart speaker, just say "play Hits Radio Pride'