All-new 2019 VW Arteon: Midsized luxury in a midsized sedan
Volkswagen is trying to get back into the luxury sedan market again, and this year's Arteon (a combination of the words 'art' and 'eon') is their latest attempt.  The reviews have been positive, and for those of you who can't afford all that glitters but want something more than just a few carefully-stuck shiny emblems, the Arteon is worth a look. 
Standard on this car is what you will usually see on most new Volkswagens when it comes to engine power: a 2.0-liter four-cylinder turbo engine that offers 268 horses with 258 pound-feet of torque. The base SE trim is front-wheel drive but all others get VW's 4Motion All-Wheel Drive, which is impressive in pretty much all road conditions.
Standard equipment across the lineup includes simulated leather upholstery, an eight-speaker sound system, Apple CarPlay and Android Auto and an 8-inch touchscreen. Standard safety equipment includes a backup camera (which is pretty much standard on all cars anymore), forward collision warning with automatic emergency braking and blind spot monitoring.
One feature that really makes the Arteon a standout is the trunk space.  Even as a sedan, the boot operates like a hatchback, making operations a breeze for you or the dozens of personal assistants you employ.  You'll get just over 27 cubic feet of cargo space with the rear seats up, but you can put the rear seats down and that will give you 55 cubic feet of traveling space.  Height may be a challenge, so shop and buy wisely and accordingly every weekend, which, as a responsible bear, you should be doing anyway.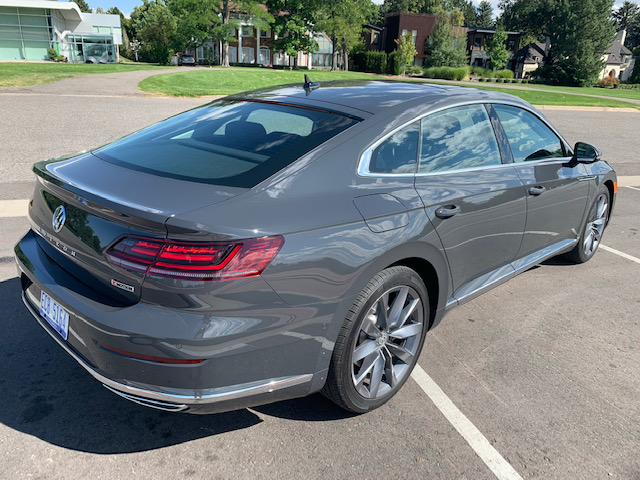 I will admit, I didn't really take this car racing, which perhaps I should have done, given the engine. Volkswagen has made a point to build new cars that are track-ready, all with the notion of giving drivers the feel of being almighty on the road. Not a bad strategy, really, except when it comes to the high cost of speeding tickets. Yet with this kind of luxury sedan, the last thing I felt like doing was to race it: I had my classic showtunes going and that relaxed me just a little too much….
The Arteon starts at $35,845, which, for the class, ain't bad.  There is indeed luxury when you step inside and lots to look at as you inspect from the outside. Pricewise, I would say go up the food chain and get a higher-end trim, the most expensive one being the SEL Premium R-Line with 20-inch wheels, which starts at $46,710.  Many add-on packages are available.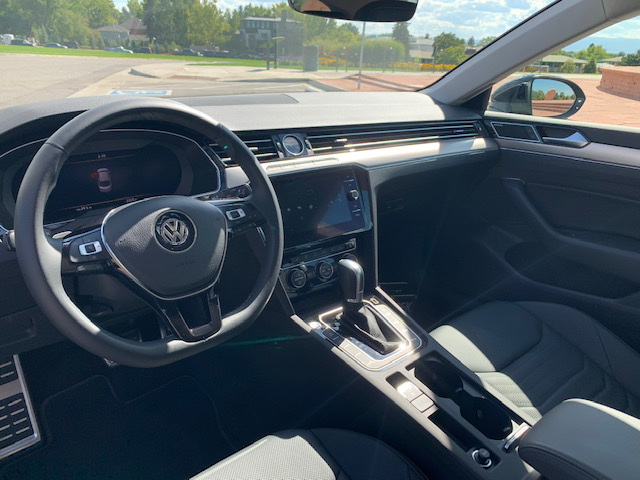 Interestingly, the VW Arteon in some circles is considered a small luxury sedan. I really don't see that, but should you be shopping for similar cars, you may also want to check out the Audi A5 and BMW 3 Series. Price is always an issue, but there is never an excuse for not doing your homework.
Not doing your homework means you could wind up living a life with a bunch of artsy types who will never have solid careers or decent-paying jobs, and further, you may never be seen as one of the 'Respectables' in genteel society. In my day, those artsy-type humans were often referred to as 'festive' or 'known homosexuals'. Like I was.
I rest my case.