Alexis Michelle on her Latest Single and More!
Alexis Michelle speaks with us about her latest single "Manpig!," the inspiration behind it, and more!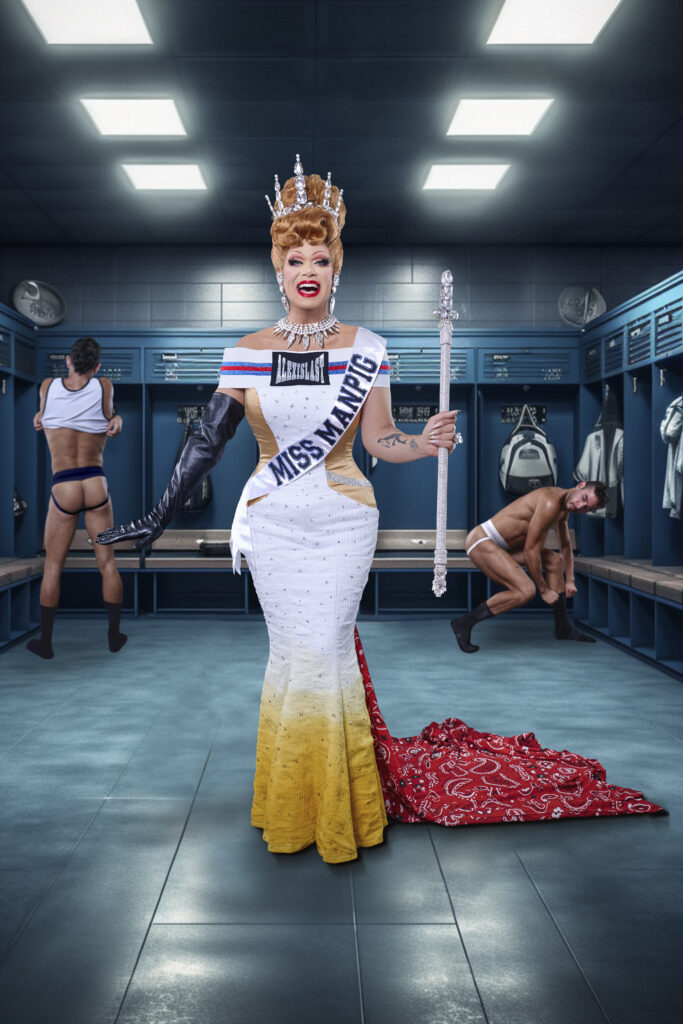 You may know Alexis Michelle from the latest season of RuPaul's Drag Race All Stars 8 where she was recently sent home after placing in the top 4. Back in 2017, she placed in the top 5 on Season 9 of RuPaul's Drag Race where she first debuted on the series. She was also notably on the TLC drag show "Dragnificent!" where she helped brides-to-be transform before their wedding into the best version of themselves alongside some of her fellow Drag Race sisters.
Regardless of how you know her, she's been killing it week after week on the latest season of All Stars, serving look after look on the runway. On episode 7, she debuted a beautiful look for the runway challenge "Miss Fill-in-the-Blank" as "Miss Manpig". The outfit, created with the help of fashion designer Florence D'Lee, showcases representation of kink, most notably the stained custom jockstrap that ties the entire dress together and the Red Hanky train that trails behind her.
Alexis also released a new song the week of this episode's premiere titled "Manpig!" where she leans into the power of her look on the show while staying true to herself as a drag queen and sexual being.
Produced by 808 Annie, the song begins with a heavy synth melody that immediately transports us to the club. As the track builds, Alexis enters onto the track with a vocal approach that feels effortless and sexy. The lyrics guide us through her thought processes around the stigmas of sex, and by the time we get to the hook, it's hard not to feel yourself moving to the beat. Throughout the song, she references some of the kinks she's into, such as jockstraps and water sports, while delivering an empowering sex positive message.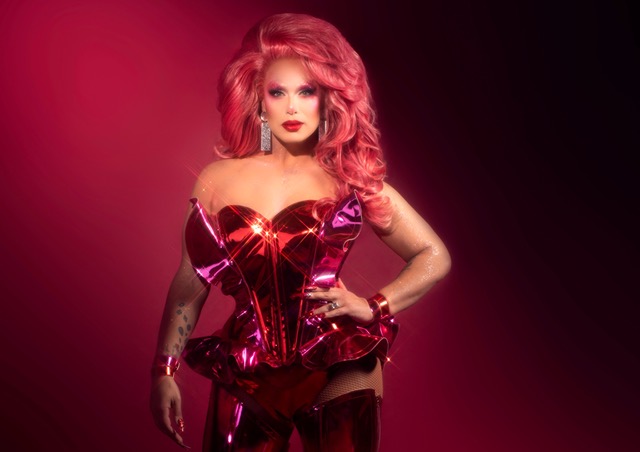 Check out my interview with her about the track below where she speaks on the outfit, the song, and more!
Bryce Quartz: Hey there, Alexis! Thanks for taking the time to speak with me today. How are you doing today?
Alexis Michelle: Hey Bryce! Thanks for having me today, I'm doing great!
Bryce Quartz: That's good to hear! Now let's get right into the meaty questions. What was your thought process in coming up with the idea for your single "Manpig!" that coincides with one of your runway looks on the show?
Alexis Michelle: The process really stems from me being a very sexual being. I can't say where it comes from other than I think it's simply natural to be intrigued by sex.
The real origin of me being labeled Miss Manpig actually comes from all the fun stories I told to and from set between the cast and I on Season 9 in the van. The girls and I would talk about food, the weather, our family, and boys among other things. I ended up getting a reputation for my van stories, and Farrah Moan ended up crowning me as Miss Manpig Continental. So when we were presented with the runway challenge on the show, this was such an obvious choice for me.
I also want to give proper credit to my designer for the look, Florence D' Lee, as he really gets me and understands me as an artist. The jockstrap was actually Flo's idea, and ironically enough, if I could pick one thing that really turns me on the most, it's absolutely undeniably and unequivocally a jockstrap. I've had a thing for jockstraps since forever, so it felt really organic and fitting for me.
As for the hanky train, that was also his idea, but still very accurate for me. With the red hanky being worn to the left, and the piss soaked bottom on the jockstrap, I felt that it was a bit iffy for television, but we submitted a sketch beforehand, and it was all approved.
Overall, the way everything came together for the look with phalluses in the scepter and crown, the long black glove I wore, and the pearls in my necklace, it just felt like such a moment before I even hit the runway with it. I was so happy that it was received well.
After returning home from the show, I started working with Evan and Mason, who go by 808 Annie, and discussed moments we wanted to feature from my run on the show that we could turn into music. We ended up making a whole track from this runway moment that feels very campy, fun and playful just as the look gave on stage. Major shoutout to Evan and Mason for helping this idea come to life through music.
Bryce Quartz: I really loved how you took so many different kinks and put it into one look, especially with the discourse our community is facing right now surrounding sexual expression as queer people such as kink at pride, and what should be allowed and what shouldn't. It was very eloquent, beautiful, and personal.
Alexis Michelle: It felt so neat to combine my most glam pageantry with my sexual life and experience, giving me such a full moment of self expression that felt elevated compared to other looks I've worn before.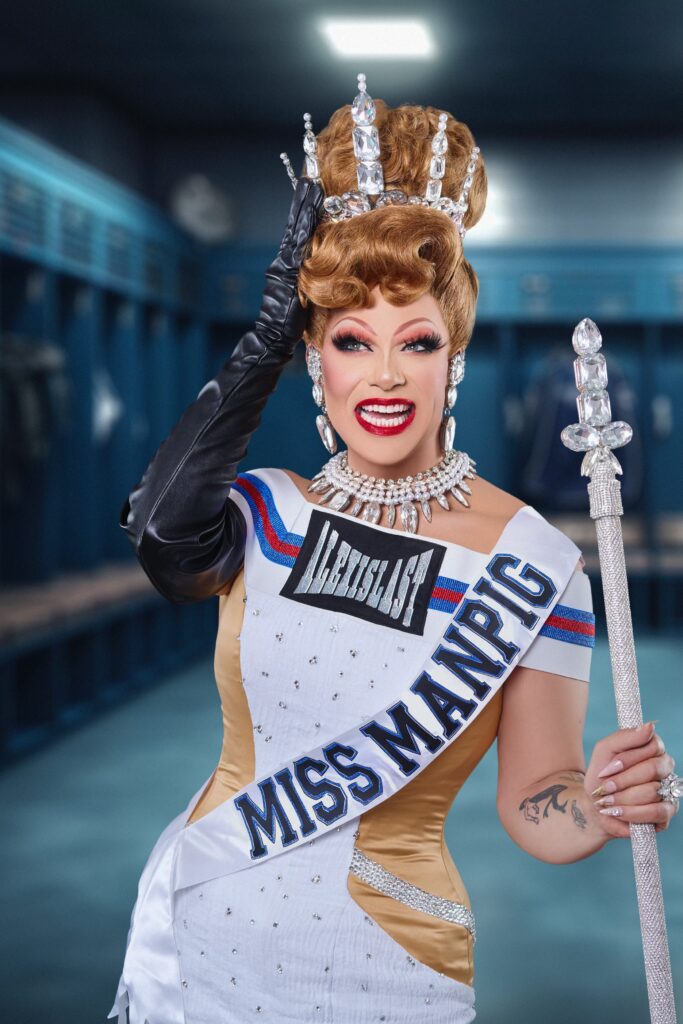 Bryce Quartz: I really enjoyed what you did on this track vocally, because it's much different than what you've released previously, like on your debut album "Lovefool" back in 2018. Not only are you speaking on different topics on this song, but sonically speaking, it's so much different. With that being said, did you find it difficult using a different vocal approach on a song like this?
Alexis Michelle: The intention behind my debut album "Lovefool" stems from one question. What would an album from me sound like if I was one of Broadway's leading ladies? Growing up, I was always heavily inspired by Kristin Chenoweth, Audra McDonald, and Christine Ebersole. Stepping into theatrical spaces is my most comfortable arena, but I wanted to do something that appeals to more audiences while also channeling more of myself into different styles of music. Evan and Mason are an incredible team of collaborators that helped pull this energy out of me. It all started with a sample that inspired us that was fine tuned into the instrumental you hear now, and I would just write lyrics freely until it fit the mold of the track.
This was definitely me stepping out of my comfort zone stylistically and vocally, and truthfully, getting in a recording booth and being a recording artist is a different skill than being a live singer. I am most comfortable in those live spaces, and feel like I can thrive off the audience within that, so it's definitely an acquired skill to have that was a bit challenging for me. Evan and Mason truly helped coach me through these challenges to get the finished product you hear today on the song.
Bryce Quartz: I actually adored the way you delivered on this song, because I can tell you really channeled that same energy from your live vocal approach into it by commanding the soundscape and transporting us into the club where you are the one conquering the room. It just feels so sexy and powerful.
Alexis Michelle: I'm the Queen of the Dark Room, what can I say!
Bryce Quartz: I mean, that's the best title to have! And you know the bears love their dark rooms, they love their jockstraps and their hanky codes and their kinks. With that said, have you ever met a bear that you would qualify as a "manpig"?
Alexis Michelle: I mean, I know my face and my chest are shaved right now, but you're looking at him!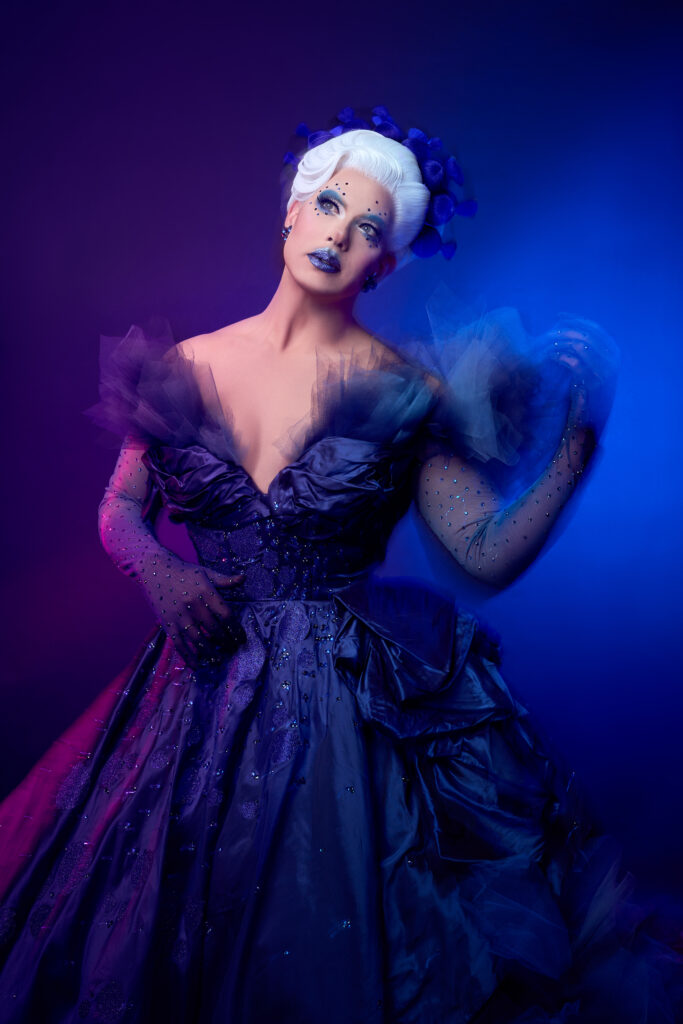 Bryce Quartz: Do you identify within the bear community?
Alexis Michelle: Absolutely! Although, I'm really not super into boxes and labels for a couple reasons. For starters, my spectrum of attraction is super wide, so yes, you could represent a lot of boxes, but within those boxes, people can express their individuality and identify themselves in many different ways. So for me, it's much more of a spectrum, and feel that I can be many different things based on presentation emotionally and physically. But yes, I definitely feel Beary at home within the bear community.
Bryce Quartz: I think you explained that quite well, as being one of many things is very relatable and quite beautiful.
Alexis Michelle: I think it's a part of sexual liberation. Being able to step in and inhabit whatever we want to be is what it's all about, such as a giant bear identifying as a boy or a cub, and a tiny twink identifying as a daddy or dom. It's all open to expression and personal interpretation.
Bryce Quartz: I wholeheartedly agree, and feel that it's so important for us as queer people to identify exactly how we feel that we are. Can you tell us why it's important for us to represent this sexual identity side of us as queer people?
Alexis Michelle: I think society has had hang ups and a feeling of taboo around sex forever, and while we've gone through periods of liberation, it's still something that makes people uneasy or uncomfortable when it's really next to eating and sleeping as one of our most human qualities and past times. I think expressing it is important because it demystifies the taboo and breaks it down just being visible as a sexual being. People should feel comfortable in whatever their sexuality and expression of it is, so highlighting it and showing it is extremely important.
As a sexual person who's also a drag artist, we're in a weird time where there are these really unfounded and foolish notions that drag is somehow sexualizing a young audience. This is extremely ridiculous, because this is the last thing on any drag artist's mind or their intention, however, it is fair to say that when anyone expresses themselves overtly sexually in venues or spaces around kids, it is not the space to be doing that. And that's fine! Not every space is a space for children, but there are plenty of safe spaces such as drag brunches and theaters for the younger crowd. At the end of the day, it's no one's business except a child's parent on what is digestible and acceptable for their child to view, period.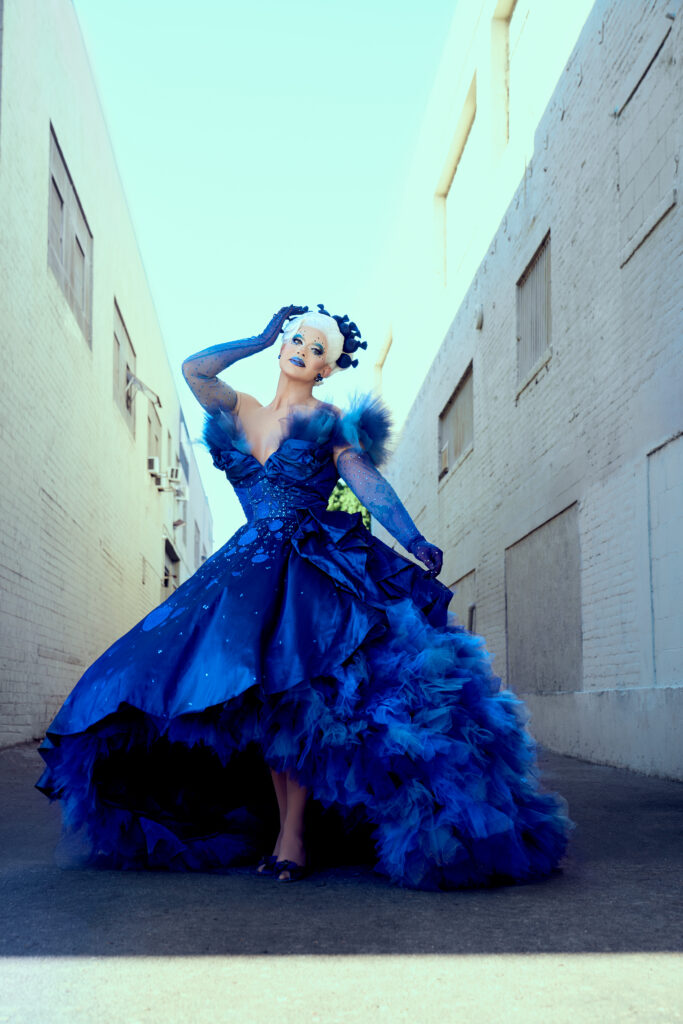 Bryce Quartz: Yes, exactly. Now I have another question for you about the outfit and the song itself. Did you feel that there were any personal kinks or additions that you could've added that you felt maybe you missed out on for the look or the track?
Alexis Michelle: I don't know what the color of hanky is for feet or nipple play, but I have explored within those kinks and felt that it would have completed the look and the song 100% for me personally.
Bryce Quartz: As for the other music you've released with the help of 808 Annie such as "God is a Queen", do you have any more releases planned?
Alexis Michelle: Yes! We released "God is a Queen" on the day of the All Stars 8 premiere, then we released "Manpig!", and we just released a song titled "I'm Too Much." I made this song because I hate those words. I hate when the words "too much" are put on someone, because whether it's your sexuality, or your emotional life, or whatever it is, you're not too much. You're right as you are. If someone ever tells you you're too much in a negative light, it just means that they are not enough for you.
Bryce Quartz: That's powerful. I personally appreciate your vulnerability on and off the show, and relate to that very closely, so thank you for being true to yourself on the show and outside of drag.
Alexis Michelle: It's called emotional intelligence, and there's nothing wrong with expressing how you feel.
Bryce Quartz: Do you have any plans to perform these original songs live?
Alexis Michelle: Yes! I'll definitely be incorporating these songs into my touring and my future gigs, that you can expect. I am also working on incorporating these songs into my cabaret show with my longtime collaborator Brandon James Gwinn. At this show, you can expect an evening of songs ranging from the catalogs of Barbra Streisand and Kay Starr to Dionne Warwick. It is truly a show for everyone.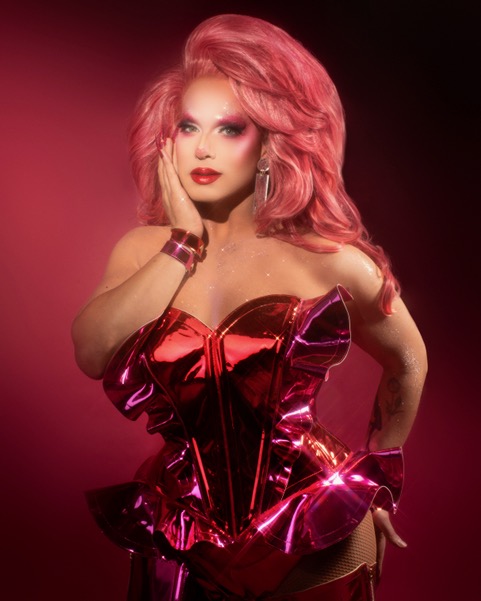 Bryce Quartz: I'm excited to see you live soon, and I'm sure our readers are too. Do you have anything else you'd like to share for our readers?
Alexis Michelle: Yes, I am single. Hit me up, boys!
Bryce Quartz: Thank you for taking the time to speak with me, Alexis!
Be sure to stream "Manpig!" by Alexis Michelle on all platforms now, and give her a follow on Facebook, Instagram and Twitter to keep up with the latest!