A 'Couple of Men' wrote a travel book, and they need your vote!
We have some great news from a couple of our bearded, furry friends! Couple of Men – Ein Männerpaar reist um die Welt (translated Couple of Men – Traveling Around the World) has been nominated for the Lovely Books Community Award! Yes, it's the first book published by the traveling duo, Karl Krause and Daan Colijn, also known as a Couple of Men!
Before the final phase of the award voting begins, the newly published authors have to be among the top 35 book nominees. That's where they need your vote! You can cast your vote for them here: https://www.lovelybooks.de/…/phase1/6849356140/6973348844/. And even though we don't speak German, we were able to cast a vote by logging in via a Facebook account. We got you, guys!
Written in German, Couple of Men – Traveling Around the World reveals the couple's ups and downs traveling together and visiting LGBTQ+ communities around the world. Of course, that was also while they were on pilgrimages in Japan, gay ski weeks in Canada, zip-lining through the treetops of the tropical rainforest in Costa Rica, whirlwind trips around the globe to witness Pride parades firsthand, and on a train safari through Southern Africa. Yep, these guys have explored more than 50 countries on five continents.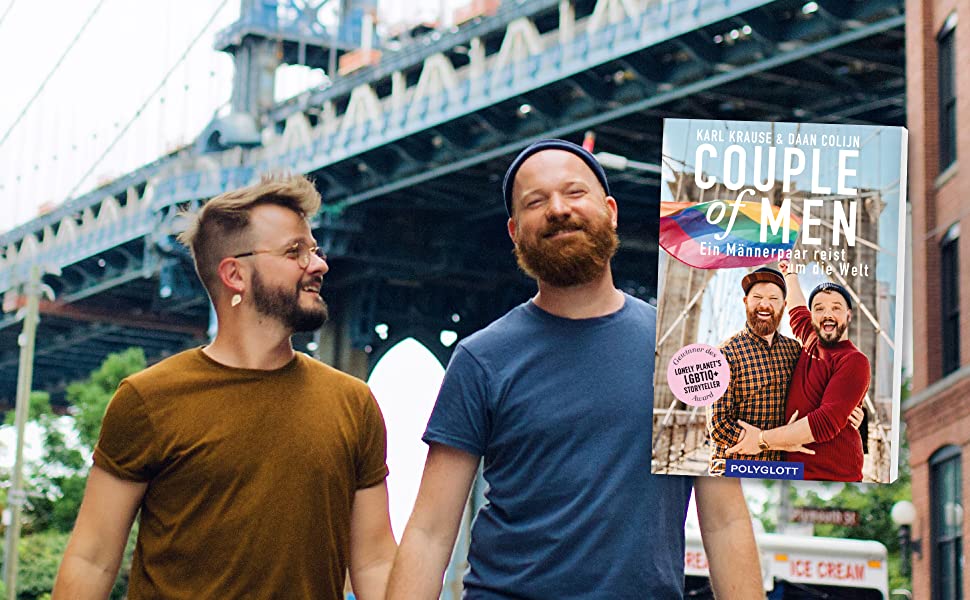 Our sister site, Vacationer Magazine, featured Karl and Daan for their weekly franchise Vacationer of the Week. Just a month before the release of the book, Karl expressed his excitement about the book and accomplishing a lifetime goal.
Karl told Vacationer in April, "I've always dreamed of writing a book and becoming a published author. It was such an honor when we were contacted by Polyglott, the German publisher, and asked to write our story as a traveling gay couple. It took us about half a year from the first word to the final script including pictures, tips, and information about and for the queer community."
It's the first German-speaking travel book by and for the LGBTQ+ community at Polyglott. The guys said, "We hope we succeeded in explaining how important it is to understand the challenges and special moments queer travelers experience and how to safely enjoy traveling."
Kudos to Karl and Daan! And remember you can help them continue their successful book-writing adventures by voting for them here.
This article was originally published on our site site, Vacationer Magazine.