A Bear Hotel and Sunday Gospel Brunch await in Oklahoma City
I remember when I first traveled to Oklahoma City, Oklahoma, in 1994 – dab smack in the middle of the American Bible Belt – to visit a closeted friend whose family ran an oil supply business, I thought, 'what could possibly await a hungry gay cub like me?'
After arriving at Will Rogers World Airport (the local joke is that it's called World Airport because they couldn't spell Inner-nach-nel), my friend took me to The Habana Inn, a local gay motor lodge of sorts where men stay for a night or two or more because, well, the price is right and companionship is affordable (wink). I sat by the pool, got a beer, looked to my right where the curtains to one of the poolside rooms opened up and suddenly a man's Speedo fell to the floor and another man bent over and helped him retrieve it – sorta. The show went on for about ten minutes from there and then I needed another beer.
I have been returning to the Habana Inn every year ever since (almost) to partake of the local flavor of men, who really do have a lot of pent-up demand for each other. If you have a hankerin' for getting to know your fellow man in a biblical way and don't mind doing it in a place that has routinely called us steers or queers (depending on which position you take), then OKC (the airport code for Oklahoma City) has sumpin' special for you.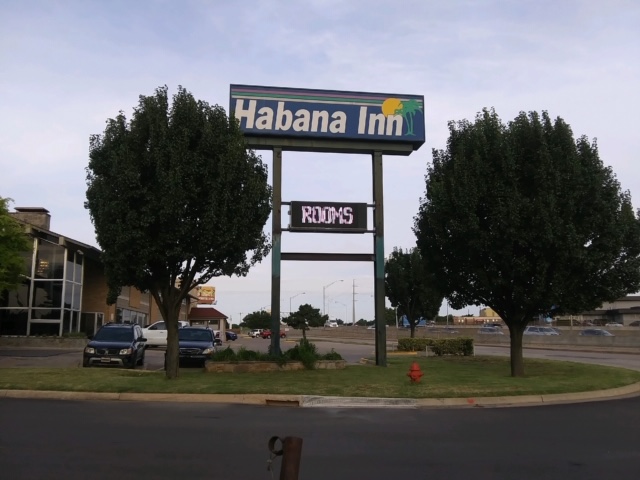 Actually, OKC has come a long way in a short period of time. This year for the first time ever, the mayor attended the Pride Parade and even signed a declaration, so it was a big to-do and celebration. Gone is a lot of the overt anti-gay harassment, at least in the gay area, and now there are even health food stores and other progressive leanings all over the city. (But you still need to be careful.)
The Habana Inn is the place to stay if you do go. Rooms can be had for as little as $49-$69 a night, but if you are looking for five-star treatment, you best go to the Hilton. You come to the Habana for, among other things, the Christian fellowship, often with a man whose real name is Christian or a gentleman who is wearing Andrew Christian.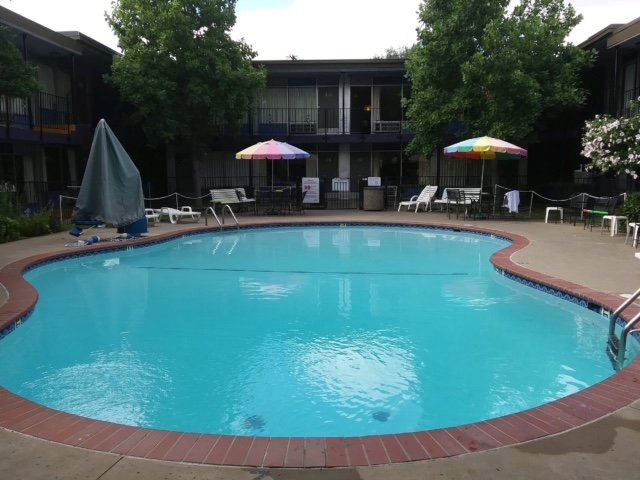 There are two pools, one traditional country-western bar called The Finish Line, one dance club called the Copa, and even a store called Jungle Red wear you can buy all those personal adult items that you may have forgotten at home or were taken from you by airport security. The dancing and half-naked men and the frivolity spills well into the late hours. There is even a restaurant called Gushers (hehehe) on site in case you need some real protein to keep you goin'.
Up the street, there are other gay bars to enjoy, like Tramps and Phoenix Rising. Keep in mind, these are simple clubs where you can get cheap booze or even premium booze that is still relatively inexpensive. There is a good time to be had everywhere you go in Gay OKC. I'm told the locals go cruising for the out-of-towners just to try and get in our pants. Can you imagine?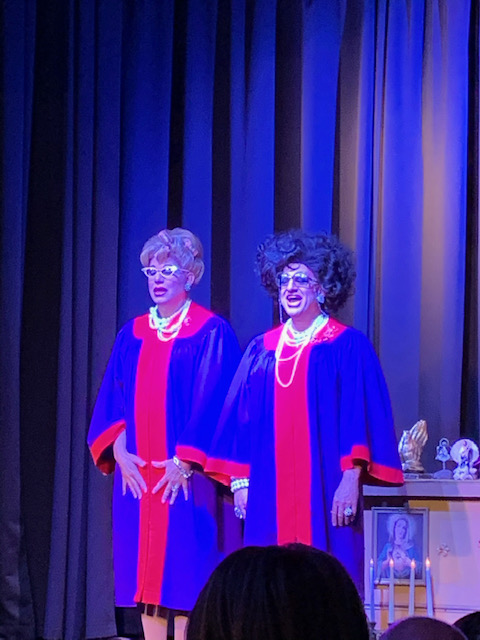 But perhaps the best part of my recent trip to the New Testament version of Sodom and Gonorrhea was sumpin' called the Sunday Gospel Brunch, held every Sunday at The Boom Boom, which is just up the street from The Habana Inn.  Starring Kitty Bob Aimes and Norma Jean Goldenstein (found all-by-her-lonesome in the Jews-for-Jesus section of sinners up the street at the church that used to be a Woolworth's store), these two judgmental drag queens put on their choir robes and big hair and give you a good dose of Southern religiousness while you are having brunch, mimosas and bloody marys. They are funny as heck and they also have shots of liquor with the audience, so by the second show, they are pretty well liquored-up and the show really gets fun – just like a real Southern Baptist service.
If you have seen any of the Sordid Lives  movies or series and thought 'that can't possibly be accurate', well yes, it is accurate and these people's lives are just as sordid and crazy as portrayed by creator Del Shores himself.
But don't take our word for it: fly on down (it's not 'up', trust me) to Oklahoma City and see for yourself – and enjoy the local cowboy flavor while you are in town. My entire six-day vacation came in at less than $1,000 US (to include hotel and airfare) and I am not a cheap queen by any stretch. And the local flavor was tasty.
They say Jesus works in mysterious ways. This would be just one of them!