2023 Lexus ES 350: Style, Speed, Fun – Wow!
If you want a car that can go from quite ride to fast and furious at the touch of the pedal, the 2023 Lexus ES is worth your consideration.
The ES is not truly a sportscar but it's not a sedan either. It fits right in the middle for those who are looking for something that can serve as a bit of an everything car with a lot of style, both inside and out.
Billed as luxury midsize car, the ES comes as either a 250, 300 or 350 (referring to horsepower) and is available as a hybrid as well. This can be your everyday car but perhaps not your weekend car unless you spend a lot of time doing easy-breezy road trips. If you shop at big box stores or climb every mountain on your time off…. yeah, maybe not.
Handling is nice and nimble and assuming the weather is in your favor (All-Wheel Drive is available for more adverse climates, but not on the 350), you will always enjoy the ride. In fact, Edmunds.com joyously states: "this is the kind of car you can settle into after a long day and forget about the worries and stress of the outside world."
(This review will focus on the ES 350.)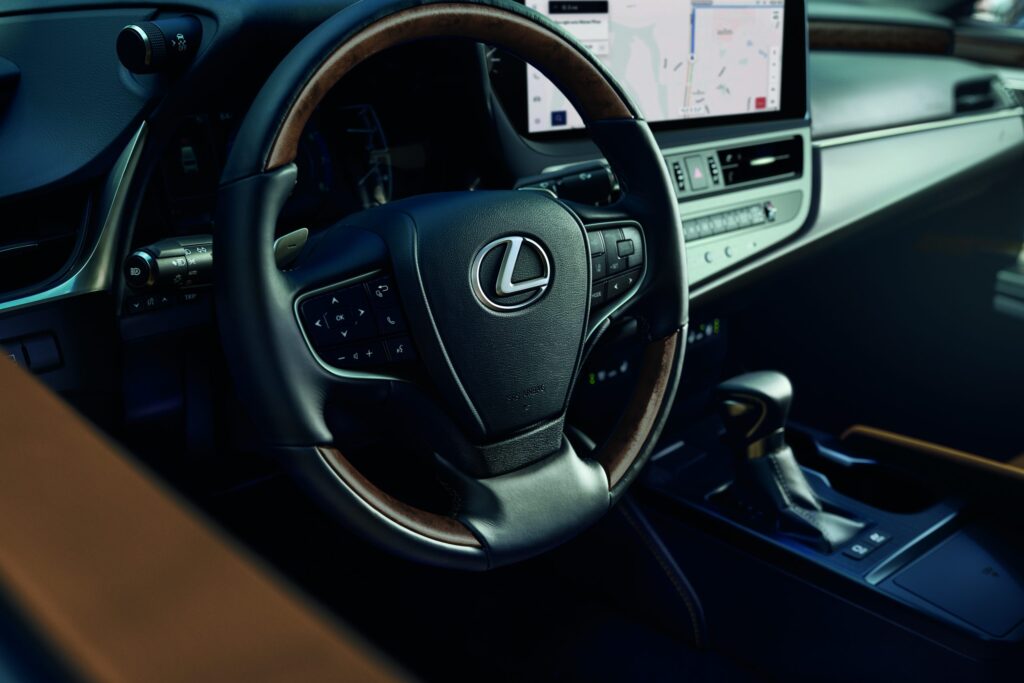 Sunroof, simulated leather, power front seats, 10-speaker Pioneer audio and a host of important safety features are standard. Lexus got wise and ditched the touchpad for its navigation system and now uses a series of buttons and other controls, offering one of the easiest-to-use systems in the car business. Get in and go, tell it what you want to hear and do – and enjoy the ride. Old skool knobs and buttons are there to help.
I tested the F Sport edition, which is the Lexus/Toyota trim that adds on all the racier features, like a bigger engine (in this case, 3.5-liter V6 with 302 horsepower), suspension tuning and performance dampers. You're feel the power and that makes the drive even more fun – and challenging.
(Make sure you don't eat and drive or drive where the police can see you. This car is a stain and a cop magnet.)
Historically, the Mercedes Benz E-Class cars have always been the go-to luxury cars for this segment, but the Lexus ES truly does give the E-Class a good run for the money. If you are so inclined and aren't too hung up on labels and history, you should check out this year's Lexus ES class.
This car doesn't exactly shout Bear magnet. But it really is nice car, gents.