2023 Honda Pilot: Big, Beautiful, You'll Luv It
This vehicle seems to just keep getting bigger, and with the fully redesigned 2023 Honda Pilot, just by looking it, you'd swear this was a Hugh Jass SUV!
Technically, it's a midsized – and in some markets, it's considered a 'crossover'. Those terms are always subject to interpretation but know this: you will need to be careful when you drive this big boy around town. A wide stance is only one of its prominent features in a room full of other big boys. This is Honda's biggest SUV on the market.
Also know that when it comes to what a Bear needs and wants, there is plenty of room inside.  No bending or twisting or ducking or turning yourself into one of those Oktoberfest pretzels that you can get anytime at the state fair (with extra salt). Walk right in, gentlemen. And enjoy the ride.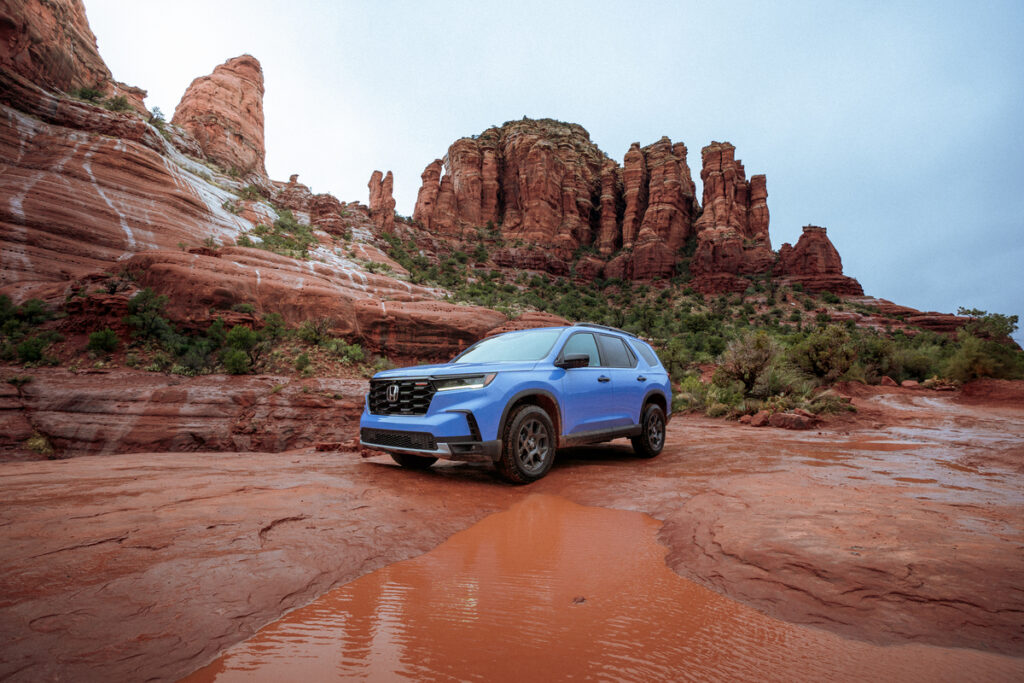 This year's Pilot has a nice, comfortable interior, one that will certainly make you feel like you are driving a very nice car. Honda admits they needed to give passengers more room inside, and this year, they delivered. Getting four Bears in and out of this baby was easier than Goldilocks holding an all-you-can-eat pancake breakfast in her village.
(Note: There is a third row of seats. Use cautiously.)
3.5-liter V6, 285 horsepower, 262 torque. It's powerful, yes, and know that mileage will average about 19 city / 25 highway.
I really loved the dashboard and the infotainment system.  Lotsa buttons and knobs and little guesswork. No need for night courses on technology at the local community college in order for you to operate everything.  I got in, synced my phone, and soon, just as I was carefully pulling out of a tight parking space where I live…… Dolly Parton was telling me how I Will Always Love You. 
Leave the third row of seats up and you get 22.4 cubic feet of cargo space. But put both the third and second row of seats down – Ta-Da: 113.7 cubic feet of cargo space. That's a lot of Bear Party than can go into that cubby hole.
I tested the All-Wheel Drive TrailSport edition (seen here), which is one of the higher-end trims.  This is Honda's off-road trim for boldly going where you don't want to go when you are dressed nicely.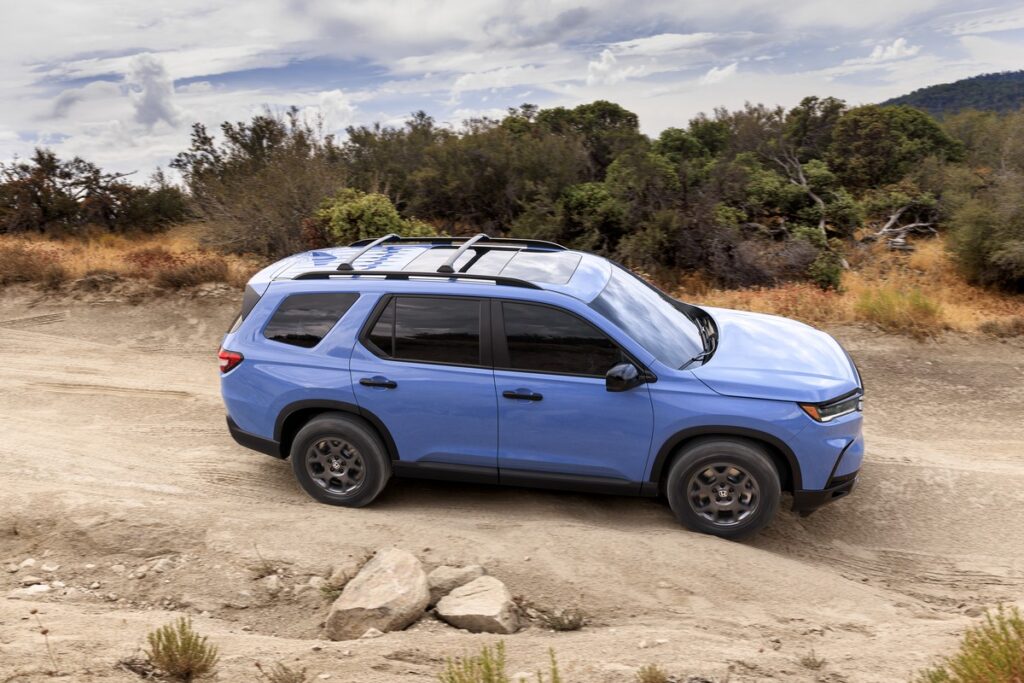 Yes, of course, it was nice and plush inside (and out) and, well, lots of nice basics on this one: surround-view camera system, panoramic sunroof, heated windshield, second-row captain's chairs, 18-inch wheels with the TrailSport logo, and of course, AWD. For off-roading, there are also items like underbody skid plates, full-sized spare tire, and increased ground clearance (now 8.3 inches).
As Spring gets into full swing for most of the planet, it's time to think about going on a road trip. In comfort. With no hassles, uptightness, or tightness. Just you and the boys and what you need to enjoy the road.
Even if that road trip is just a five-minute drive for a dark chocolate latte.