2023 GMC Canyon: This Baby Bear Can Play Rough with the Big Boys!
Standing almost 7 feet high and stretching almost 18 feet long, you'd hardly consider the 2023 GMC Canyon a baby bear truck.
Yet the Canyon is indeed considered a Compact Truck – yes, it is not the biggest bear out there.
If you need a truck that can help you get your work done, is mighty impressive and falls nicely into the category of 'short rib dinner' (Golden Girls fans will get the reference here), then this year's Canyon just may be your ticket to butch-ness. And greatness.
U.S. News and World Report, which ranks this year's Canyon as No. 1 in Compact Pickup Trucks, states that "while the old Canyon felt ancient, the new Canyon has a modern look and feel with performance to match."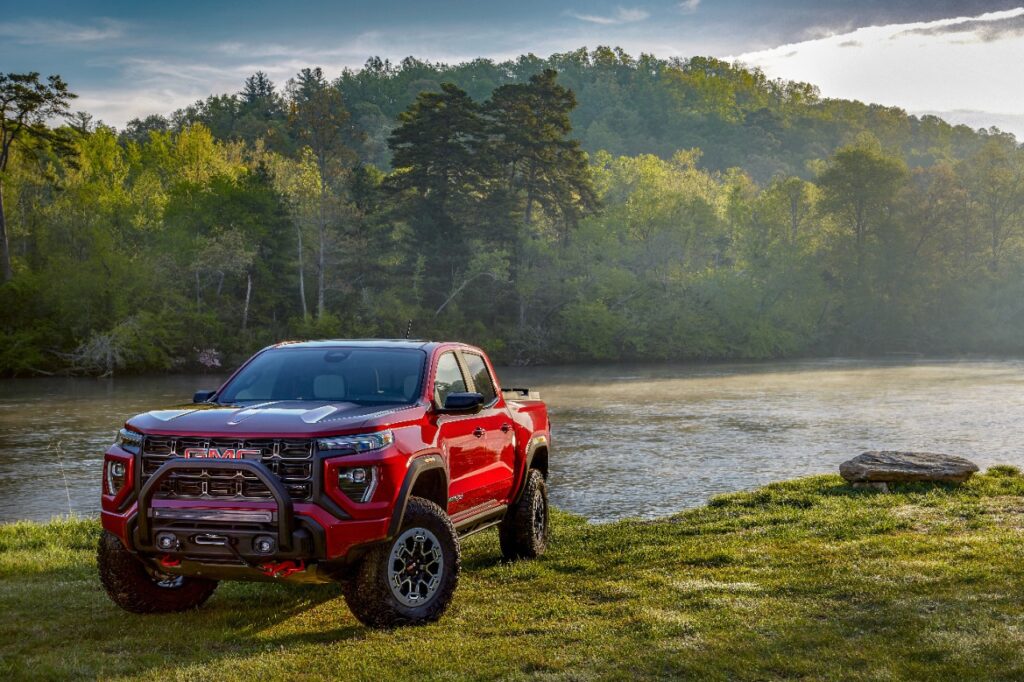 For starters, you'll get 310 horses and 430 pound-feet of torque all coming out of a 2.7-liter inline-4 turbo (Rear-Wheel Drive is standard). Prices start at just under $37K US, and at the base Elevation trim, you do get some decent basics, like a 11.3-inch touchscreen, remote locking tailgate, forward collision warning with automatic braking and lane departure mitigation, to name a few.
But General Motors is marketing the Canyon as more of an off-road-hungry vehicle, and they want you to consider buying some of their higher-end trims, which come with more user-friendly off-road features.
I tested the top-tier all-new AT4X trim with 4WD (seen here in Volcanic Red). This is a powerhouse off-road growler that truly delivers for those who want an off-the-beaten-path experience.
Fun, Fun, Fun with 10.7-inches of ground clearance (and all kinds of rock rails and additional skid plates and Bose audio) – so make sure you are serious about not using this regularly for your city commute. There is only one choice in cabs (crew cab, or four doors) and beds (short bed) for 2024. I know, I hate having only one choice for a bed too.
Still, if you are serious about your trucks – and your four-wheeling – the Canyon and its upmarket trims are truly worth checking out. Trust me, these aren't city cars.
And make sure you have plenty of room for your new family edition; it just may take you back to your younger years of Y2K, Jonny Quest, Stretch Armstrong, the Commodores of 64 or just spending time with the kids on the block…..
Remember playing with the other boys when you were young and you would admire their trucks and you would think 'Hmm, theirs is bigger and shinier'? And you would get a little jealous because they had something bigger – but you really liked what you had?
When you have a new GMC Canyon, no need to be jealous. This is a true workhorse. And a show pony! It can go where thiers can't. And it can truly perform, because sometimes short and stout is really what you need. And want!
And the other boys will still want to come over and play.