2022 Audi Q3: Compact Luxury with Outsized Impressiveness
This year's Audi Q3 is top favorite in the Luxury class. In the Sub-Compact class. And especially in the 'Wow, this is really classy so don't spill your Slurpee' inside the car class kind of car.
So (bottom line is) if you are someone who needs a utilitarian kind of car that you can dirty and clean and go, this may not be your best choice. The Audi Q3 wants to be pampered.  Sorta.
Inside, the accommodations (think Hilton) are fairly lush. The base '40 Premium' trim comes a' packing:
Leather upholstery, panoramic sunroof, tri-zone climate, digital dashboard (which means it can be adapted as you like), power moveable and heated front-row seats, power liftgate, front collision mitigation, parking sensors, lane departure warning and blind spot monitoring with rear cross-traffic alerts. These are just a few of the standard features you get at the base level.
Anymore, Manufacturer's Suggested Retail Price (MSRP) is terribly misleading, but this base trim starts at $36,400 US. That's a good starting price for a luxury US vehicle. Go up the food chain if you can and more goods and elegance await.
Keep in mind that with cars like these, elegance and style are still the priority, above power and strength. Class and Rico Suave-ness are busting at the seams here, especially with the S-line 45 TFSI quattro trim that I tested. (TFSI: Turbo Fuel Stratified Injection), which is few bites up the food chain.
This was a fun car to drive around town. I felt like I needed to take it slow and, ya know, just enjoy the ride. The trim levels are only a few thousand dollars different in price, but when you add on the details, like sports badging, bigger wheels, and some of those snazzy effects (like ambient lighting), the price does go up.
The technology is a breeze to setup and use. All I did was get in, follow a few prompts and my phone was connected. Apple CarPlay and Android Auto are standard.
For those of you who are of generous size, or who have many friends who don't shop at the skinny stores, remember that this is a compact luxury vehicle.  That means the backseats are bit snug, and even the front seats can pinch a little if you have been called Husky more than once, especially during your youth.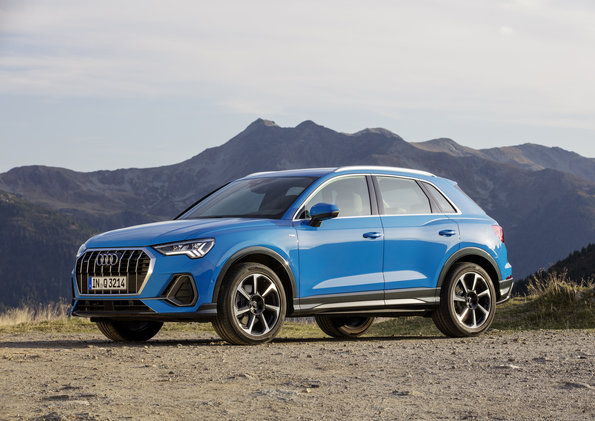 As cars go, the 2022 Audi Q3 is an easy car to drive, a breeze to park and assuming a bank will lend you the money if you don't already have the cash… this will be a car that will let you sleep easier at night.
As Bears, we all deserve a good night's rest.