2020 Toyota RAV4 Hybrid: One of The Best for the Model Year
If you are looking for a small to midsized SUV that has just about everything you may be looking for, one of your best bets would be to check out the 2020 Toyota RAV4 – in one of its best incarnations since it was introduced to the world last century.
In particular, the hybrid version of the RAV4 is similarly priced to the strictly-gasoline version, with the starting price coming in at $28,350 US for the base LE trim. The big difference, of course, is the mileage: average MPG with the hybrid is 40.   That can save you some moolah which, unfortunately, you will need to pay to your student loan debt, house payment, rent, health care or other necessities of life.
The RAV4 is an ample little handler wherever it goes. It packs a punch with a 2.5-liter inline-4 engine across all trims that offer a combined net 219 horses. There is even a TRD Off-Road trim available to give you off-road handling and prowess while you are solidly on the road. (Just to be clear, this year's RAV4 is not truly designed to go fully off-road, but perhaps an occasional quick jaunt in an organized dirt rally might be okay now and then.)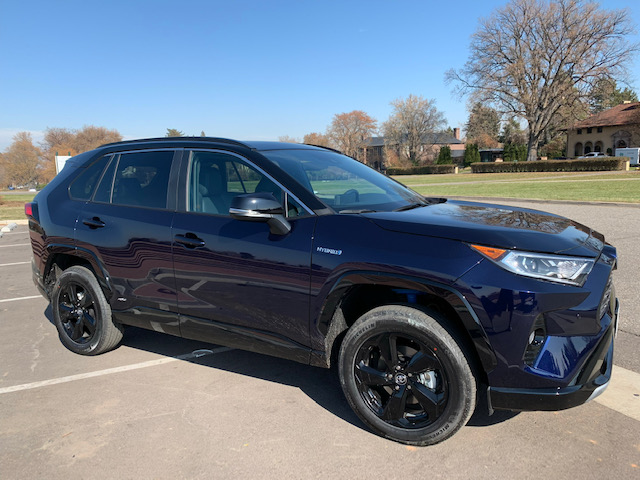 As for interior room when you really need to do some carb-loading for the winter, cargo space comes in at 37.5 cubic feet behind the rear seats, and if you fold the back seats down, you get almost 70 cubic feet of space to load up. The hybrid does not lose any interior space because of its batteries, which puts it right on par with its gasoline-drinking cousin.
The interior is also more roomy than in years past, and I found that to be of comfort. It is never easy for us guys who eat ribs as big as our own to get in and out of cars, but with this year's RAV4, the task did seem easier. By design, it rides higher, so you now have to 'step up' to get in. Well, that's a blessing for guys like me but I know it's a hassle for a lot of people. Duly noted.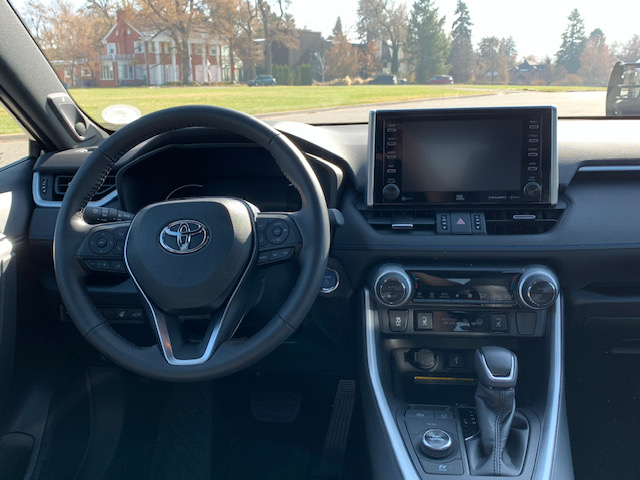 Standard safety features include adaptive cruise control, road sign recognition, lane departure warning and assist, lane track assist and automatic emergency braking.   Other standard features include Apple CarPlay, Android Auto, LED headlights and a 7-inch touchscreen, with a mix of tech arrows and old-fashioned buttons…..
… Because Toyota knows that some of us (namely me) still like those old-fashioned knobs and buttons that can be easily turned and twisted and pulled without having to stop and figure out where to put your finger for maximum performance.   I really am grateful for that. 
Finally, this year's interior is the most upscale it has ever been.   While still functional and easy to clean, you no longer feel like you are always in the company delivery van awaiting the next load of construction goods or waste.  This is a car you can take to the prom or the fundraising dinner for your favorite Democratic candidate (wink). 
As we, the worldwide Bear Community, welcome in the Roaring Twenties, here's hoping this decade of the Twenties goes more smoothly than the last one, which, admittedly, did not end well in 1929 with a market crash and a depression…..
We can do better! The best way to do that is to clean house.   Wink!