2020 Honda Civic: This should always be on your short list
Yes, you've heard me say a gazillion times how I recall the good ole days of 8-Track tapes, root beer floats and how the Honda Civic started life as slightly bigger than a cardboard box.  
It initially was called a "two-door Fastback" and, compared to the Chevy Vega or the Ford Pinto of the day, yes, it was fast. Sure, the 1970s weren't everything, and I, for one, would not go back. But just like Cher singing Dark Lady, there are some things of the era that are worth remembering.
Fast forward to middle age and the Honda Civic has gotten bigger and wider (haven't we all) but still packs a punch that could work very well for your day-to-day life, however defined.
Rest assured, for the times, it is still affordable. The base Coupe comes in just under $20K, at $19,850. You'll get a standard transmission (a clutch) for that price. You also get 16-inch steel (not alloy) wheels, lane departure warning, adaptive cruise control, forward collision warning and automatic emergency braking. And a few other creature comforts.
If you would like a turbo or some sporty features, you will need to go up the food chain.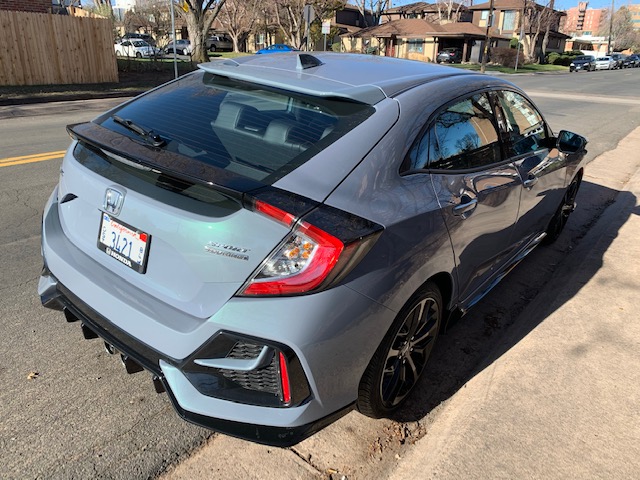 The Honda Civic is considered a compact car, which, okay, I guess it's all in how you see it. You can easily park it – and there is considerable room inside. Again, a word of caution to Bears Everywhere – get in and see how easily you can (or cannot) maneuver.
Indeed, it is a sharp-looking urban legend for the 21st Century. Affordability (as classically defined and used in current economic terms) is key to the Civic's continued success. Keep in mind that when you pay less, often the features you get are, shall we say, 'basic'. Not necessarily so with this year's Civic. Practicality reigns here, so if you want all that drips luxury, check your bank balance first and then good up the food chain – or go to other models and trims.
I had the pleasure of testing the Sport TRG trim, one of the higher-end trims that comes in at $28,850.  It really was a pleasure, complete with interior leather-wrapped widgets, premium audio, moonroof and heated seats, to name a few.  Pictured here, it can be a bit unassuming, which I suspect is what you want in a car you are (in theory) buying for practical reasons.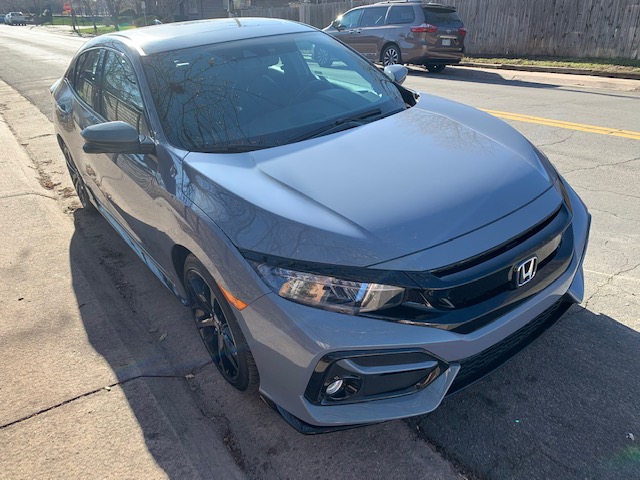 The legacy here is well-known, and if you want something reliable, this is a clear contender.
Yes, well, I remember when The Beach Boys were singing about Little Honda, in reference to the popular motorcycles of the time – which really was a long time ago in a land seemingly far far away from this current devil-may-get-coronavirus time on the planet…..
Personally, I am glad we have finally reached this moment. All that hand-me-down crap about how great grandfather' ability to breathe and thrive was what many Americans feasted upon for centuries…. yes, it was getting old.
Just like grandpa's old gay jokes…..