2019 VW Golf Alltrack TSI: You wanna have a Kiki? There's room for it!
When I drove the 2019 Volkswagen Golf Alltrack (one of several 2019 Golf incarnations, all are Hot Hot Hot) earlier this summer, I couldn't help but think of the gay anthem by Scissor Sisters "Let's Have a Kiki."
Why? The emphasis here with the Alltrack trim is on interior room. And lots of it. For your road trip, you really could 'lock the doors' and have your Kiki with all your friends – and hear them proclaim 'this Kiki is mav-el-ous'.
Okay, well, maybe not all your friends, especially if you are somewhat popular on Snapchat or What's App. The Alltrack is considered a wagon, and that means there is plenty of room for all your purchases, equipment, necessary items, boxes or treasures, whatever you feel is important, to include your friends: old, new or just picked up at the train station. With all the seats down, you'll have 66.5 cubic feet of cargo space to cram everything in – sheltered from the elements – so you can blow and go from whatever mischief you may be encountering.
We hear at Bear World realize that living on a budget is a reality, even for those of you who have plenty of money or jewels under the mattress.  And the good news is that the 1.8-liter Dual Overhead Cam turbocharged 4-cylinder engine will give you mileage of 22 miles in the city and 30 on the highway, which is a decent value.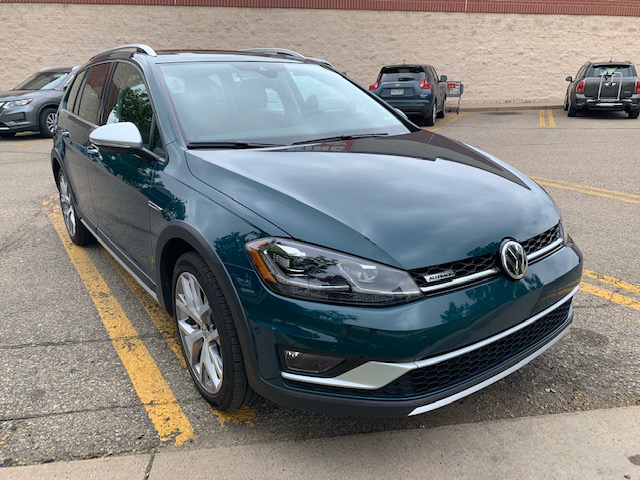 The true impressiveness of all VW Golfs is how it handles on the road. Those engineers (many of whom I have met and they do have accents, just like in the movies) really know how to build precision engines that truly deliver on the road. I could right here write all kinds of fancy words to describe the performance aspects of the engines and how they grip the road at the right time to deliver the right response for the right release of endorphins, or something like that.
Simply put, if you want a race car but really shouldn't have one but you want one anyway and you need one that is practical, the 2019 VW Golf is your car.  And if you need a wagon for all that room and all your kiki-ness, get the Alltrack, but be advised that it's almost a foot longer than its brother trims, the R and the GTI, so parking could be a bit more challenging.  Wow, those performers at the drag clubs were right: one foot really does make a difference.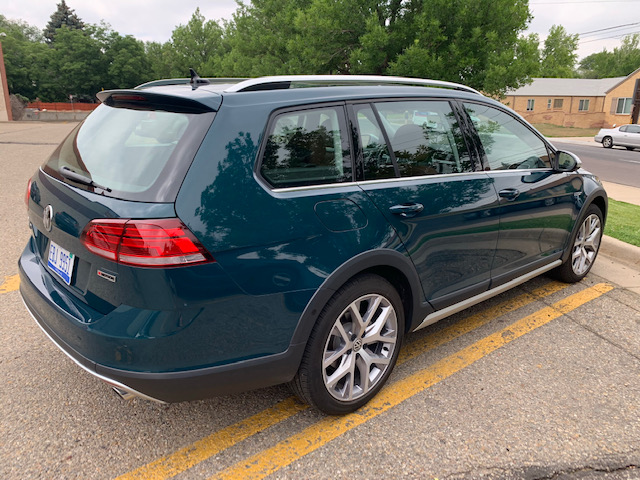 Prices start at $26,895 US and that's just for a manual transmission, but allow me to explain: these Golfs really are racecars, so of course they need a 'competition clutch with a four on the floor' (I just had to work in a Beach Boys song). If you are into driving – and more importantly, if you can competently drive with a clutch – you will enjoy having a manual transmission Golf. The Fun Fun Fun doesn't just stop at the Hamburger Stand (okay, that's two Beach Boys songs).
However, if you are a bear who regular juggles a burrito, a biggie soda, some fries or chips and maybe even a makeup wand or a pipe while you drive (shocking, I know), you should pay a bit more upfront and get the automatic transmission. It will just be easier on your outfits and your bank accounts: those traffic tickets do add up.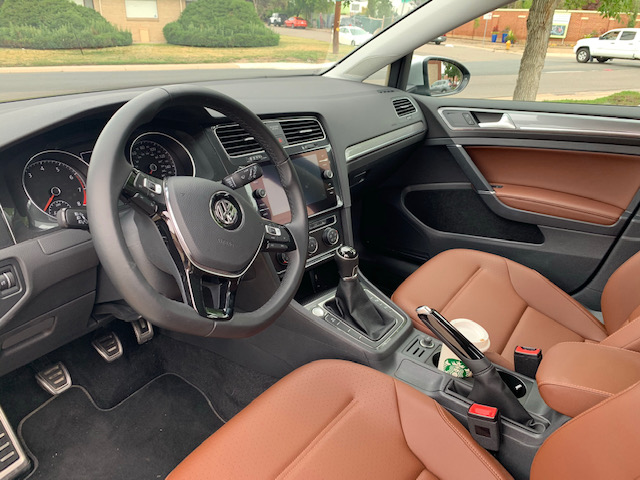 One last note of caution: Get inside before you buy, men. I love all the Golfs, but they may be a little tight for many of you full-sized playthings. Tight can be a good thing, but not if you will be paying for it for the next six years.
Nothing like having a good time for a while and then feel like you will be paying alimony for the next few years…..