2019 Toyota Prius: An Old (yet very young-looking) Faithful
U.S. News and World Report aptly notes of this year's Prius that "it may not offer a lot of driving excitement." Indeed, and that's the whole point of buying a four-seater that starts at $23,770 and can get up to 54 miles a gallon (EPA estimates are for an average 50 mpg). And I love it!
The Prius is almost as old as the 21st Century (can you believe it's been 20 years since we worried about Y2K?) and it was the first gasoline/electric hybrid automobile to hit the American market.  Those first models were 'cute' but also so very dreadful when it came to hilly roads and many other types of motorway challenges. Fortunately, those early days of hybrids are gone and now we are well into full mature adulthood – and the future is looking bright, especially for the Prius.
But allow me to be perfectly clear: There was nothing truly spectacular about driving the Prius, and that's the whole point behind getting the car. If you are looking for flash and glitter and showing off for your friends, you'll need something more in your pants, like cash. The Prius is for people who need to make their transportation dollars go as far as possible – and is for those who care a little more about leaving the earth a greener place.
Let's face it, when you are living your life, trying to work, eat, stream, caffeinate, vape, etc., you rarely have time for revving up your electric engines. And if you do, do you really have the funds to do so in the form of a large monthly payment?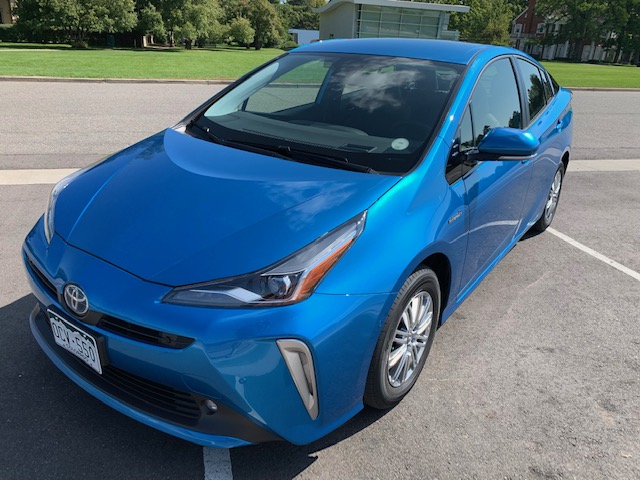 I enjoyed driving the 2019 Prius all around town, specifically the XLE AWD-e trim, because it was just a nice, simple unobtrusive ride. Nothing bothering me, at least not from my engine. And when I have to move it from dinner party to brunch to art opening to champagne tastings (as all bears do), well, I need to get there reliably. Enter the 2019 Toyota Prius….
(That said, the XLE All-Wheel Drive trim does have a lot of pizzazz and pep to it, and that one starts at $28,820. The car I tested cost a little more due to $900 15-inch alloy wheels and some racecar-looking dashboard enhancements, which are not directly in front of the driver but are in the center of the dash. And the guys loved it…..)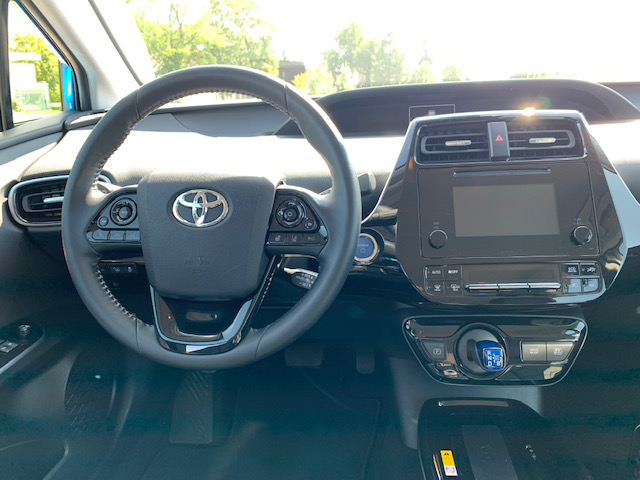 Yet the one item that I personally find most impressive is that some of the most advanced automotive safety features available are on most Toyota cars for no extra charge. Under an umbrella called Toyota Safety Sense, this bundle of features includes stuff like pre-collision warning with pedestrian detection, lane-departure alerts, automatic high beams (great for those late-night out-of-the-way gatherings) and something they call Dynamic Radar Cruise Control, which really is ingenious. Let's say you are getting too close to the vehicle in front of you. This system will slow you down and keep you a safe distance away from that car. Truly, just what the doctor ordered.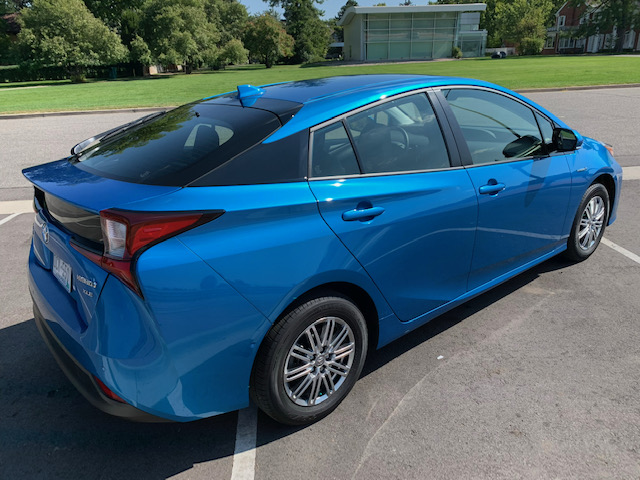 Two other safety features which I think are just brilliant are included. Road Sign Assist actually reads road signs and other street indicators and displays them right there on the dash for you to see (and obey). And Lane Tracing Assist uses the cars in front of you and the marked lines on the road to help keep you in your lane and alert at all times while behind the wheel.
Gosh, savings at the pump, safety on the road, peace of mind during the day….. what more could you possibly want in pseudo-husband?