2019 Mazda CX-9: One of the year's best
Truly, one of the best midsized SUVs of 2019 is the Mazda CX-9.  With all it's easy-access luxury and drivability, you can't go wrong with one of these regardless of your family situation or marital status – unless there are some pretty serious legal issues involved, or course.  And even then…
Starting at $32,280, this is one of the most affordable and practical SUVs out there, and there should still be plenty of them on dealer lots as we head into the holiday season. First off, as bears we like our ruggedness but we also like our beauty, and the elegance of the CX-9, once you step inside, is obvious.
A leather-wrapped steering wheel is standard, as well as tri-zone automatic climate controls. As you go up the food chain, more items are available, like Bose sound systems or Auburn Napa Leather and Santos Rosewood interior trim. Some of you may not need all of that, especially if you really will be cleaning up after your children and / or friends.
All trims get Mazda's signature SkyActiv-G 2.5-liter 4-cylinder engine, which has proven to be both a workhorse and a performer for many years.  You'll get 250 horses and 310 pound-feet of torque, and that will give you an average combined 24 mpg if you get the standard Front Wheel Drive; All-Wheel Drive on the higher trims will offer and average mpg of 23.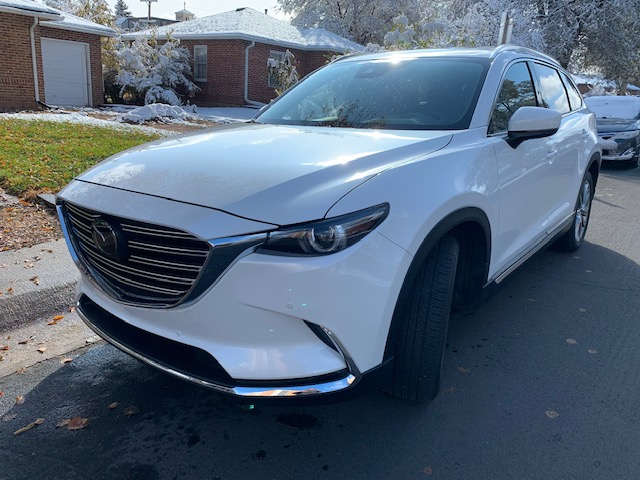 It's a sleek-looking car all the way around. It handles well in the city and on the motorway, and it still manages to be big enough for most shopping excursions. Interior cargo volume goes up to 71 cubic feet when all the seats are folded down and believe it or not, there is a third-row seat but I did not get the opportunity to try it out. Parking was a breeze except when I was around jerks, which seemed to be my luck this past Halloween season.
My friends had ease getting in and out of the vehicle, which I always note whenever I have a car.  I don't have many dainty friends, and the ones that I do date back to my high school years and they have matured differently than I did, which means that they at least matured.  My bear friends now have a 'presence', and often I find myself driving everyone because they like to drink and, well, booze doesn't go well with my insulin. So, big snaps to the 2019 Mazda CX-9 for handling all of that and a few runs through the Popeye's drive thru for chicken sandwiches that will never, ever materialize, not here in the U.S. anyway……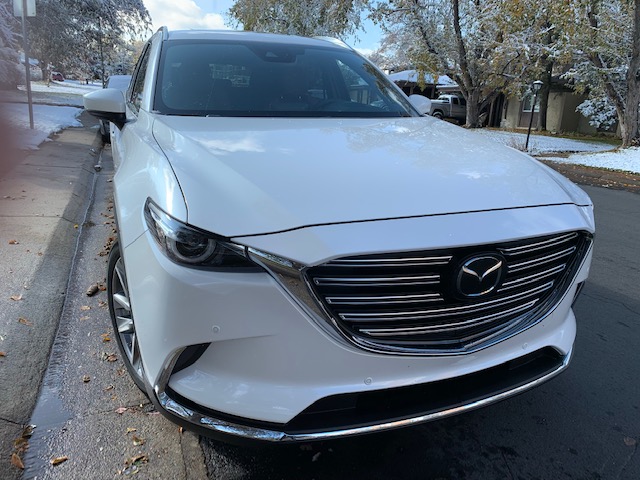 Also standard on all trims is blind-spot monitoring, rear cross-traffic alert and what's known as low-speed automatic emergency braking for when you are in the city or other places when some dumb bunny steps in front of you because all eyes are glued to the iPhone. Please, still pay attention, but in some cases, this feature can slam on the brakes for you, spill hot Pumpkin Spice on you and ruin your sales presentation later in the day but at least you won't have to face the cheesy television attorney that the dumb bunny will hire should your car actually strike 'her'.
2020 will soon upon us and I will soon have more reviews about all those fabulous cars, which will have even more standard features that do even more Jetson-ian things.
Stay tuned.