2019 Chevy Traverse: Big, Bold (possibly Blonde) and Beautiful
All you showtune bears remember the song Big, Blonde and Beautiful from the Broadway rendition of Hairspray, sung boldly by Queen Latifah in the movie, then even more boldly by Jennifer Hudson for the live TV musical, but originally sung by Mary Bond Davis in the original Broadway show. I couldn't help but hear this song in my head as I was driving this year's Chevy Traverse: it's big, bold and beautiful, even though it is technically a midsized SUV. (And you really can't get the Traverse as a blonde; the closest you can get is something called Pepperdust Metallic on the higher-end trims.  Sorry.)
For its size, you can get a whole lotta bears into the Traverse. Indeed, there are three rows of seats in this beast, and while I would advise using the third row with caution, it can be done (hey, someone's gotta get all that beef from Point Gay to Point Gee, What's Our Next Stop). For all your baggage, with that third row of seats up, you have 23 cubic feet of space with which to stash all your schwag and more.  But if you need to haul a bunch of equipment and just a buddy to help, put all the seat down and you can get a whopping 98 cubic feet of cargo room to carry the entire drag show / bear den / holiday fiesta extravaganza wherever you need to take it. Look at all that room! It's bear hug time!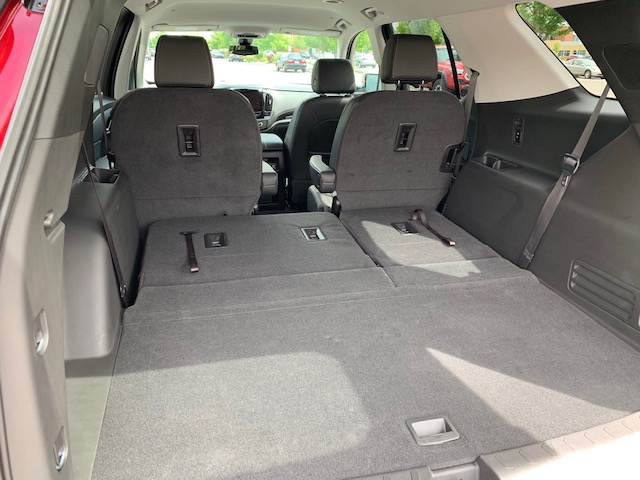 The ride is incredible smooth, and while we don't necessarily like all things smooth, this is one you are going to like. I found driving it to be a breeze. Often, with big hulkers like this, you really need to pay attention and get ready for a nice workout of your biceps and triceps, but not with this gentle giant.  This is one of those cars where you really can get in, drive and feel comfortable no matter how much of a man you are, literally.
The technology is pretty simple to use too.  Often, you really do need to get in, strap in, let the whiz-bang cartoons finish and then begin to figure out how all this technology works before the snooze factor kicks in.  With Chevy systems, however, you can pretty much get in, pair your phone and you are good to go.  At least that's what I have found.  No need for a college degree in technology, or to even be smart. Well, you do need a bit of a brain.  Kinda.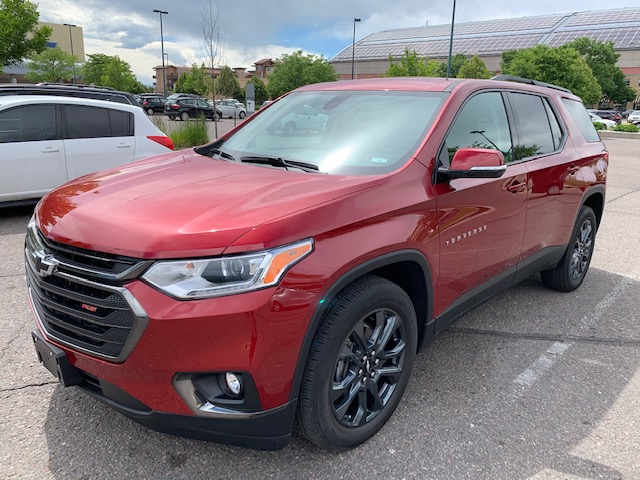 Prices start at $29, 930. Mileage is 18 city / 29 highway. You can tow anywhere between 1,500 and 5,000 pounds US depending on the trim you buy and how you equip it, so once again, caution is advised before you say I Do and agree to be on this year's Bear Float committee.
I like to think of the Traverse as the big SUV that really isn't all that big.  I wouldn't say parking is a breeze but with a little bit of effort, this baby daddy bear can fit into just about any reasonable street space. And in many ways, it is unassuming, which is good when you are just trying to blend in.  And yet in so many other ways, it really is a stand out. For starters, it sure is pretty.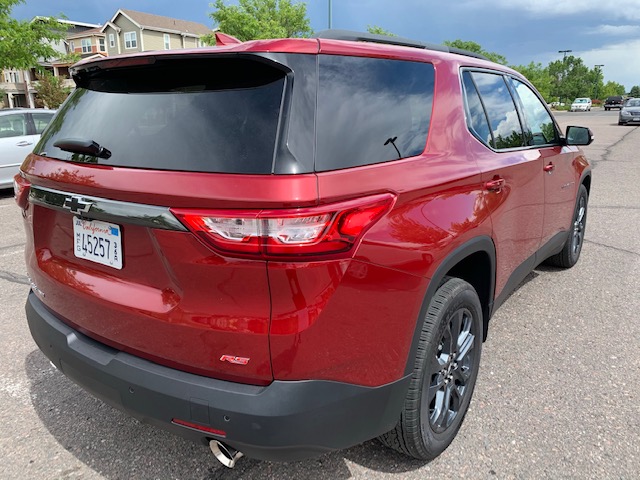 Think of this year's Chevy Traverse as the perfect boyfriend.  Yeah, not everything is perfect, but it has the power and room to grow and go where you want it.  And it is pretty where and when you want it too.
What's not to love about that?