2019 Audi S5: Thrills and Spills Meet Luxury and Style
It's that time of year again: the end of the year when dealers and agents and bear salesmen who are trying to clear their lots are ready cut deals to make way for the 2020s. Look carefully and shop wisely … and you may just find a 2019 Audi S5 coupe, sedan or convertible that is ready to go and possibly well under the initial base sticker price of $52,400.
Simply put, if you've got the money, honey, or the credit line, and you want some dash in your drive and some splash in your already classy bear life, this year's Audi S5, considered a midsized luxury coupe, or sedan, or sportscar, is calling your name (or possibly whatever is written on all your legal documents).
Having a performance car used to mean that you drove fast because the car was lightweight and the ride was rough because, well, you just weren't carrying around all that heavy metal that can make you feel safe and comfortable. Come the 21st Century and those molecular geniuses have figured out a way to give us high speeds, comfortable rides, luxury and fuel economy. And now in 2019, they can still do it for less than a house or rent payment.
Kelley Blue Book  describes the 2019 Audi S5 as "athletic yet fuel-efficient, with progressive technology not so advanced as not to be non-user-friendly." KKB also notes, or feels, that its look is a tad bit "conservative", which of course is also subject to taste.  If you are looking for "something more brutish" (their words), they suggest the Chevy Camaro SS or Ford Mustang GT.   But honestly, fellas, aren't we always on the lookout for something more brutish, even if we already have fallen in love twice over?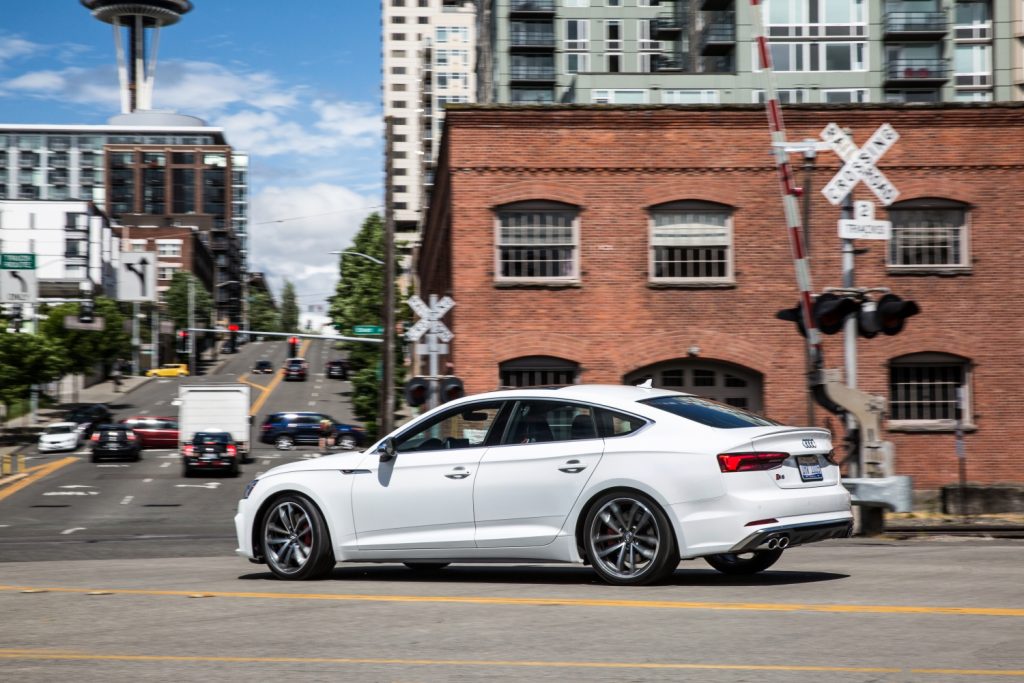 For the money, you expect a lot, and you get it.  Standard across the board on all trims are item such as (but not limited to) 18-inch wheels with summer performance tires, LED headlights, automatic wipers, a panoramic sunroof, a power trunk lid, a sport suspension, selectable drive modes, tri-zone automatic climate control, leather and simulated suede upholstery, power-adjustable and heated front sport seats, and 40/20/40-split folding rear seats. (Yeah, I took that straight from  Edmunds.com.  Thanks, guys.)
This is indeed a fun car with a lot of pep but as always for men of size, the backseats can be a challenge. Most sedans nowadays have sloping rooflines, and the S5 is no exception. It is visually attractive and quite a beauty, to be sure, but it does present a challenge if you are a big guy (however defined) when trying to get in and get out, which is why we as bears tend to prefer trucks and monster SUVs. So once again, if you have large friends…. Let me rephrase that: friends who are 'hearty' in every sense of the word (wink), have them get in the backseats first to see how they like the ride.
No point in getting a car that your friends can't enjoy, especially if you are paying for the gas and for everything as you go through the drive thru…..
Hmmm….