TerrorVision is Ready to Make NYC area Bears Scream
As September wanes into October, and Halloween draws ever closer, New York City bears will have an opportunity to add some frights to their nights out on the town with the TerrorVision attraction presented by TERROR, conveniently located just blocks away from all your favorite Hells Kitchen haunts (see what I did there?!).
TerrorVision is a new, immersive in-your-face horror experience, told over three narrative attractions. Located at the fictional 'Horrorwood Studios' near Times Square (300 W. 43rd), attendees can expect the best of worst that artistic creators Will Munro and Katie McGeoch have to offer.
As audiences embark on a tour of the dilapidated Horrowood Studios, they're invited to get a 'behind the screams' sneak peek of the filming of the upcoming TerrorVision Halloween episode. Attendees are greeted by the ambitious director, an ingenue on a chaise lounge and a gorgeous hunk in nothing but a harness and underwear. WOOF! As things go deliciously awry, the audience becomes unwitting witnesses to the making of a snuff film and are then suddenly cast as the new stars of the piece, thus forced to face three tales of terror with each manifesting as an immersive walk-through haunted house style experience, overflowing with gruesome creatures and movie magic special effects!
With the exception of the initial vignette with the director and actors, the setups are more your traditional Halloween haunt scenarios with murderous mavens and creatures that go bump in the night. Each one of the 140 actors on staff at TerrorVision are committed to showing you a good time from the moment you line up outside. Featuring Broadway-level costuming and impressive special effects make-up, the characters make you feel like you have stepped into your favorite horror flick. We were particularly impressed with the cemetery ghoul and spider creature actors who roused genuine fear out of eight of us traversing the haunt together. The maze, comprised of over 20,000 square feet of rooms and passageways, was also dressed with Hollywood level set pieces filled with gore, carnage and props that this horror-loving bear wishes he could have taken home!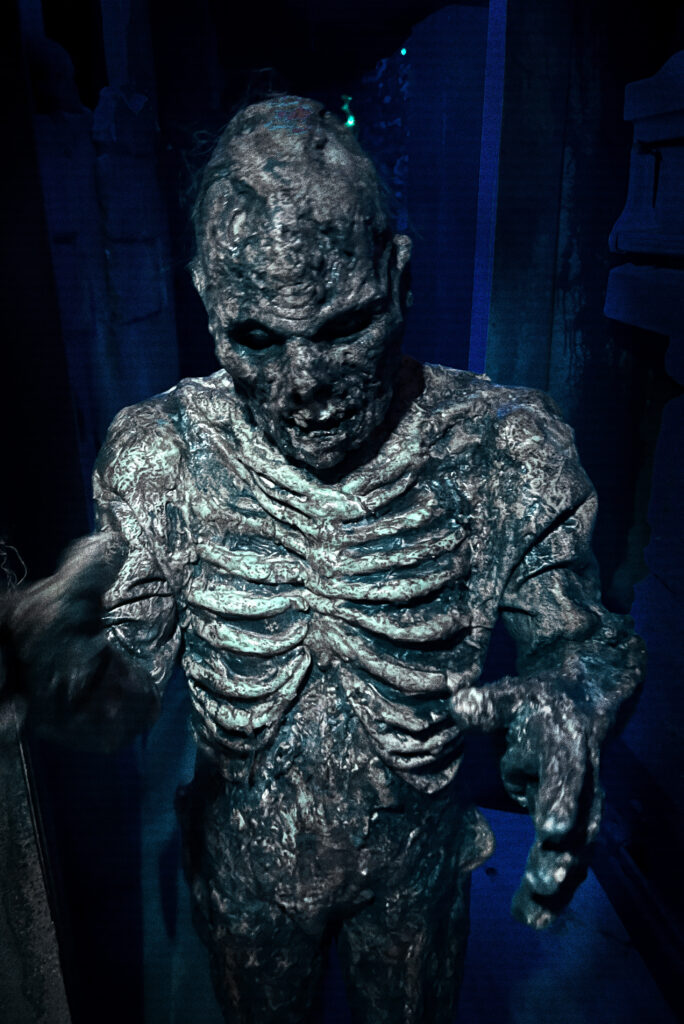 This all makes perfect sense, considering that the team behind TerrorVision has designed for some of the largest horror experiences in the industry, ranging from theme parks to Broadway productions, and have created large immersive events in NYC and in Europe. Co-artistic directors Will Munro and Katie McGeoch have also spent more than two decades as the heads of Six Flags' Fright Fest.
"TerrorVision is truly scary and not for the faint of heart," said Munro and McGeoch. "When you step into TerrorVision, you're entering a world set in 1980 – at the height of the slasher genre, when classic horror movies like The Exorcist, Nightmare on Elm Street, Friday the 13th, and Poltergeist were dominating the box office. This year's show is a complete homage to the 1980's horror craze and we want our guests to feel like they are stepping into the screen and onto a movie set. Our audiences aren't going to know what hit them."
Attendees can opt between three levels of fright depending on their taste and capacity for terror:
General Admission – This is the standard level of scary, heart pounding fun.
"Chicken" ticket – This allows guests to wear a special amulet to become "invisible" to the monsters. This is perfect for those who do not want to be touched by the ghouls, though still get some residual scares.
Ultimate Terror – Suited for the bravest guests only, this upgrade will ensure you're targeted throughout the experience. Bring a change of underwear, you're going to need it.
Our walkthrough was at the 'General Admission' level of frights. I would be curious to see what the Ultimate Terror experience would entail – maybe next time!
TerrorVision will be running select nights through November 5th, with tickets starting at $39. So, if you're looking for a quick, fun, and seasonally themed activity to do before going bear hunting on the Hell's Kitchen strip, we suggest you give this a try!
For more information on TerrorVision and to get you tickets click HERE.