Meet Daddie Danger, your new Ms. World Bear
Continuing with our series of interviews with the new World Bear Title Holder family, I caught up with the amazing Daddie Danger, the new Ms. World Bear 2022.
We got talking about her volunteer work and when she realized she was a bear and much more!
Read on and find all about Daddie Danger.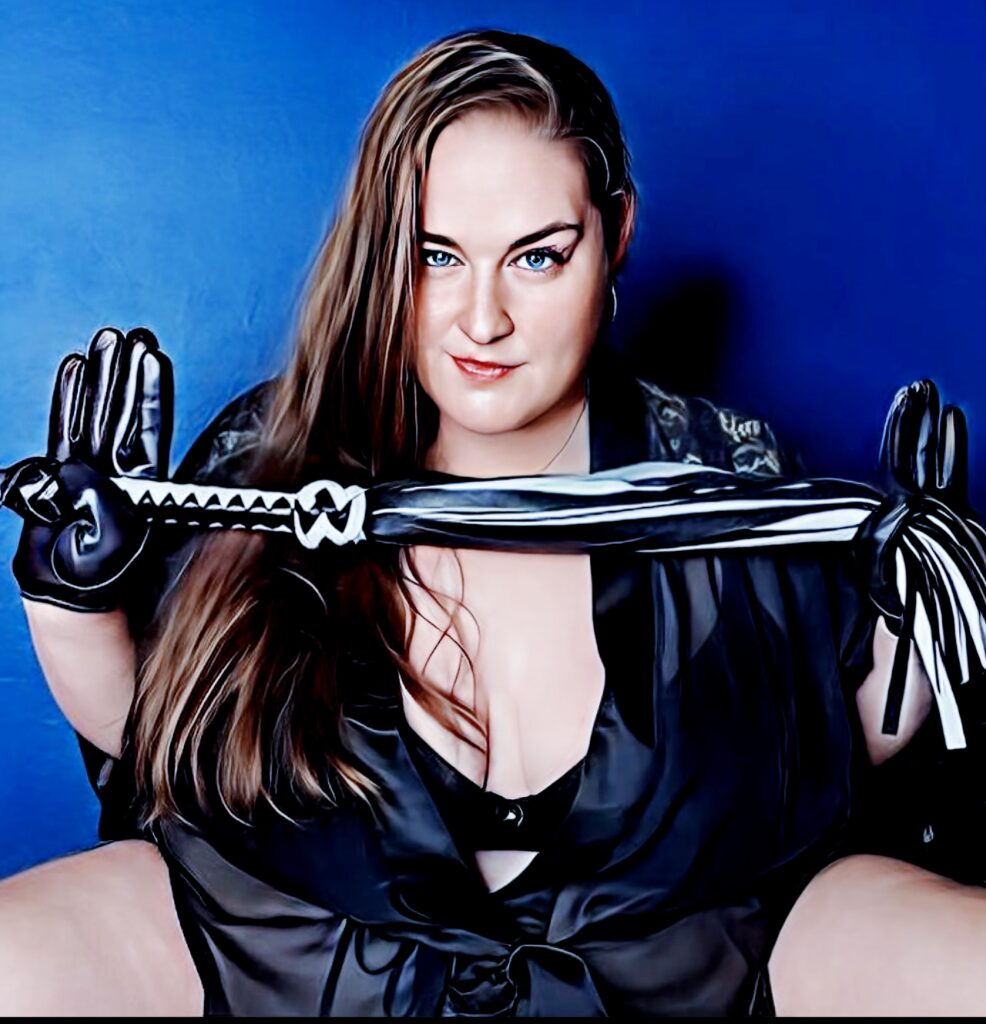 Richard Jones: Hi, Daddie, can you tell us a bit about yourself?
Daddie Danger: I think I can do that! First, I am very excited to say I am the current Ms.World Bear 2022, Queen of the Bears. I'm a mental health exec by day and dangerous leather lady bear by night. I've joked for a long time that I'm a glitter bear, I like to sparkle. I'm queer, I love who I love, it took me a while to shift from bi-sexual, but queer feels more at home these days… feral hedonist also kinda sums it up nicely. I am an active member of the Austin, Texas scene for 20+ years. I co-direct Dark Age Play-Austin and I am a patched member of my leather family Leather Heart Clan, Austin. Also, I am a newly minted board member of GWNN and a long standing a member, as well as being a member of SADE, and the Central Texas Femme Dommes.
I am an active volunteer in my community and where I work with aGLIFF (All Genders, Lifestyles, and Identities Film Festival), Octopus Club, ASHWell and also food sustainability and accessibility efforts throughout the year. Previously I have been Outreach Director for Team Friendly-Austin a non-profit advocacy and education group that works to end the stigma surrounding those affected by HIV and AIDS and also the former Coordinator of Poly Big Fun for 6 years, the longest running community driven polyamorous campout in Texas that offers three days of workshops, connection, games, fun and shared experiences.
On the more vanilla side of things… I'm a baker. I've been baking since I can remember putting my little hands in the biscuit sour dough bowl of my great aunt in Virginia. My mom always laughed about how her biscuits would be little hockey pucks but somehow, I was blessed with baking magic. I now bake semi-professionally, largely for fun and stress relief. I enjoy the creative outlet sugar artistry brings to my life. There are very few people who are sad to receive gifted baked goods. Like, who can frown at banana bread? Which I made SO MUCH OF during lockdown! My nosey neighbors thought I was doing something shady during the pandemic as I had so many folx picking up baked goods from my patio. On occasion I've been known to throw down some naughty bites as well. *wink*
I like to use my sugar powers for good, occasionally I lead industrial bakery efforts for community events. I volunteer for Bake a Wish, a 501(c)3 nonprofit, started in Austin in September 2009 with an original mission of providing free birthday cakes to abused/neglected/abandoned children and youth who would not otherwise receive one. With such an amazing mission, word spread rapidly. In the years following, Bake A Wish has expanded their mission to also serve Austin's elderly and disabled adults in assisted housing communities. Beyond their primary mission, Bake a Wish also provides dessert support to the annual Austin nonprofit event Operation Turkey. Partnering with other local agencies, Bake a Wish donates between 600 to 1,200 pumpkin pies and other desserts to accompany the meals provided by Operation Turkey, which provides as many as 10,000 Thanksgiving meals to those in need.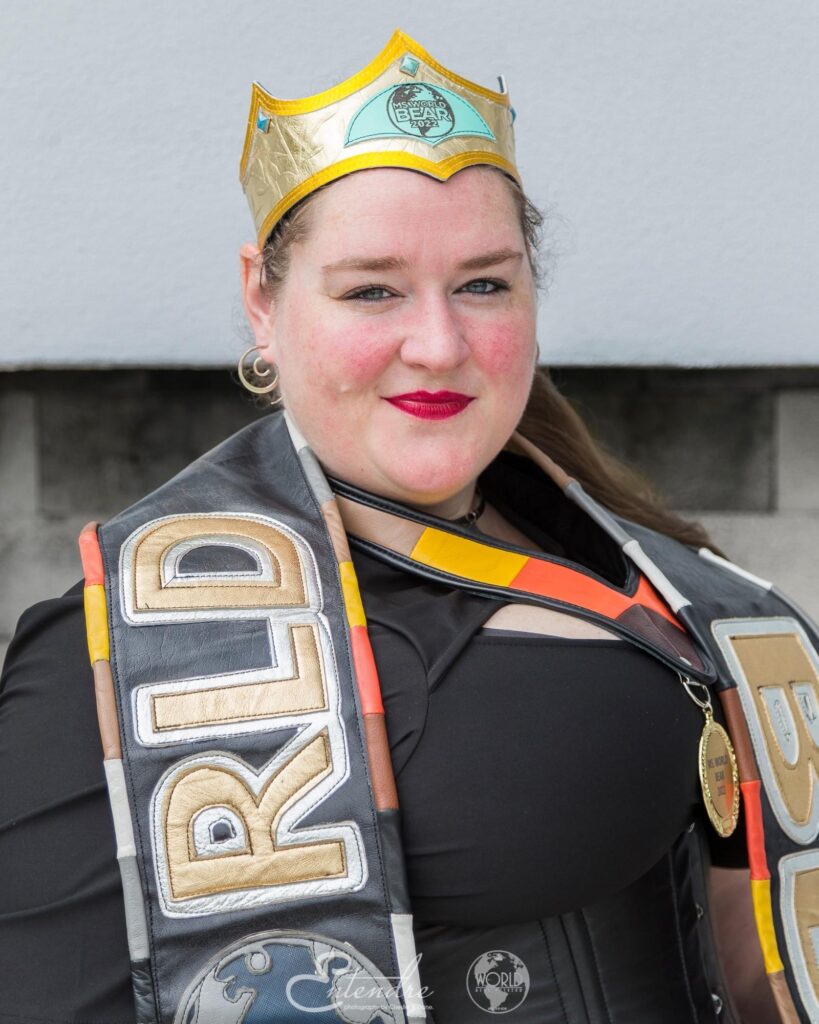 RJ: When did you begin identifying as a Bear? Can you tell us a little bit about your journey?
DD: When did I start identifying as a Bear? Honestly, it started as a joke a LONG time ago. I would laugh and tell my gay friends that I too was a bear, just a lady bear version to which we would all have a chuckle. How could a woman be a Bear? I have 3 bear friends who live together, and their house is called, "the house of 3 bears," to which I have joked I'm Goldilocks. I would say I really started including Bear as a more formal part of my identity around 2017/2018. My Bear side is a combination of experiences that has led me to a place of empowerment, self-respect, with a take no shit attitude.
I started powerlifting and eventually branched out into strongman sports in 2016. I have never felt more powerful and savage than when I pulled a giant ass Texas truck – you know what I'm talking about – across a parking lot by a rope while sitting in a tractor tire with my bare hands. I got pretty heavily involved in women's power sports and attended a GRRRL conference in Vegas that started the shift. I competed in heavy weight lifting and strongman competitions taking home a few amateur gold medals.
Daddie Danger as a name was born in 2017-ish. I was at a fetish party with my partner who was on a leash walking behind me and we came down the stairs into a common hangout area. This old, white, cis-het man exclaimed, "that's what's wrong with her, her tits enter the room before she does." My 6'5" submissive, bear, bottom on a leash behind me, stepped out from his place and in front of me, between me and this other man. I was about to go feral and drop some education on this old man, like a little rabid racoon, claws out. Instead, I was escorted to the patio for a cool down. In that moment I was done, done being a woman, done being objectified, done being told who I was, done with my body being commented on by men/people who didn't know the first thing about me as a person. I decided I needed something that shifted that conversation away from unwanted objectification and into something else.
Women I've been partnered with have called me Daddy in the private recesses of our lives for years. I had used "Dangerous Curves" and "Danger Curves" as handles on different social media… I called a friend and asked him if he would ever call a woman, Daddy. He took a minute and tried it on and said, "For you, yes, I would call you anything you want me to." That was all it took. YEAH! Call me Daddy. Daddie f*cking Danger!
Living and existing in the world as Daddie Danger has changed my life. For those who are tripped up by calling a woman Daddie, it starts the conversation off on a different foot, it initiates the "Why?" Which is a conversation about who I am. Daddie Danger allowed me the grace and empowerment to take up space, the space I occupy physically, emotionally and energetically. I'm not ever going to be tiny, I'm 6'2". I'm not going to make myself into less for the sake of others. I am anything and everything I want to be. I am a force! I'm a fiercely femme Daddie. With all of that came the formal adoption of Lady Bear. Who's going to tell me who the fuck I am but me? *insert sweet seductive smiles and a wink* If you don't like it, go find less.
Also, please don't refer to me as a Mama Bear. I have an incredible amount of respect for Mama Bears, but I'm Daddie. It's like all the same caring, nurturing bear stuff, but I'll also toss you in the sling too. I flag hunter green on the left. It's like being mis-gendered, just please don't.
RJ: What made you enter the World Bear competition?
DD: In 2019 a Facebook post came across my feed, and it was Nikki Wireman's Bear World Magazine article about her win as Ms. World Bear 2019. I reached out to Nikki that day. I was like Ms. World Bear, who are you? I want to know everything! Tell me everything! We've been family since then.
I set myself up to run for Ms. Texas Leather 2020 in February of 2020. Unfortunately, I got incredibly sick in El Paso while traveling for work and had to come home with pneumonia and a 103* fever instead of going to the contest. I was crushed. I then spent the rest of 2020 and 2021 working in public health in Texas during a pandemic, I was busy to say the least. As 2022 ushered in some Covid reprieve I took a look at the bear competition and realized they had dropped the previous title holder prerequisite for the Ms. competition. I had already scoped out all of the producers, Adam, Mason and Paul and they seemed like reputable producers and genuinely decent human beings.
I attended a mock interview event the 2021 title holders were hosting and got to ask them questions about their experience as title holders. I started my application the next day. Ms. World Bear is a perfect title fit for me. It's a really vers space, it's a little piece of everything I am… queer, leather, gear, dance party, music by the pool, bear, and it's FUN. It's also about community support, education and inclusion. This was very much the Goldilocks story of titles, a Leather title is just a bit too formal, a pageant title is just a bit too hairspray and makeup, a bear title though, JUST RIGHT!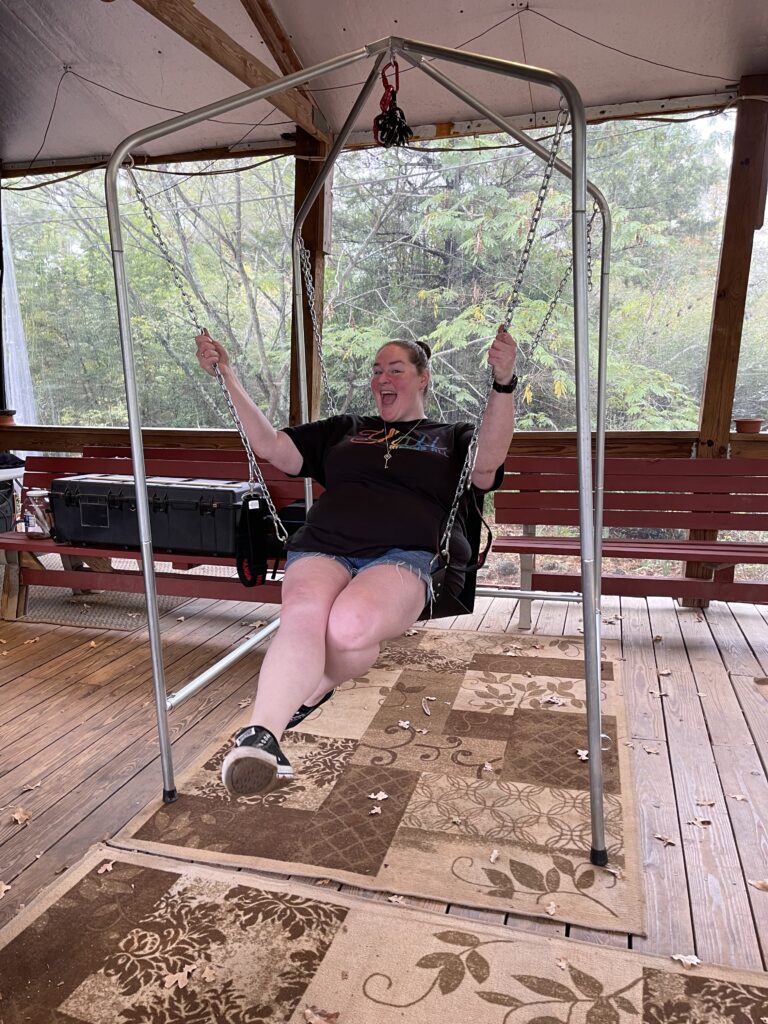 RJ: How has winning the Ms World Bear title changed your life/social life? or how do you expect it to?
DD: It's been a whirlwind! I feel like I have a whole new wing of family. Winning Ms. World Bear was an incredible feeling. I brought everything I had to the competition weekend as did everyone who competed that weekend. Since the win, I've been ON THE GO! The pup and critter community in Texas is exploding. I've had a lot of interaction with pet title holders, I'm anticipating some fierce Bear-pet collaborations and mutual support in 2023. I've judged several Texas competitions and I'm sorting out invitations and travel plans for upcoming events. I'm excited to be back on the teaching circuit. Education is a key element to safety in our community. I mentioned in my speech during Bear Weekend that work started before Ms. World Bear and the work will continue after. I am a fierce advocate for our communities and work throughout the year to support connection, growth, and advocacy. I'm committed to supporting the organizations and events I've worked with historically and will continue to expand. Currently I'm working with Mr. Texas Leather 2019, Kaprese Andre for a little naughty Christmas photo shoot with Santa and Ms. Bear Clause as a fundraiser for Beyond Brotha and the Ms. World Bear travel fund at The Iron Bear, our local Bear bar. Beyond Brotha is an organization focused on creating safe and affirming spaces for men of color of all identities through meaningful collaboration and skill-sharing with a focus on the challenges they experience.
RJ: What is your platform?
DD: Originally I thought I was going to waltz in and talk about Femme inclusion in Bear culture. But let's be real, that's not what we as a community need right now.
This contest has pushed me to evaluate, reevaluate, get some additional feedback and evaluate again. The approach I want to take as my platform is Radical Self Acceptance, Growth and Resilience. "Nothing I accept about myself can be used against me to diminish me." ― Audre Lorde. Radical Self Acceptance is acknowledging ourselves as a whole, the good, the bad and the opportunities for growth without adding judgment. It's part of the process that helped me find peace with who I am and stand in my own power despite outside attacks or negativity. Tara Brach calls it "…an agreement with ourselves to appreciate, validate, & support ourselves as we are, knowing that we are also free to change things if it makes sense." It's slowing down when we start to self-judge and being honest with ourselves about the feelings we're having, recognizing them, giving yourself permission to just be as you are. No excuses. No Rationalizations. No Avoidance. Just be.
We are each an incredible collection of experiences, positive, negative, indifferent. We all have our opportunities for growth. I call those moments " A Fog". I'm in a fog… another fucking opportunity for growth. Being in a fog isn't always comfortable, but we're going to make our way through. We can shift from the habitual shame spiral to problem solving mode. It's our opportunity to change if it makes sense. Our community is seeing change, the faces and the voices are changing. It's ok to step away from the old ways, the tradition, the legacy if it no longer serves us. Without judgment, you and I can choose to make change within ourselves and our community.
Our struggles of identity, acceptance, addiction, loss, and the grief that comes with those things is ever present as a community right now. We're struggling after covid to reclaim our community spaces, what's left of them. We're grieving from violence against our community, our loved ones. For some the struggle is inside of ourselves. Which is where resilience comes in. Our worst day, or the most terrible thing that has happened to us does not have to define us as people. Other people's opinions and issues are not our burdens to carry. There is something in each of us that keeps us going and we need to fan the flames of our little bright spots, our sparkle, our glitter, our Bear, whatever yours is embrace it. Be you authentically you and don't let the world make you smaller for the benefit of others.
RJ: In what ways do you think you can help to promote growth or change in the leather and/or bear communities?
DD: Leadership in any capacity is the empowerment and development of a community. The platform of my title year is rooted in empowerment, radical self acceptance, growth and resilience. I'm hoping to be able to assist in holding space for open communication and honest dialogue within our fetish, gear, leather and bear communities. I'd like to see how we can open some doors for femme and lady/momma bear presence to be welcomed. In spaces where its relevant, discussing gatekeeping in the gay community. Participating in community conversations where BIPOC members of the community are heard and take active steps as organizational leadership to process that feedback into our standards of practice so our BIPOC family feel more welcomed and included. I'm in Texas, the struggle is real when navigating through spaces with people who are culturally rooted in "boot strap" values. At the end of the day, being a good person, showing empathy, humility, and treating all people with respect is the leadership by example I'd like to set this year.
RJ: What is the most important thing about the bear community for you?
DD: The Bear community is this special place of convergence of all the good things across the subcultures I move in. You have leather, gear, pups and critters, fetish, dance, food, camping, motorcycles… it's like the God bite in a cinnamon roll, where all the extra delicious gooey bits are. I get really excited by the body positivity inherent in bear culture. Everyone is sexy. Everyone looks good in the gear they wear, the bodies they inhabit and its space where you feel free to be yourself.
RJ: What are your plans for your title year?
DD: I really just want to have fun and do the damn things. It's also my 40th birthday year… so I have a "work hard, play harder" theme for the year. I'm working on saying "yes" to things, opening the doors of possibility. I've got plans to teach at a few conferences, represent bears across the US and hopefully sneak in an international trip next summer.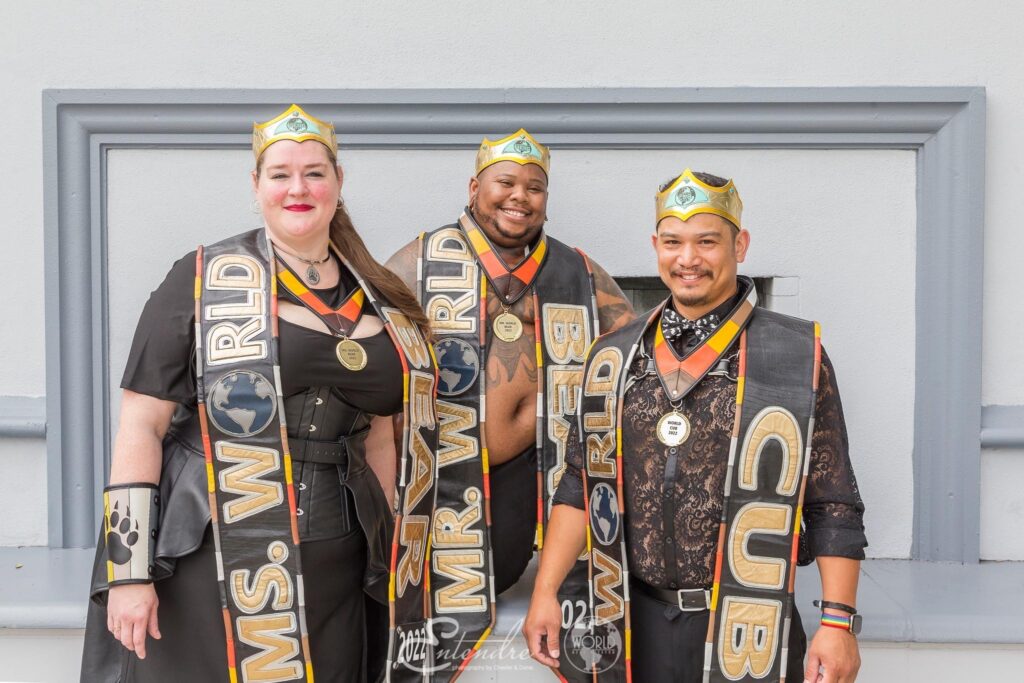 RJ; What are your plans with your title family?
I could not have a better bear title family. Have you seen Mr. World Bear, Buddha Onyx? He's a whole damn meal! And Panda, World Cub, he's an incredible person, his passion for dance is absolutely beautiful. I hope you've read his Bear World Magazine article!
We are coordinating our schedules but currently we'll all be at North American Bear Weekend, February 16-19, 2023 and the guys are coming my way for South Plains Leatherfest, March 23-26, 2023 in Dallas. Which is also my birthday weekend where I will be hosting a Bear cruising event and a cigar social with my leather family.
RJ: Finally, where will the bear community be able to see, meet and connect with you?
DD: I'm in Austin, Texas. I'm out and about here. You can find me locally at The Iron Bear downtown or doing something naughty at Sir Rat Leather. As for traveling:
January 19-22 Los Angeles, CA – Mr. LA Leather Bear Contest Weekend.
February 16-19 Lexington, KY – North American Bear Weekend
March 16-19 Dallas, TX – Texas Bear Round-Up 27
March 23-26 Dallas, TX – South Plains Leatherfest
April 14-16 Austin, TX – Austin Kink Weekend
May 18-21 West Palm Beach, FL – Beyond Leather, International Power Exchange competition
June – Chicago, IL – Midwest Haunters Convention
July 21-23 Austin, TX GWNN Bash
August – Pending GODS in Denver, CO
Sept 20-26 – Orlando, FL – World Bear Weekend – Resurgence – Ms. World Bear Step Down Weekend.
RJ: Please confirm all your socials, websites where you would like the readers to find you:
Facebook: Daddie Danger
Insta: Daddie_Danger
Fet: Daddie_Danger
---
World Bear Weekend will return to Orlando in September 2023 for their 5th annual villains-themed event, "Resurgence". Early bird tickets on sale now through October 1st starting at only $100.
Get your tickets at https://wbw23.eventbrite.com.
More details to be updated in the coming weeks at worldbearweekend.com.